My Model Railways and the Men Who Inspired Them
Tales From the Past

My father told me once that when I was born, he decided to build model trains so that, when I was older, we would have something we could do together. That was a pretty progressive concept back at the beginning of World War II. In the early 1940's, he scratch-built an HO Scale CPR 4-6-4 Hudson, entirely in brass. The only commercial parts were the drivers, tender trucks, motor, and gears.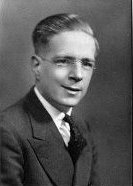 My father, c. 1940

Over the years, he built a kit or two (or three) each year and eventually we had an 8 x 12 foot table top railway to run them on. Locomotives and passenger cars, and some of the freight cars, were painted for the CPR; other freight cars were for various Eastern roads. Most of these survived into the late 1980's. I inherited some of them, including the original 4-6-4. Sadly they were lost in a house fire in 2001.

Before I was old enough to contribute to this, my brother and I had some Ives and Lionel hi-rail O Gauge trains on the floor. Good stuff and great fun. These were treasured into our early teens, and finally they ended up donated to our younger cousins.

By age 11 or 12, I was building freight cars and later kit bashed an Ambroid coach into an 1890's CPR "dome" car with two observation cupolas for sightseeing through the Canadian Rockies. These cars really did exist!


This is Kemtron's CPR 4-6-4 #2459 from the 1970's, a close cousin to my father's scratch-built CPR #2410, built in the early 1940's.

By the 1970's, all my father's rolling stock was in boxes, with only a few on display, including both of the CPR 4-6-4 locomotives and some beautifully built Ambroid and LaBelle kits.



MY FIRST RYE, RUM and REDEYE RAILROAD
By the mid-1950's, we had moved to a house with bedrooms big enough for me to build a small HO railway of my own. Father's filled the basement and we still worked on it together. The bedroom layout was the classic oval on a 2 x 6 foot table top. There were two sidings, three industries, a station, and even a small turntable for the PennLine 0-4-0 diesel. The Rye, Rum, and Redeye Railroad (RR&R RR) had two passenger cars (with cardboard sides), a boxcar, tank car, and a caboose. I built a brass half-length Budd Rail Diesel Car (an RDC-1/2), had it chrome plated, and it ran fine on the 11 inch radius curves. Another brass project was a futuristic center cab diesel. Both were lost in the 2001 house fire - neither were especially detailed or attractive models so maybe their loss was a good thing.

This is where I learned to model scenery, roads, and the usual clutter of real life. Track was hand laid code100 brass with spikes in every tie and hand built switches with live frogs. My buildings were pretty crude and lacked detail. I had more fun with the scenery, trying to mimic the concepts of John Allen and Jack Work. I never reached those exalted heights, of course, but their inspiration got me past the bare table-top.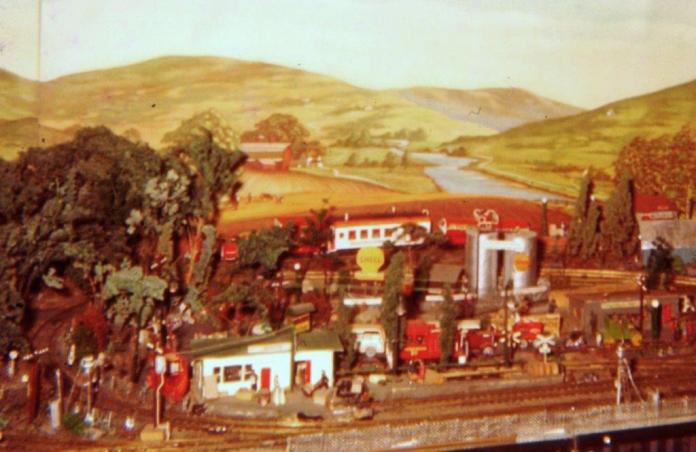 A late 1950's photo of the RR&R RR in my bedroom. Redeye Station is in the left foreground, the Shell Oil tank farm is in the middle, a warehouse is at the right and the distillery is off-screen far-right. The red Pennline diesel switcher is in front of the tank farm. Handmade trees, made from paint-dipped weeds, hide a lot of the photo. A well trafficked road runs across the center to the right, with Matchbox HO Scale trucks and cars. A small river (creek??) runs front to back and a nicely printed backdrop gives a little sense of distance.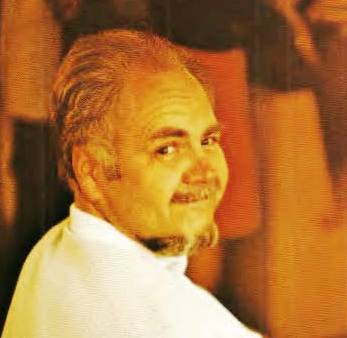 John Allen c. 1960

The scenery was inspired by the work of John Allen, whose modeling skills were portrayed in Model Railroader magazine starting in 1945 and continued into the 1970's. I never met John of course, but I "knew" him like I would know a distant uncle - full of advice, imagination, and inspiration to always do better.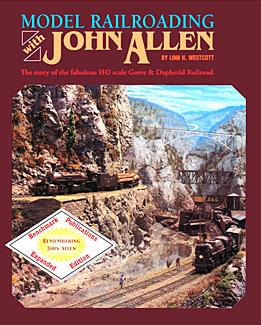 He was a professional photographer by trade and that skill made images of his models stand out above all others. Aside from spectacular floor to ceiling scenery, he pioneered many simple ideas like mirrors to extend scenes and sound effects to represent a subway train (there was no train, just the sounds).






One of John's photos vividly embedded itself in my memory, shown at the left. This single image influences every one of my kit-bashing projects 50+ years later.
Some of the best of John Allen's work can be found in a hardcover
book by Linn Westcott, republished by Benchmark Press.



These are HO Scale standard gauge cars. I found G&D boxcar #98 at a flea market; it uses cardboard car sides printed in an NMRA Bulletin. The two G&D bobbers #3 and #5 are recent NMRA Heritage cars. MDC/Roundhouse issued a number of HO G&D models, still sought after by collectors.
The 1st Rye, Rum and Redeye Railroad was abandoned in 1962 when I moved west to take a job in the oilfields of Western Canada.


MY second RYE, RUM and REDEYE RAILROAD
During my University years, I built a very small narrow gauge (HOn3) model railway. It was only 18 x 24 inches with rugged scenery made from real red sandstone rocks. The oval dipped into a tunnel under the mountain. There was one siding with a switchback to a mine. The station was on the level part of the mainline. Track was hand laid code 70 nickel-silver with hand made stub switches. Decent ballast, a few trees, and a few people complimented the rugged scene. Never got around to building an ore car for the mine.

The grades were steep but the Shay could haul a log buggy, flat car, and bobber caboose. The 0-4-0T steamer could not, so I converted a white metal combine into an extremely short car and added an N scale diesel power-train to it, after re-gauging the wheels. This pair ran the grades just fine. I still have the combine and two 0-4-0T locomotives, all of them now 60+ years old. The Shay and other rolling stock were lost in transit, somewhere??

There was a wonderful photo of this railway with my brothers pet iguana doing his Godzilla act while roaming the rails. No one can find a copy so let your imagination run wild.

After 13 moves in the first 4 years of my working career, the railway disintegrated and was abandoned in 1967.

These are the remnants of my second RR&R RR, an HO Scale narrow gauge miniature railway. The combine and two 0-4-0T switchers (one with coal bunker on the roof) are on display in my home-office. The Shay, bobber caboose, and log buggy disappeared many years ago. I could see well enough to do a decent paint job in those days. Alas, HOn3 is not my strong suit any more -- to see what came next, scroll on down.

MY Rocky mountain house, nordegg and pacific RAILWAY


From the mid 1960's to the early 1990's, I was out of the model railroading game, with a brief attempt at an N Scale layout that was a failure. I was too busy building a career, away from home a lot, and my eyesight problems started to become noticeable. I stopped driving in 1984 and haven't been behind a wheel since then. But one day, I was at a train show and saw some large scale models in operation. "I can do that" I said, and I did. I started acquiring rolling stock and track, and spent time renovating a disused 3-car garage, while sketching track plans.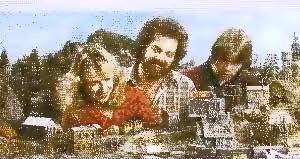 Malcolm Furlow, c. 1984

I considered Malcolm Furlow to be the reincarnation of John Allen. He, like John Allen, was a photographer and artist, but he had a flair for model railways all his own, and worked in both small and large scales
Coincidences do exist. An advertisement for a large scale railway built by Malcolm Furlow appeared in a 1992 Model Railroader magazine. Since I really admired Malcolm's modeling work and the track plan was "just right", I negotiated the move of the railway from San Diego to Rocky Mountain House in Alberta. The full story of the renovation, rewiring, and modernized control systems are described HERE.

Scenery was a big issue. While the Styrofoam mountain scenery was magnificent, the prairie scenes were pretty bare. Only 1 lonesome cactus relieved the topography. So for two years, I re-ballasted the track, built roads and a lake, planted grass, trees, flowers, laid snow on the peaks, and built Styrofoam scenery from the table top down to the floor. Vehicles, people, animals, and a number of new buildings were added. A large staging yard was added and a backdrop was commissioned for two walls of the garage. Finally, the railway looked "just right" too.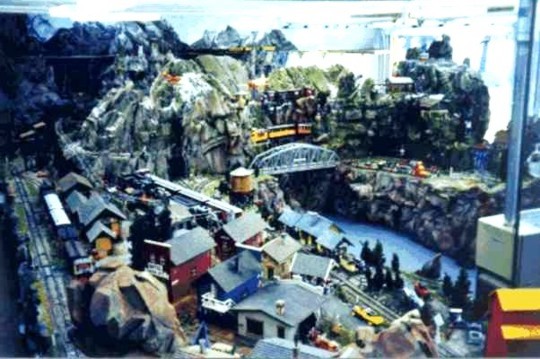 Overall view of RMH. N & P Ry. Nordegg at left, Rocky Mountain House in center foreground. Banff Springs at right, Gorgeous Gorge Bridge at center of photo, Sulphur Mountain right background, and Mystic Ridge at left. Era is around 1924. Track is LGB code 332 Gauge 1, representing 3-foot gauge (roughly) at 1:22 (G) Scale.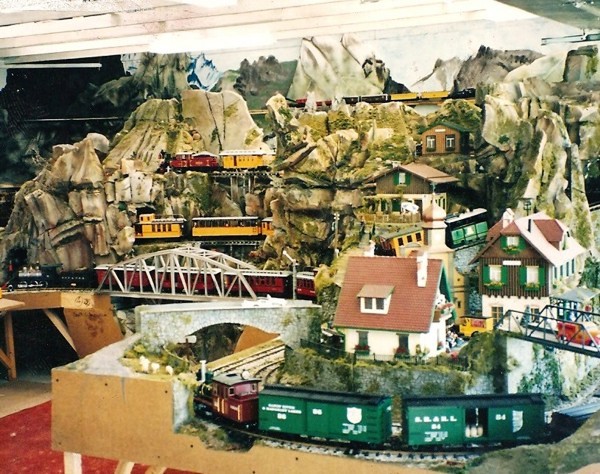 SR&RL Forney 0-4-4T #24 at Banff Springs is on the same level as DSP&P 2-6-0 Mogul #71 on the Gorgeous Gorge Bridge, but will pass behind it through a tunnel. D&RGW 2-8-0 Consolidation #268 pauses the excursion train on the 2nd level to give tourists the view of their lives. G&D 0-4-0 Porter #2, on the 3rd level, is checking the beavers gnawing on the trestle bents at Devil's Gulch. Steam Tram cog loco #13 runs on the 35% grade at right between levels 2 and 3. W&A 4-4-0, the "General", hauls a load of passengers on the 4th level in the distance. It is an O Scale train that fools the eye, giving an impression of great distance to the mountains.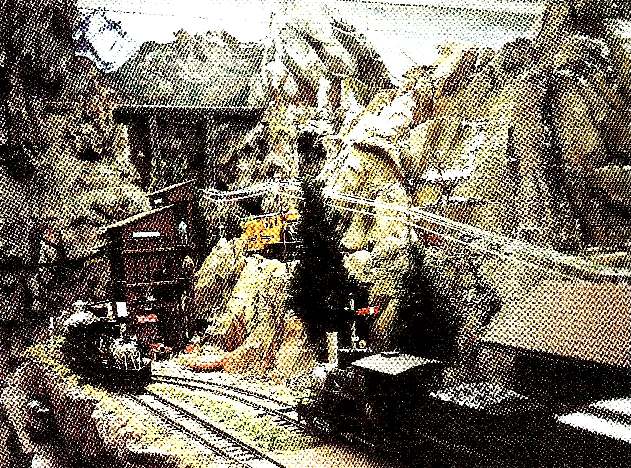 This photo appeared in LGB Telegram Magazine
Fall 1998 on the Golden Spike Award page



Many more photos can be found HERE.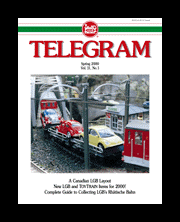 See this story in Spring 2000 LGB Telegram.

This model railway has been sold to Stanley Riegel of Rosebud, Alberta. Operation at the new site is expected in 2023.

MY Rocky mountain house, LEAVERITE and NORTHERN RAILWAY - The south park line in canada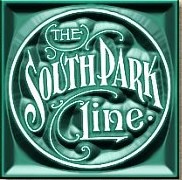 With the indoor railway looking right and running right, there wasn't much left to do from a modeling point of view. What to do? Well. build another one, of course. This time, it would be a large scale outdoor railway on a steep side lawn beside the house. This railway would have a specific theme, namely the Denver, South Park and Pacific Railroad around 1885. Steam engines and horse and wagons - no internal combustion.

We have less than a 3 month USDA "Zone 3" summer, so I didn't want to waste time nurturing plants that might never survive. As a result, the railway was built as a xeroscape (no plants) rock garden using glacial erratics as the foundation for the scenery. This led to lots of bridges, a tunnel, and simple, continuous operation, with walk-around radio control.

Construction began in 2003 with trains running inside 3 months - no scenery, just rocks and track. In subsequent years, buildings evolved from crude converted birdhouses to highly detailed kit and custom built structures.

Using a lot of the indoor techniques, adapted to the outdoor environment, numerous mini-scenes replaced the original low-fi buildings. A description of how all this came to life can be found HERE. Scenery is more rugged than the indoor railway, and detail is not quite as fine, but the fresh air and sunshine make up for that. Track maintenance issues are much more realistic too, with frost heaves, deadfall, thermal expansion, and critters to look after.

I had way more trains than track and storage was difficult. After some mulling, I had a 1:1 scale replica of a DSP&P waycar (caboose) built. With a transfer table for 8 trains, I could vary the consist easily.


See the caboose story and tour this railway HERE.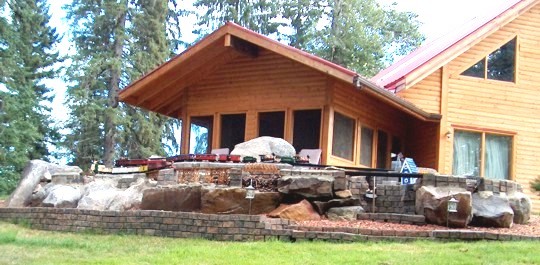 Overall view of Rocky Mountain House, Leaverite & Northern Railway,
taken from below the Big Rock.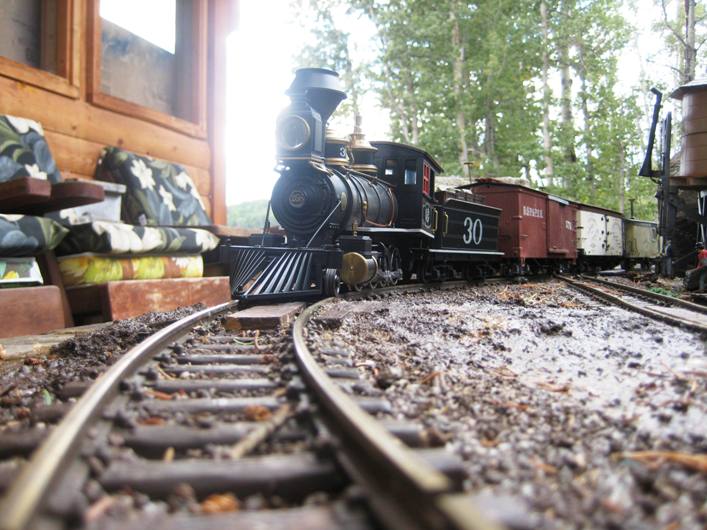 Headshot of C&S #30 and her short freight train, stopped for orders at Glacier.
My failing eyesight forced me to offer my ranch with home and outdoor railway for sale. The scenery modules were sold to a neighbour and much of the rolling stock will be offered for sale on consignment beginning in 2018. Some of my favourite large scale kit-bashed rolling stock and the brass locomotives were kept for display in glass fronted cabinets in my new condo -- memories of the days when I could see well enough to call myself a model railroader.

MY OFFICE RAILWAY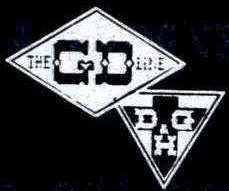 This large scale railway was a simple oval on top of my bookcases that encircled my home-office. It had an automatic passing track so that two small trains could meet and pass. The scenery was all false fronts. Track ballast is grey carpet. Simple and basic. One train was a kit-bashed tribute to John Allen and his Gorre and Daaphetid Railroad.

The other was a Grizzly Flats excursion train headed by the pretty little LGB model of "Chloe". I didn't run them much; the sounds can drive you nuts in such a small room. But they were a nice display in a space that would otherwise look empty.


The Gorre and Daphetid daily local is composed of an LGB Porter 0-4-0T (relabeled), the NMRA Heritage boxcar, and a scratch built bobber caboose, with a big grizzly bear chasing the train. The Gorre and Daphetid logos are from Linn Westcott's book on the life of John Allen.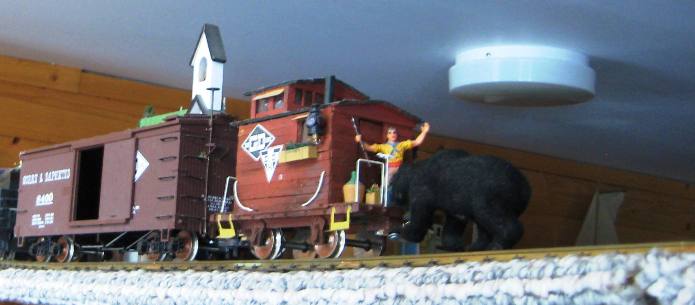 Train conductor scaring the bear? Or vice versa?




LGB's replicas of Ward Kimble's 0-4-2T "Chloe" with excursion observation car. The added refreshment car should hold enough for a day trip.
This railway was dismantled in 2017 and the false fronts donated to a neighbour who has a great overhead railway running in his machine shop.

MY LARGE SCALE RAILWAY MODULES
I built three 4-foot modules to the Del Oro standard back in 1998, using styrofoam base, backdrop, and scenery elements. LGB track, commercial buildings, a scratch built mine, and lots of details (animals, people, trees, bushes, weeds) mimic what I had done on my indoor large scale railway. These modules now live in my home-office at the new condo, awaiting some renovation after 20 years of gathering dust. Although they were intended to operate, they are currently static dioramas. Oh well, they are pretty.


Display modules: Lost Lemon Mine (left) with Brewster, an 0-2-2-0 working the ore car, Daly Glen Tank and Station (center), Foggy Bottom Lighthouse and Poisson Ratio's Fish Plant (right).
Click here for larger image (1.0 Mb)
Use the View > Full Screen option to scroll across the large image -- if you look closely near the front door of the fish plant, you will find me, my beard, and my Great Pyranees dog.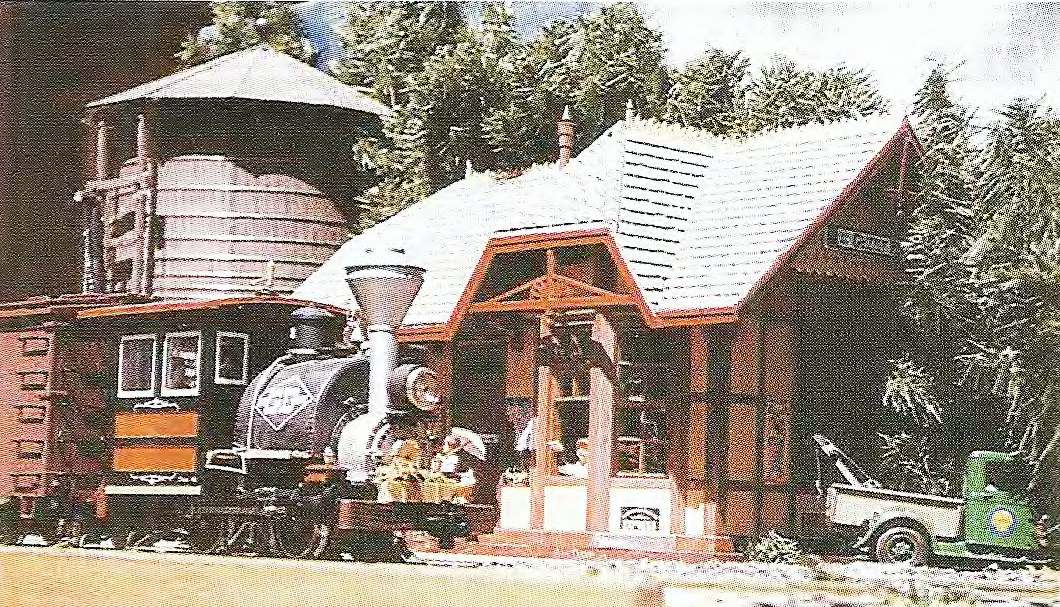 Closeup of Daly Glen Tank and Station as it appeared in the April 2000 issue of Finescale Railroader's "Module Challenge"
When I moved to the condo from the ranch, these three modules came with me to live in my new home-office. Twenty years after these were built, I decided to build a ranch module using the oil derrick and Hereford cattle from the garden railway. My eyesight had deteriorated to such a degree that the entire module was built "by feel" and not "by eye". Lots of animals, trees, bushes, weeds, a gravel road, track and ballast were glued in place without a hitch.
Module #4: Oilwell, Mack 1908 AB oil tank truck, cattle, me, my dog, my hired hand Roy on his horse Trigger, and an old thrasher fill the scene. See if you can spot the bison and bull moose.