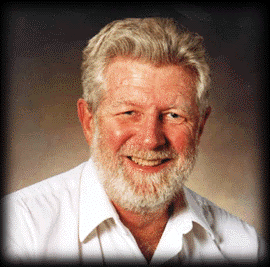 CAREER SYNOPSIS
E. R. (Ross) Crain, P.Eng

E.R. (Ross) Crain, is a Professional Engineer specializing in the science and application of Integrated Petrophysics. He brings petrophysics, reservoir engineering, geology, and geophysics together in a coherent, easy to understand, rock-physics model using the Log Response Equation and the Shared Earth Model.

To illustrate and teach the utility of Integrated Petrophysics, Ross published Crain's Petrophysical Handbook online as an eLearning resource for geoscientists, engineers, and management.

Based on 60 years of practical, no-nonsense, world-wide consulting experience, the Handbook continues to expand its scope and stay current with evolving technology, including petrophysical applications in the Green Economy.

Mr. Crain was awarded the first Lifetime Achievement Award by the Canadian Well Logging Society (CWLS) in 2019 for his contributions to the geoscience community over the course of his career. He was elected as a CWLS Honourary Member in 1994 and was CWLS President for 1990-91. He is a Life Member of the Association of Professional Engineers and Geoscientists of Alberta (APEGA). Ross's degree is a Bachelor of Engineering (Electrical) from McGill University (1962).

Ross is the author or co-author of over 100 articles and technical papers, including 3 full length, one-semester, video courses and 10 course reference manuals. He was awarded Best Paper of the Year from CSEG (1981) and from CWLS (1985). He published "The Log Analysis Handbook", a 700 page hardcover textbook (1986), the first textbook with "computer-read math".

Ross has taught his Practical Quantitative Log Analysis Courses to 3000+ students in 6 countries via in-house and open sessions. He was invited to teach petrophysics to 3rd year geoscience students at University of Calgary (2005-2007) and Schlumberger engineers at Tulsa University's post-graduate Leader Program (2005-2009).
Ross Crain's independent petrophysical consulting practice includes projects in 45 countries across 6 continents and several oceans. Clients include major and independent oil and gas companies, service companies, consulting firms, and government agencies. Major projects, to name just a few, include:
· Canadian High Arctic, on-site supervision of logging operations and log analysis, 120+ wells, 22 Tcf gas in place (1973-1982).
· Multiple Siberian and Central Asian projects, 800+ wells (1990-2012),
· Burgan Field in Kuwait, the largest clastic oilfield in the world, 770 wells (1990-1991),
· Bach Ho Field in Viet Nam, granite reservoir (1995)
· Lake Maracaibo Fields in Venezuela, 450 wells (1998-2000).
Oil sands filled the early 2000s as did unconventional gas and oil reservoirs from 2008 onward.

Ross is also the author or advisor on 25+ petrophysical software development projects. The most notable are:
· LOG/MATE on HP9825 micro-computers (1976), 5 years before IBM "invented" the PC,
· META/LOG on Lotus 1-2-3 (1986) a Rule-Based Expert System on a spreadsheet.
· LOG/FUSION, a regional reconnaissance program, used for shallow gas and CBM (200 - 2001).
· Petro/Fusion-ScriptsTM open-source code for upgrading commercial software user-defined equations.
Ross has retired from active consulting but continues research and development of content for his world-renowned Handbook.

In a parallel career, Ross Crain carved a purebred Horned Hereford ranch from the bush of west-central Alberta. He received his 25 year anniversary pin from the Canadian Hereford Association in 2005. The ranch was off-grid, using wind power for the first 20 years, solar thereafter. Conservation farming was practiced throughout the operation. Herd health and nutrition were paramount, with lots of help from local vets and Guelph University extension courses. This was home for 40 years, a welcome retreat from the hectic trials and travels of a Petrophysical Consultant.

EDUCATION
McGill University, Montreal, Bachelor of Engineering (Electrical)
Sep 1957 -- May 1962, five year full-time program


University of Calgary, Certificate in Management Development
Jan 1968 -- Apr 1970, 3 semester evening extension program


University of Calgary, Mining Geophysics
Jan 1972 -- Apr 1972, 1 semester evening extension program


Olds College, Olds, AB
Spring 1980, Purebred Cattle Business Development


University of Guelph, Self Study Extension Courses
1979 -- 1988 Cattle genetics, herd health, cattle nutrition, farm business
management, conservation farming, weed and pest control, forage production


Oil Industry Courses: well log analysis, core analysis, seismic processing, DST analysis, petroleum economics, oil and gas law, production logging, water chemistry, surface land rights.

HONOURS, AWARDS, and SOCIETY
• Lifetime Achievement Award CWLS, 2019.
• Distinguished Member Award CWLS, 2008.
• Elected President CWLS, 1990-91, Treasurer 1988-89, 1989-90,
Publications Chair 1980-81, 1981-82, 1982-83.
• Elected Honourary Member CWLS, 1994.
• Best Paper of the Year Award CWLS, 1985.
• Best Paper of the Year Award CSEG, 1981.
• Founding Editor, ASEG Bulletin, Sydney, 1970 -- 1971
• Peer Support Facilitator CNIB, 2003 -- 2006


DETAILED CAREER HISTORY



CRAIN'S pETROPHYSICAL HANDBOOK
Nov 1999 -- Present: Publisher / Author / Webmaster

• Created Internet-based training resource, the first and only online textbook for petrophysics (www.spec2000.net).

• Responsible for website design and content development for eLearning, self-study, distance education in petrophysical analysis techniques.

• Prepared 10 full colour reference manuals, 3 full length (one semester), and 7 short courses (narrated videos with exercises and lecture notes), sold online.

• Used by engineers, geologists, geophysicists, technicians, and students to enhance their skills. The courses are suitable for in-house directed study and as the backbone for university or tech school course presentations.


Spectrum 2000 Mindware LTD, Calgary, AB
Oct 1984 to Jun 2016: Founder, President, and Principal Consultant
• Created an independent petrophysical consulting practice, specializing in integrated petrophysical analysis in support of reservoir geology, engineering, geophysics, simulation, and stimulation; petrophysical training and mentoring; and forensic evaluation of third party analysis projects.

• Clients include major and independent oil and gas companies, service companies, consulting firms, and government agencies. Projects have spanned 45 countries on 6 continents and several oceans.

• Specialists in unconventional reservoirs: tight gas, tight oil, gas shale, oil shale, tar sands, coal, coal bed methane, potash, low resistivity, radioactive, laminated sand-shale, laminated porosity, metamorphic, igneous, or volcaniclastics.

• Developed and marketed META/LOG ESP, an expert system spreadsheet for petrophysical analysis. Co-developed the META/LOG script with Dorian Holgate for use on GeoGraphix PRIZM and PowerLog.
• Invited as a Keynote Speaker at Libya Petroleum Conference (2000).

• Retired from active consulting June 2016. Company wound up 2017.


ROCKING "Are" HEREFORDS, Rocky Mountain House, AB
Feb 1976 to Oct 2016: Owner / Manager
In a parallel career, carved a purebred Horned Hereford ranch from the bush and woodlands of west-central Alberta, receiving 25 year pin from the Canadian Hereford Association in 2005.

• Cleared brush and willows, cultivated, and seeded to pasture 120 acres on deeded quarter section and 240 acres of Crown grazing lease, designed and supervised fencing and cross-fencing for rotational grazing program, designed and supervised construction of barns, corrals, and working facilities for efficient one-man operation.

•
Selected initial purebred livestock, continued selective breeding program using maternal Expected Progeny Difference (EPD) statistics, culminating in top gaining Horned Hereford bull at Central Alberta Test Center in 1995.


•
Purebred herd sold during 2006 -- 2007, continued with grassers until Oct 2016. Property leased 2018, sold 2021.

Husky Oil Operations

, Calgary, AB

Nov 1987 to Oct 1988:
Staff Petrophysicist

•
Created log analysis capability for production department; set log quality control standards; provided expert advice on drilling locations and well completions; devised gas leak detection methods; presented in-house courses for over 100 staff members.
Installed and supported PC based digitizing and log analysis system (META/LOG).

Tested VAX based log analysis system (ELAN).

Demonstrated economic significance of productivity analysis from logs.

Became "redundant" in Husky's merger with Canterra. Returned to full time consulting. Best decision I ever made!


D&S Petroleum Consulting Group, Calgary, AB
Jun 1982 -- Oct 1986: Division Manager, Petrophysics
May 1983 -- Oct 1986: Technical Manager, D&S/ARC Joint Venture

• Managed integration of Log/Mate Limited staff, hardware, and software into D&S environment. HP computer sales and operations in USA were not included.

• Responsible for daily operations of petrophysical consulting, marketing, software upgrades, and Division financial reports.
Prepared proposal for artificial intelligence (expert system) version of LOG/MATE ESP, presented and sold concept to Alberta Research Council,

•

From May 1983, r

esponsible for training, planning, design, research, development and marketing for an artificial intelligence rule-based expert system for log analysis (

LOG/MATE ASSISTANT)

based on HP 9000 or IBM PC using Unix/C.



•

Facilitated technology transfer between D&S and ARC personnel; supervised staff of up to 14 professionals including consulting division staff and AI development staff .

AI project terminated Oct 1986 for lack of funding. Resumed without my involvement in mid 1987 and one prototype sold in 1988. D&S bankruptcy declared 1989.

Best paper of year award for Oilfield Expert Systems paper from CWLS (1985).

Wrote "The Log Analysis

Handbook", a 700 page hardcover textbook, published by Pennwell Books (1986), the first petrophysical textbook to offer "computer-ready" math

.

•

Laid off by D&S Oct 1986, returned to petrophysical consulting and a one year position with Husky Oil Ltd.




Log/Mate Limited, Calgary, AB
(Name changed from E. R. Crain and Associates Ltd in 1980)

Oct 1973 -- Aug 1986: Founder, President and Principal Consultant, 1980 -- 1986: President, Log/Mate Inc. Denver, CO
1980 -- 1986: Vice President, Log/Mate Services Inc, Denver

• Founder, President, Principal Consultant, and Managing Director, specializing in well log analysis, supervision of logging operations at the wellsite, special projects, and computer centre proposals for foreign governments; development and marketing of LOG/MATE, a desktop micro-computer system for log analysis and reservoir volume mapping; extensive log analysis and petrophysical experience in all parts of the world; supervised staff of up to 14 professionals and technicians.
Developed Canada's largest petrophysical consulting firm, with up to 7 professional petrophysicists and 7 technical staff, offering petrophysical analysis, petrophysical software, and desktop computer hardware, and supervision of wireline crews. (1973 - 1982)

Doubled gross sales each year to $1.9 million, the largest pure petrophysics consulting firm in the world at the time.

Developed LOG/MATE and LOG/MATE Plus, the first desk top micro computer system for log analysis, subsequently sold more than 40 systems in 5 countries, based on HP 9000 computers using HPL. (1976)

Installed first shared resource management computer system (LAN) at Alberta Energy and Utilities Board for analysis of tar sands and conventional oil reservoirs. (1978)

Supervised wireline crews as client representative, and developed petrophysical techniques, for Canadian High Arctic, Alberta Deep Basin and Prairies, as well as numerous USA and overseas assignments.

Wrote and assisted with presentation of multi-million dollar seismic system proposal in Beijing (1974).

Began offering log analysis courses in-house and in open sessions (1978).

Best paper of year award from CSEG for LOG/MATE seismic system paper (1981).

Consulting business, existing hardware, software, and client base sold to D&S Petroleum Consulting Group Ltd June 1982. Hardware sales and Denver operations retained until all Log/Mate companies were wound up Aug 1986.


Digitech Limited, Sydney, NSW and Calgary, AB,
Feb 1970 -- Jun 1971: Managing Director, Digital Technology Pty. Ltd.,
Sydney, NSW
Jun 1971 -- Oct 1973: Director and Vice-President Operations, Digitech Ltd,
Calgary AB
• 1970 -- 1971: In Sydney, managed 30 - 40 professional and technical staff, plus marketing and support staff, for seismic data processing business, reporting to Board of Directors in Calgary. Considerable travel to Indonesia, Singapore, New Zealand, and all capital cities in Australia for marketing and client presentations. Supervised wind-up of Australian operations after oil industry exploration by non-Australian companies was banned by a Labour government edict in 1971.

• 1971 -- 1973: In Calgary, supervised operations, cost control, personnel, and maintenance on EMR, CDC, and IBM multi-mainframe systems; supervised development of UNIVAC 1108 based seismic processing software, and gravity and magnetic data processing programs, as well as major improvements in synthetic seismogram package.

Supervised merger of CDP and Digitech computer operations after Digitech took over CDP. Responsible for site planning and contractor liaison for new high-security computer center, organized the move and startup of computer equipment to minimize downtime.

Resigned to start petrophysical consulting business.


J. C. Sproule and Associates Limited, Calgary, AB
Dec 1968 -- Feb 1970: Consulting Reservoir Engineer

• Evaluation of proven, probable, and unproven oil, gas, and sulphur properties, project management of drilling, geological, and geophysical operations in the Canadian High Arctic with a staff of up to 100 employees, negotiations in unit committee meetings, log analysis, preparation and presentation of log analysis courses, developed log analysis program on CDC 3300 computer.

Resigned to accept computer centre management position in Australia as Resident Manager.


Dome Petroleum Limited, Calgary, AB
Feb 1968 -- Dec 1968: Systems Analyst / Reservoir Engineer

• Programmed reservoir engineering applications on IBM 1130, log analysis and training, reservoir; engineering studies, liaison with other computer users in company, developed log analysis program on IBM 1130, preparation and presentation of log analysis courses for engineering and geological staff.

Resigned to accept engineering position with greater challenge and responsibility.


Geophysical Service Inc, Calgary, AB
Jun 1966 -- Feb 1967: Geophysical Engineer
Feb 1967 to Feb 1968: Staff Assistant to Area Manager

• Prepared geophysical data for input to TIAC 910 computer; velocity analysis and synthetic seismogram preparation; supervision of non-exclusive data sales preparation and presentation of geology and log analysis courses for technical staff.

• Seconded to Canadian Area Manager to assist with market research, compilation of internal and external sales data, development of market forecasting and crew activity prediction techniques based on historical drilling activity versus seismic crew activity, presented results to GSI President in Dallas.

Resigned to accept Reservoir Engineering / Computer Programming position.


Schlumberger of Canada, Western Canada
Jun 1962 -- Jun 1966: Trainee Engineer to General Field Engineer

• Well logging and perforating operations based in Western Canada, experienced in remote and frontier fly-in jobs, training of junior engineers and operating crew members, management of small locations; field analysis and sales; Salesman of the Year award for potash research, 1964. Developed potash log analysis on IBM 1620 in Regina. Worked out of shops in Red Deer, Stettler, Oxbow, Weyburn, Swift Current, Lamigan, Drayton Valley, Swan Hills, Whitecourt, Valleyview, Dawson Creek, Slave Lake.

Resigned to accept position as Geophysical Engineer in Calgary - oilfield life in the North was incompatible with a happy marriage.


Bell Telephone Company of Canada, Montreal, QC
Summers 1958 -- 1961: Trainee Outside Plant Engineer
• Pole and line inspection, pole and buried line design, field surveys and inspections, CATV system design, R&M design, including moving a manhole off private property, without disrupting the Montreal - Toronto long distance lines running through it.


Montreal West Hardware, Montreal West, QC
Summers 1954 to 1957, After School 1954 to 1962: Gopher

• Small machinery repairs, general repairs, sales and service, inventory, skate and mower sharpening, window repair, lawn mowing, snow clearing, Christmas tree sales.