A SMALL PIECE OF PARADISE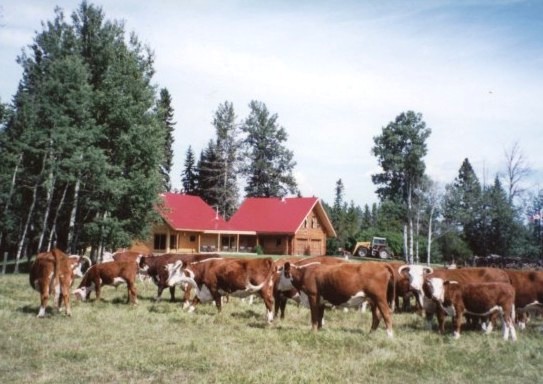 Memorial To My Off-Grid Home

This is the story of a Great Adventure, the building of an off-grid home and ranch back in the 1970s. It is still off-grid and running just fine, with newer more efficient power of course.

It became known as "Rocking Are Herefords", a ranch I built from scratch in the wilderness of west central Alberta southwest of a town called Rocky Mountain House. I lived there from 1977 through to the fall of 2017, when my failing eyesight forced me to consider a more secure setting in a condo on the west edge of Calgary. The ranch was rented on a lease to purchase option in 2018 and the sale was completed in 2021. The cows are gone - it is now a horse operation, where unwanted horses find loving care until new homes are found for them.

For a quick tour of the ranch, view this Slide Show, then do what the song says and Come Back to this page for more stories and photos.

I first viewed the property, a full quarter section (160 acres), in Feb 1976, walking in about a mile on a well used snow-packed game trail. I found out why it was so well used - it led to an open spring-fed stream, a rare sight at latitude 52 in the dead of winter. I signed the deal an hour later.
Come spring and summer, I was not disappointed. Nearly every mammal and half the birds in the Alberta wildlife books visited, including a bear who climbed 14 feet up a tree to capture a canned ham and some bug spray that we had hung "out of reach" of predators. So I found an 8 by 32 foot trailer that had seen many better days in the Yukon in the 1950s and camped in it. Not really bear proof but better than canvas.



My home for 40 years with Herefords in the front pasture.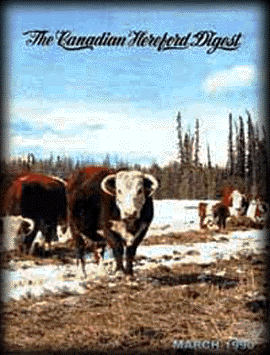 Cover girls from the Rocking R
Over the next 3 years, I cleared the scrub, built a milled-log house, and finally moved from Bragg Creek in 1978. I laid up most of the logs myself, but had 2 carpenters do the open-beam roof and finish carpentry. Being an electrical engineer, I wired the house myself, setup a 4 KW wind generator, and charged re-claimed telephone office batteries. The ranch was, and still is, 3 miles from the nearest power line and nearest neighbour. The wind generator died of fatigue and old age in 2001 and has been replaced by a 8000 watt solar array.

In fall 1979, six bred heifers and a herd bull (Horned Herefords) arrived. Using self-study courses from Guelph University and an extension course at Olds College, I quickly learned the basics of animal husbandry, with considerable help from our local vets, Tom and Martha Kostuck.

And the ranching operation grew from there. Now I was a rancher as well as consulting Petrophysicist, two parallel careers that I loved equally, although the hours were sometimes tough.

Between 1980 and 1984, I cleared, cultivated, and seeded another 240 acres of lease land. I left all the good trees as windbreaks and shelter belts, cultivating only willows and scrub brush. Some of the lease was sold as it was not as productive as I had hoped.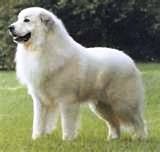 Cochiese, the first of many Great Pyrenees that
kept the cattle and the homestead secure ==>

I had a lot of help from contractors, tradesmen, part-time cowboys, and good-hearted neighbours. People like Ed Carlson, Kent Maxwell, Eric Hazen, and Walter Kupfer handled chores while I was busy at other things. Hay suppliers, truckers, seed experts, veterinarians, welders, mechanics, fuel suppliers, and loads of others added their respective talents. Although I worked my ass off, it was never a one-man job.
Cochiese, the first of several Pyrenees who guarded the Ranch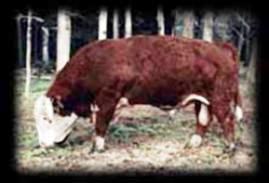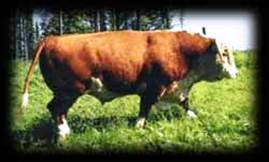 Bull power, not BS, was a motto we followed at the Ranch
The ranch needed a sequence of power more capable than the Mustang, which was kept for commuting to Calgary until 1984. A Ford F250 4x4 and a 24 foot goose neck trailer were the order of the day, and when the ranch was finished, these were replaced by a new 1982 Chevy S-10 4x4 that ran 'til 1997. It ran 200,000 miles and rusted off its frame, just like the Mustang.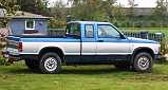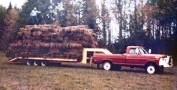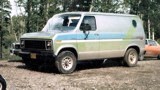 A flotilla of tractors and farm machinery was acquired, and I drove these until 2001. I only wiped out two fences that I know of. I like red so the tractors were all Massey Ferguson, but I'm not allowed to drive them any more without a seeing-eye guide onboard.
From 1979 to 2005, we raised purebred Hereford bulls and replacement females for commercial ranchers and other purebred breeders. We were told that our stock was "one of the best kept secrets in the Hereford industry". Our bulls were Maternal Trait Leaders and 10% of our cows showed up on the Top Producing Female list most years.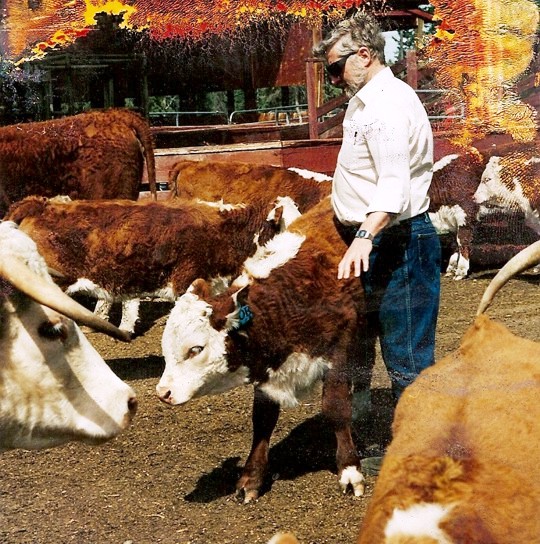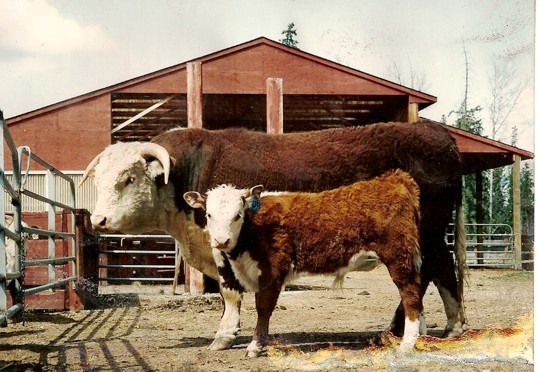 Yup, that's me with Buddy on the left, Buddy with his real Dad at the right.
In 2005, the heart of our herd was sold to the Bohnet family of High River and the younger bred cows were dispersed through Innisfail Auction. The bred heifers, yearling bulls, and 2-year old bulls were sold in 2006. We ran grassers in the summer until 2016 when the older than old eyes told me to quit. The pastures were rented to a neighbour to keep the grass in good condition.
We put a lot of time and effort into our Herefords, not to mention love and affection for the cows, their calves, and our great bull power. We miss their peaceful nature and truly mourn the loss of our "family".
Forty years after the initial purchase, my eyesight had deteriorated enough to tell me I had to move to a place that required less effort. I retired from ranching and from the consulting business in June 2016 and moved to a condo in Calgary. It's nice but I really miss the peace and quiet of the Ranch!!

These webpages about my ranching days are meant as a memory jogger for me as I creep slowly toward the final quarter century of my life. Join me in reviewing this beautiful Piece of Paradise.



THE RANCH HOUSE
The modern, energy-efficient open-beam home, built in 2002, is finished in pine log siding over structural insulated panel walls and roof. An attached two car garage, constructed from milled logs in 1980, has an immaculate one-bedroom guest suite above (730 sq ft), with full bath, kitchenette, and large living room. Both overlook pristine woods and pasture land in front and the stream behind. In addition, a 330 sq ft screened porch "summer kitchen" with BBQ augments the recreational space.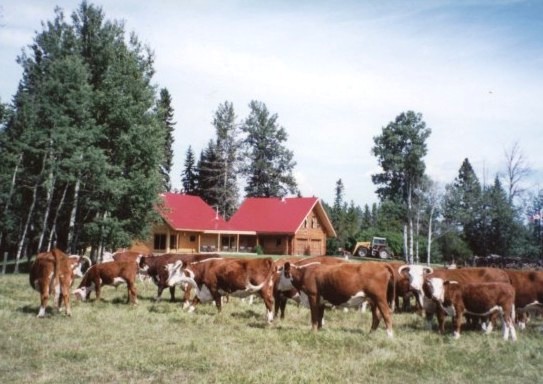 Ranch house with our cow herd in the front pasture
Solar panels and a natural-gas-powered generator with inverter and batteries provide reliable "off-the-grid" independence. Ample clear water comes easily from a 90 foot drilled well.

Landscaped grass lawns and a rock garden, complete with garden railway, complement the finish of the ranch house. Massive spruce, pine, and aspen trees shelter the home from the weather on three sides, giving an unobstructed view to the south.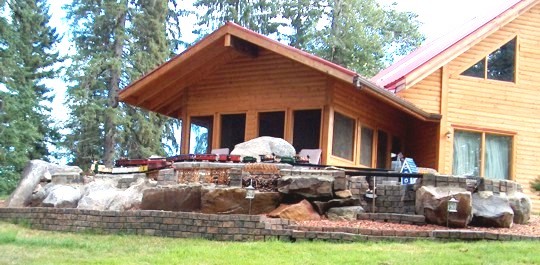 View of rock garden, garden railway, and large screened porch on west side of ranch house.
There is a creek-side patio, landscaped yard, and beautiful native trees. Some very large glacial erratics were formed into a rock garden with a detailed garden railway. Wildlife of all kinds visited daily. The Great Pyrenees dogs kept the house and cattle safe from predators and were great hiking and fence repair companions.



THE LAND
There are 160 acres deeded land, surrounded by Crown Land on all sides, with 120 acres of tame pasture, all accessible by high grade interior roads. Extensive cross-fencing, with high-grade galvanized steel gates, affords excellent control for rotational grazing. Carrying capacity is 50 cow-calf pairs summer grazing (winter feed purchased).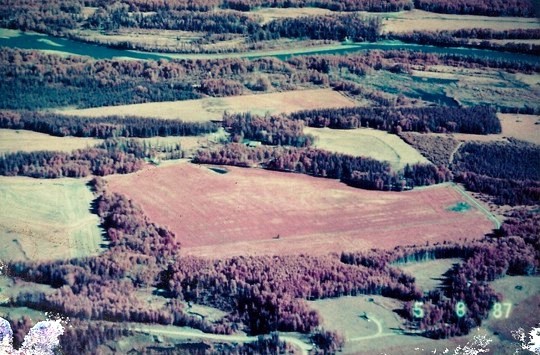 Aerial view of deeded quarter and a portion of adjacent grazing lease (foreground) looking a little east of north, North Saskatchewan River in background, Cowtown at center of photo.
Surrounded on all sides by government land, this property is an oasis in the wilderness. A year-round stream, 80 foot pine, spruce and aspen shelterbelts, and ample tame pastures make this a practical working cattle or horse ranch, personal retreat, rural residence, private hunting lodge, or all of these.

The ranch sits just 1/2 mile from the North Saskatchewan River and two miles from the largest Forest Reserve in North America. Hunting, fishing, hiking, and recreational travel are only yards from the front door. World-famous Banff and Jasper National Parks are 110 miles from Rocky Mountain House, offering skiing, hiking, and the spectacular Canadian Rockies scenery. Calgary and Edmonton, both 1 million plus population centers, offer everything in shopping and entertainment that might be desired, and Red Deer is only an hour away with most big city amenities.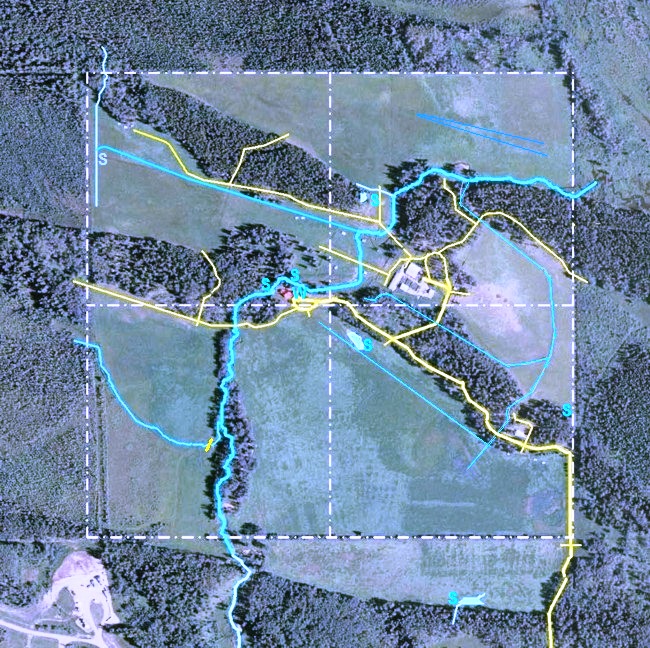 Aerial photo of NE 24-39-9W5 showing internal roads, creek, drainage, buildings, and pastures.

THE CATTLE FACILITIES
Cattle handling facilities are modern and in good repair, consisting of a large hay barn with attached calving pens, heated maternity barn with bunkhouse, kitchen and office, plus numerous smaller outbuildings and corrals. A covered shelter over the working chute, weigh scales, and squeeze keeps the cowboys dry while processing cows or calves. This area, known as Cowtown, is the envy of the community and praised by all the vets who have used it to treat a sick animal.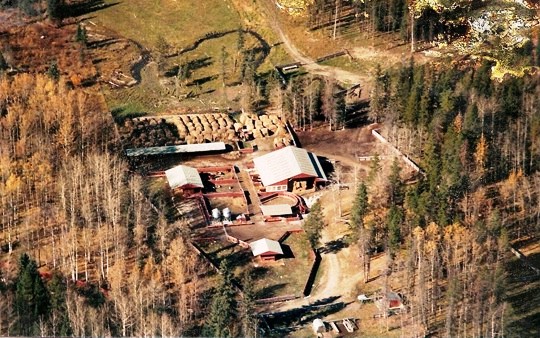 Cowtown buildings looking West.

Keep scrolling down to see more photos of the land, buildings, machinery, bulls, cows, calves, dogs, and cats that make up a working ranch.

ACCESS ROAD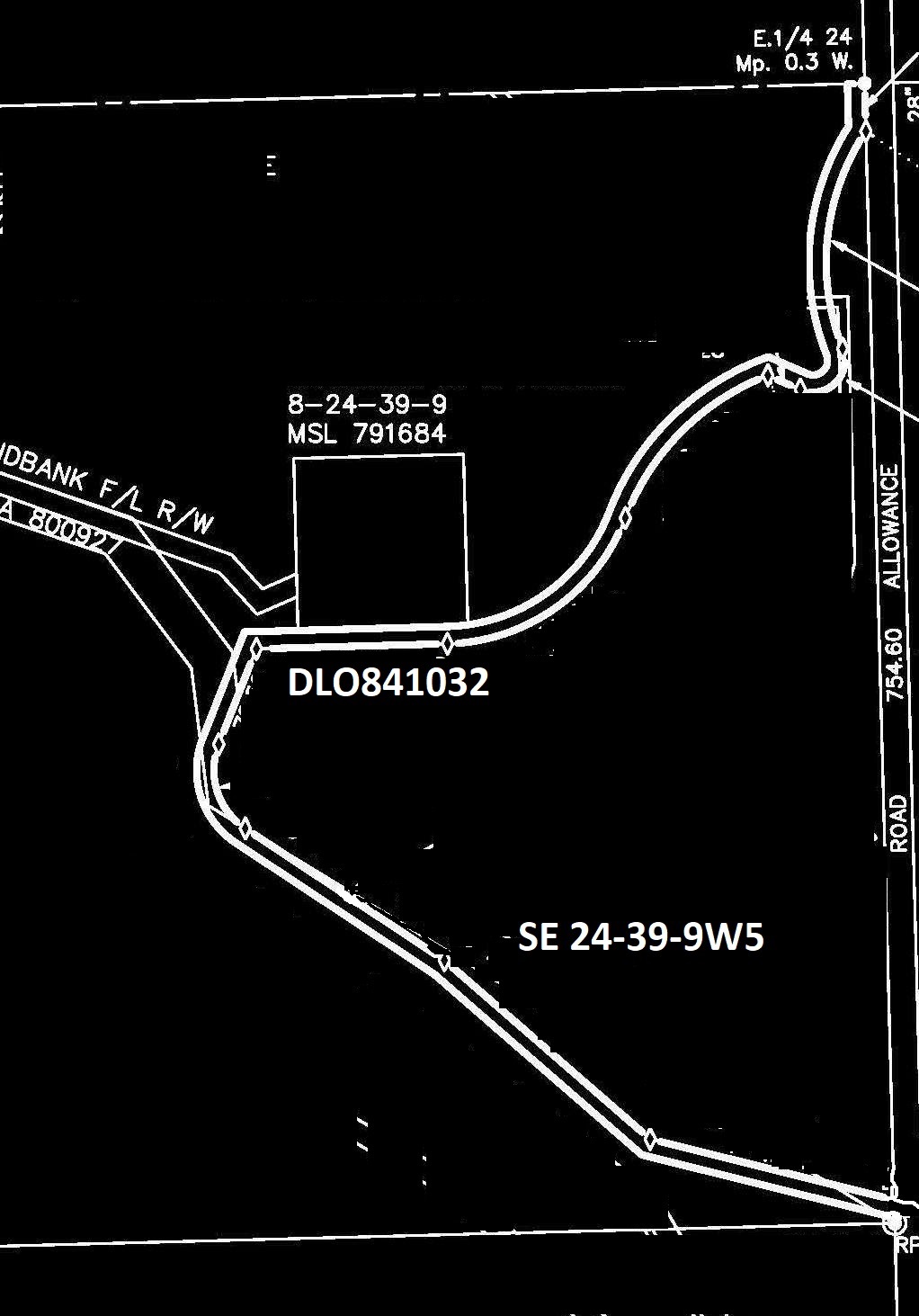 The access road to the property is covered by a License of Occupation issued by the Provincial Government. It connects the end of Range Road 9-0 through Crown Land to the southeast corner of the deeded property. The License has been in existence since sometime in the 1960's. The road is maintained by the land owner.

Map of Access Road showing the route from the Municipal road (bottom right) to the deeded land (top right). Commercial operators who use the road continue westbound (top left of map) and do not come anywhere near the deeded property. ==>

A portion of the road is used by commercial operators under Road Use Agreements with the License Holder. The License is conveyed with the deeded property when the property is sold or transferred so that access cannot be denied.

It is a high grade gravel road with ditches and culverts, and cattle guards with gates, except on the portion used by commercial operators.

The land traversed by the road is a Crown Grazing Lease so cattle may be present from April through September each year.

LOCATION MAP
GPS 52.37409 N 115.15982 W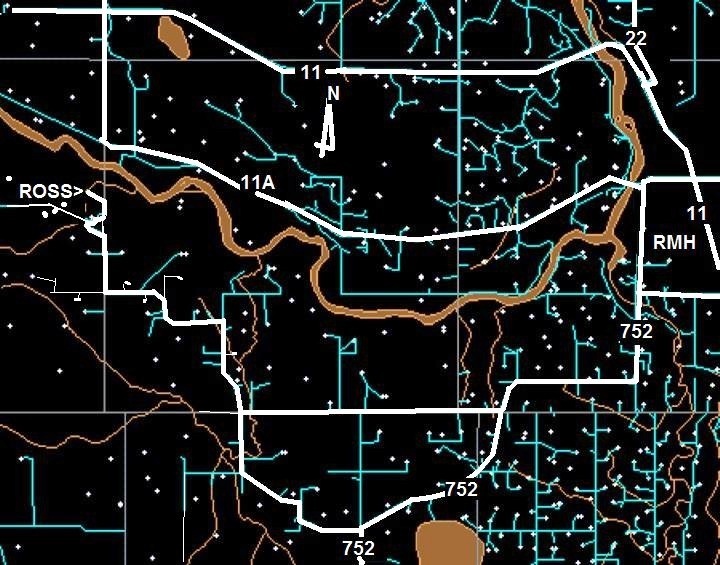 Road Map from Rocky Mountain House (RMH) to Rocking "Are" Ranch (Ross).
GPS coordinates: 52.37409N 115.15982W ALS Survey: NE24-39-9W5

A PROPERTY FOR ALL SEASONS
Photo Essay

All photos on this page taken by E. R. Crain.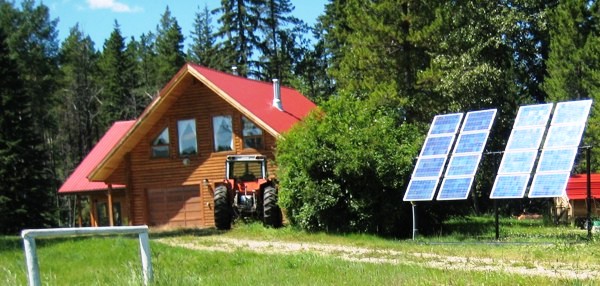 Completely off the grid with solar power and natural gas heat.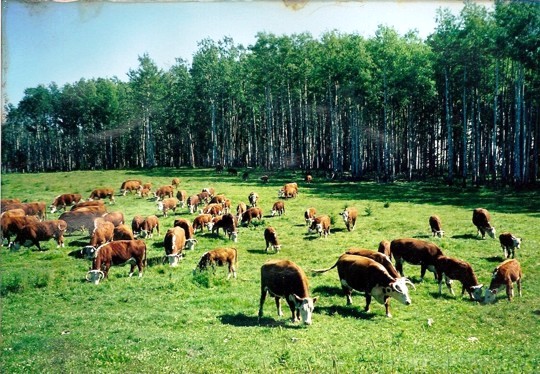 Meadow foxtail makes good grass, and in turn makes for healthy critters.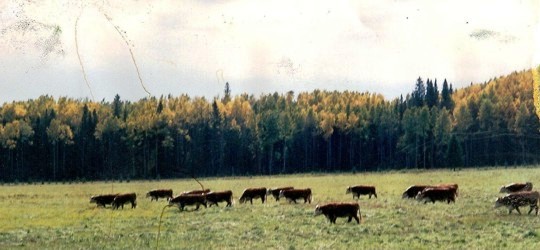 View of south pasture from the front window of the ranch house - pastoral and peaceful.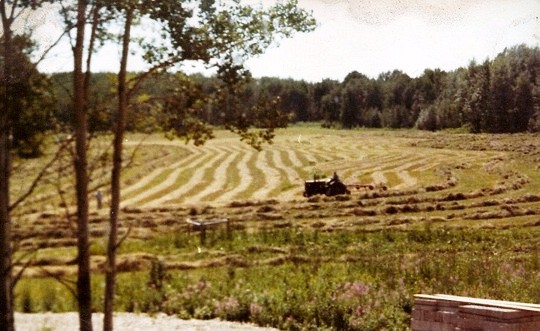 Raking hay in south pasture, as seen from living room.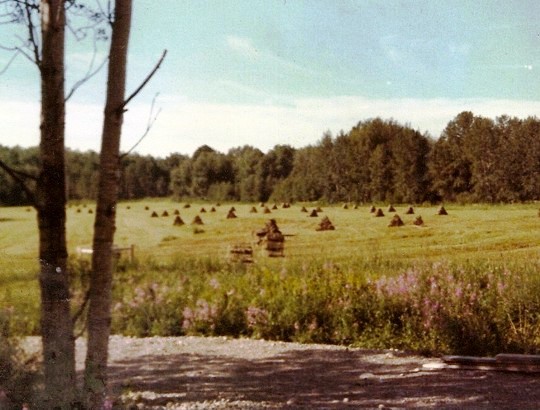 All baled and ready to go. We upgraded to a stackmaker the following year.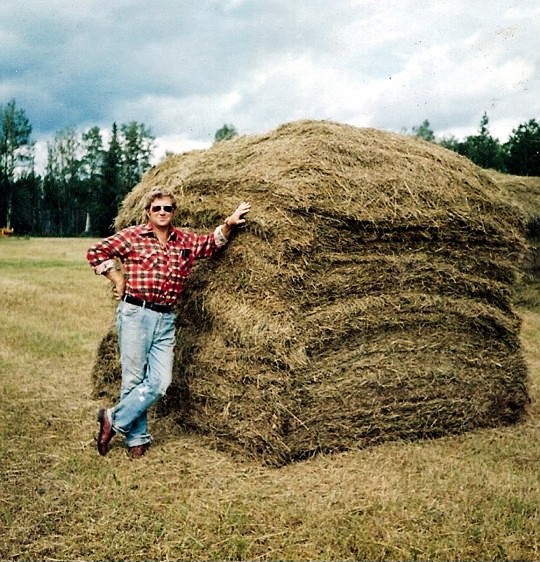 How's that for nonchalance - breadloaf stacks were made with a Hesston stackmaker.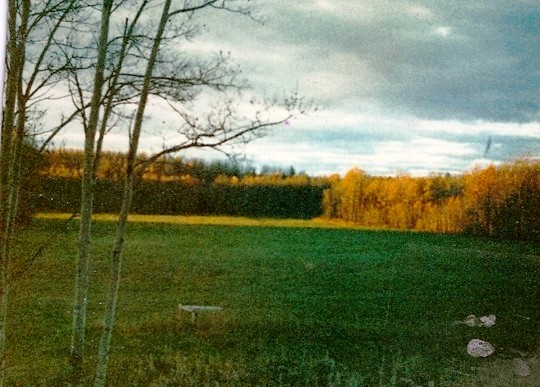 Fall colour spectacular - harvest is in the barn.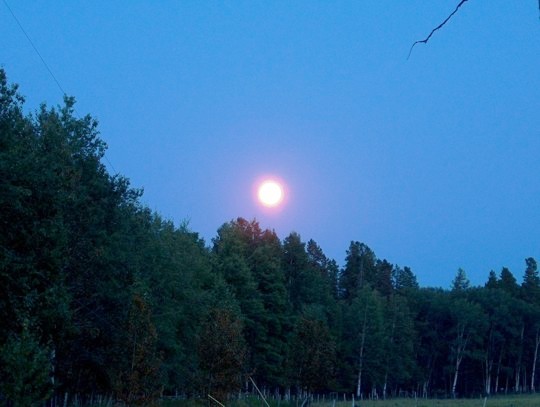 Moonrise after fall harvest
Click here to see photo showing craters and stars from handheld shot (1.6 Mb)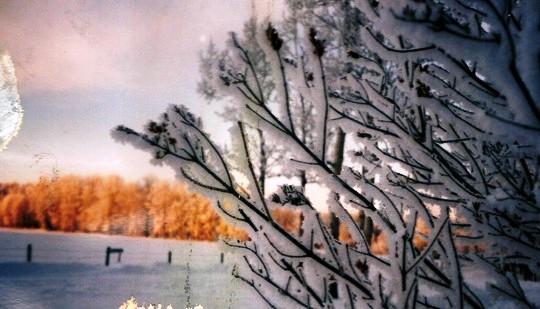 Frost on the trees at sunrise - calving season coming next.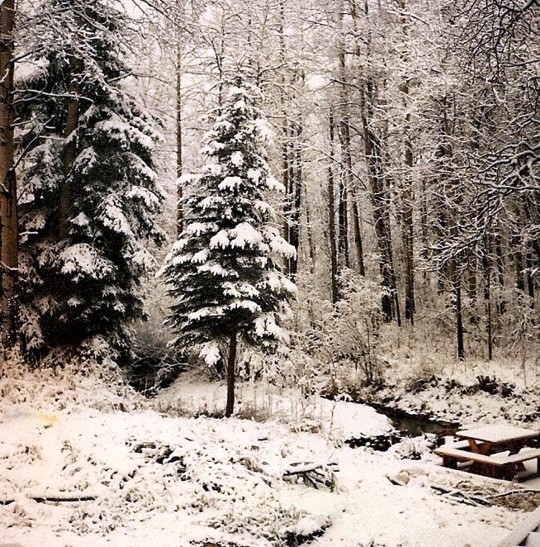 The spring-fed creek runs all winter - a rare sight in Alberta. This view
was taken from the side lawn.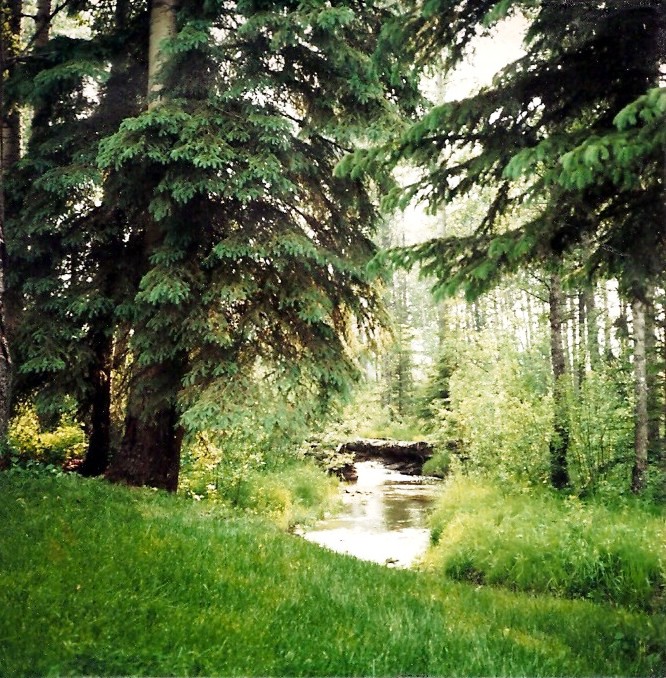 Spring has sprung - here's the creek again, viewed from the side lawn.




MEMORIES OF THE CATTLE
Photo Essay

From 1979 to 2005, we raised purebred Hereford bulls and replacement females for commercial ranchers and other purebred breeders.
We were told that our stock was "one of the best kept secrets in the Hereford industry". Our bulls were Maternal Trait Leaders and 10% of our cows showed up on the Top Producing Female list most years.
In 2005, the heart of our herd was sold to the Bohnet family of High River and the younger bred cows were dispersed through Innisfail Auction. The bred heifers, yearling bulls, and 2-year old bulls were sold in 2006. Until 2016, we ran grassers in the summer and leased some grass to keep the pastures in good condition. Failing eyesight forced me off the ranch in 2017.
We put a lot of time and effort into our Herefords, not to mention love and affection for the cows, their calves, and our great bull power. We miss their peaceful nature and truly mourn the loss of our "family".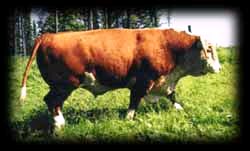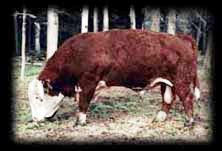 FA Silver Canadian ET 37D LCI Royal Red ET 83A
Total Maternal EPD +42 Total Maternal EPD +42


Read more about the herd and our bulls at Rocking "Are" Herd History.


OUR CATTLE AT WORK
Photo Gallery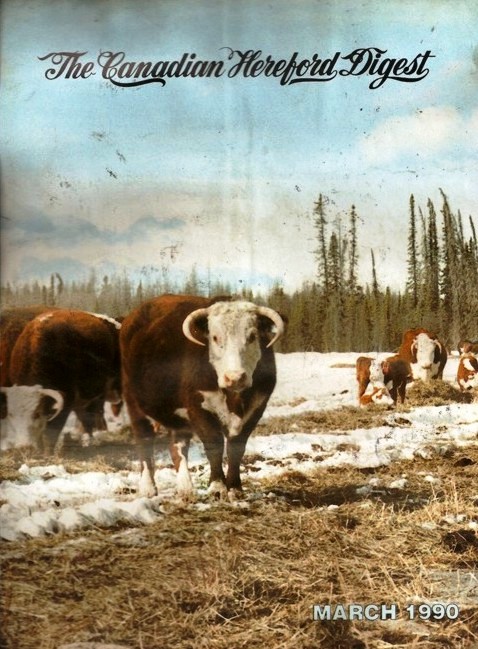 In March 1990 we made the cover of Canadian Hereford
Digest . Thanks to Kurt Gilmore, Editor, CHD and to Marty Ross who took the photo.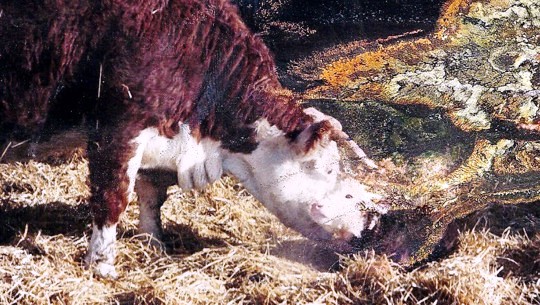 A mother's love, minutes after birth - new life and new hope.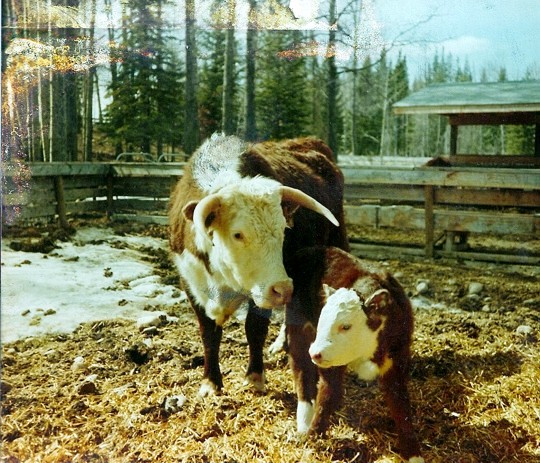 Newborn, warm, dry, and well-fed.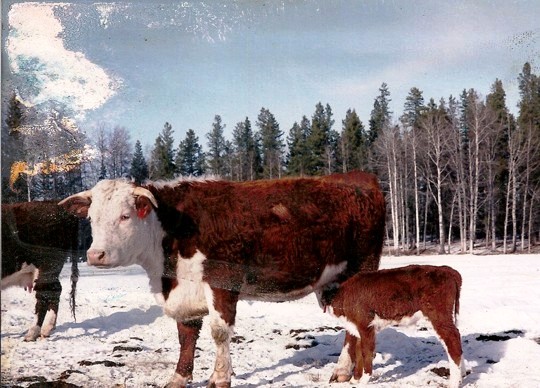 Cow and calf at work.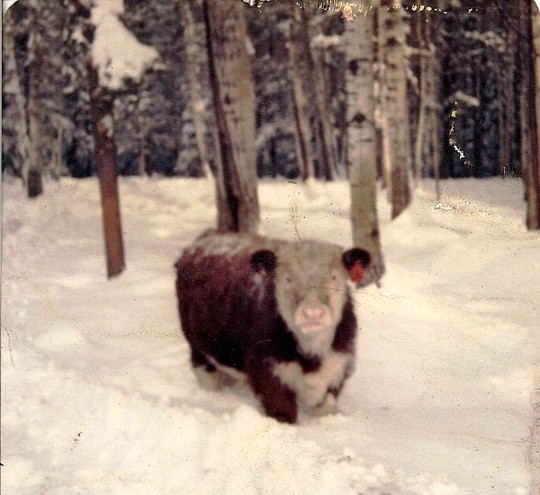 If only calves could talk - @#$%%$# @##$@! SNOW!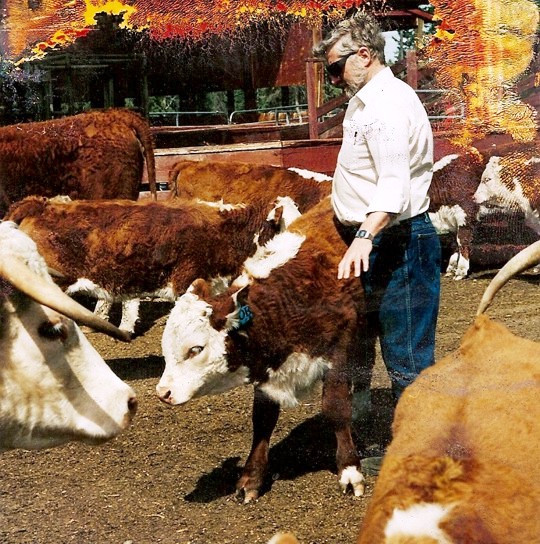 Buddy and his Dad, both as tame as puppy dogs.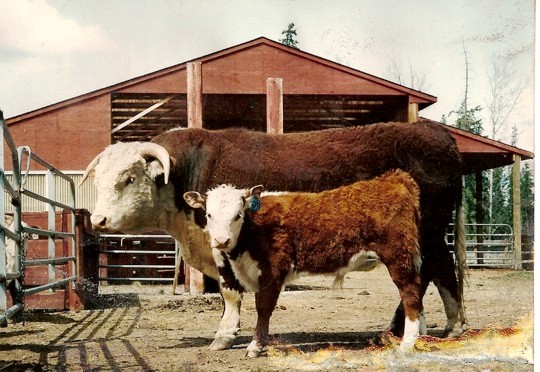 Buddy and his real Dad.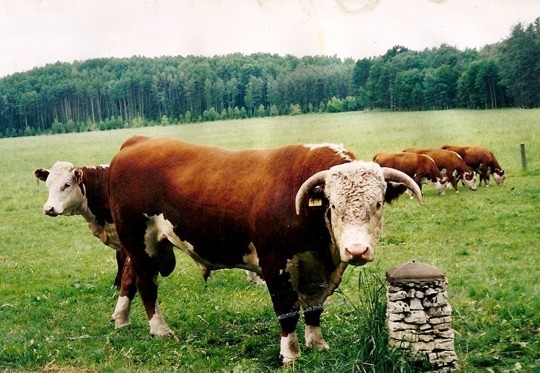 The fence climber in the front yard, with a girl friend.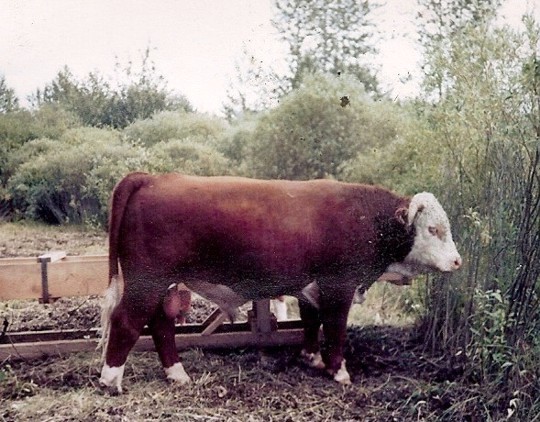 Taimi Mark Broen 17L - our first bull, purchased from Walter Berger, Taimi, in 1980.



HH Advance N194 -one of the best cow producers in the industry, purchased in
1986 at Peacock dispersal.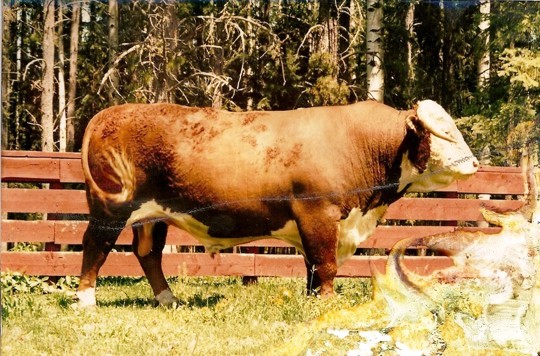 GH Britisher 3X was obtained from the Hansen dispersal in 1993, replacing N194
who died in service of heart failure.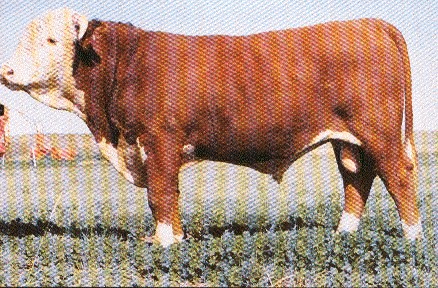 LCI Royal Red 83A, one of the best maternal trait bulls in the industry,
purchased from the Floyd Anderson dispersal in 1995.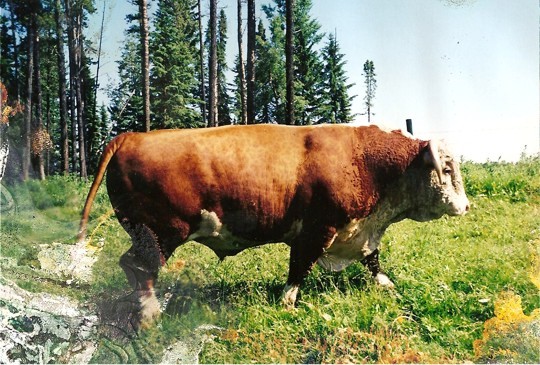 FA Silver Canadian 37D, another maternal trait leader, came from Bjorger Pettersen in
1998, and served us well.


HERD HISTORY
Bull Power With Maternal Traits

1979 - 1981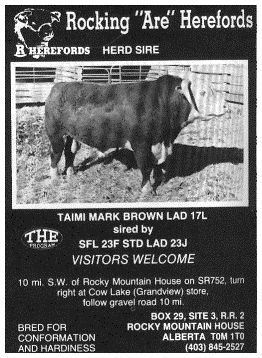 In the fall of 1979, I purchased six bred heifers and a long yearling bull from Walter Berger of Taimi, just east of Rocky Mountain House. Taimi Mark Brown Lad 17L served us for the first four seasons. Four of the original six cows gave us 17 calves each, and appeared in the CHA superior cow list for several years. Daughters and grand daughters are still in the herd. Several sons sold at the AHA Test Center for good prices.
I was a rank amateur in ranching, and learned a lot by trial and error, plus the tremendously valuable courses and literature from Alberta Ag, Olds College, and University of Guelph. The recurring theme I learned was "Nutrition is everything". That means a balanced ration – not over-feeding!
A good vaccination program, a complete mineral formula, clean bedding, and parasite control will take care of the rest of animal health concerns. Society would do well to look after the human race as well as we look after cattle.

1982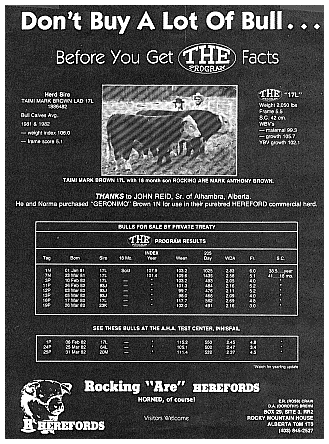 I was proud of our weights and advertised them in 1982 and 1983, well before the current emphasis on EPDs in modern advertising.
I also believed that the THE (Total Herd Evaluation) program sponsored by the Canadian Hereford Association would lead to considerable herd improvement – which it did. Every animal in our herd has been enrolled, with actual measured birth and weaning weights submitted. We did not high-grade our EPDs by leaving out the culls.
Most of our customers today still have no idea what EPDs do for them, but I believe it helps produce sound, middle-of-the-road animals for local customers. Since I stress maternal traits, EPDs are essential in choosing herd sires and "keeper" cows.
My deteriorating eyesight forced me to stop driving, so it was hard to get to sales, shows, and social events. It also meant that I could not recognize faces easily. It makes "face-to-face" marketing, so necessary in the purebred business, really difficult!
1983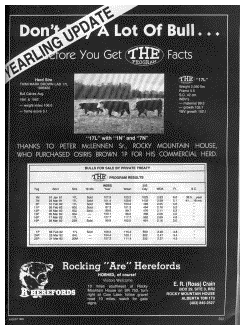 Our 1983 herd sire advert still featured "Brownle" and our statistics. We added cows from Stauffer Farms and the Bar 77 (Zane Block) dispersal. The Bar 77 cows were very modern for their time, and lasted a long time at Rocking "Are". Daughters and grand daughters are still doing well here.
Ranch construction was pretty well finished in 1983. These facilities have also served well over the years. They were designed by me for one-man operation as much as possible. It's always more efficient with a two-person crew, but three are seldom needed.
We calve in January and February and, until 1991, did not have a heated barn. This made for a few cold nights, frozen ears, and slow starters.
A lot of time was spent improving pasture, clearing lease land under the Range Improvement Program, and cross-fencing in anticipation of intensive grazing.
1984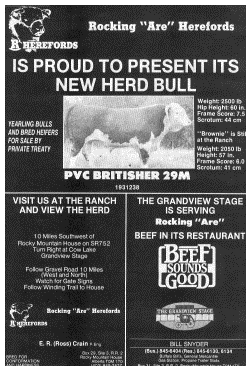 In 1984, we acquired the first of several proven bulls that significantly improved our herd. PVC Britisher 29M came from the Pleasant Valley Colony herd dispersal. He bred only one season prior to being hit by lightning. "Brownie" bred his last group of cows in 1984 and was retired from service.
We added a heifer group from Stauffer and Ulrich, but these were low-end, low-priced critters and did not live up to our expectations. Out of twenty head, only one stayed in the herd for more than three years, based entirely on their calves growth rates.
We worked at a conception-to-consumer marketing plan, selling to a local restaurant, a hotel near Drumheller, and to a private trade, using a local butcher for the cut and wrap. With a small herd, it was difficult to have a fat animal ready at all times, but we kept it up for several years.
I made more profit on the beef sales than live cattle by quite a margin. It was a good education in the beef industry and helped me understand the feedlot, packer, and retail side of the business.

1985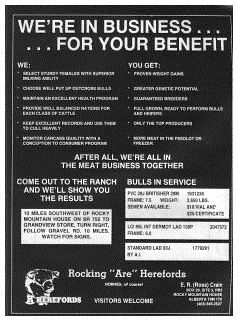 I arranged a bull sharing deal with Tom Irwin in 1985. I bred the early season. He picked up the bulls on June 1 and he bred the later season. One bull was wintered at each ranch. LCI Dermot Lad 130P was a great bull but he was put down because of lumpjaw. With 29M killed by lightning, we were out of bulls!
We used 93J by AI as part of our program and did cleanup with 130P. Because of the distance between us and the AI tech, we were not very successful and never tried AI again.
I became active in the Central Alberta Hereford Club as a Member and later as a Director. I initiated the CAHC Newsletter, and by personally inviting all Hereford breeders to re-join the Club, I raised the membership from less than 20 to more than 60 in four years. The Club is still very strong and has sponsored excellent field days and ranch tours throughout Central Alberta.

1986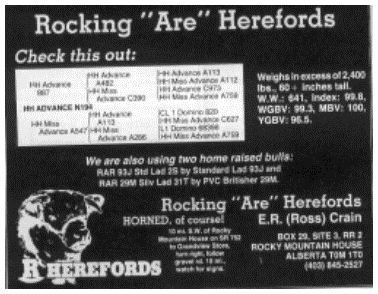 With the death of 29M and 130P, I needed a new bull for 1986. HH Advance N194 was obtained from the Peacock dispersal. He was a great cow builder, leaving perfect udders and feet. He ranked in the top thirty Canadian Herefords for weaning and yearling weights.
A dozen of his daughters are still in the herd (2001) and many were sold to local ranchers and other breeders. N194 daughters are still coveted by knowledgeable breeders.
I helped arrange the 1987 CAHC Tour through the West Country. We received many compliments on our facilities and cattle.
Heifers were added to the herd from a "brand name" dispersal. Three out of four did not breed after five months with the bull. We had 100% conception on our home-raised heifers. Name brand cattle are no better than those from small breeders, especially if the breeder's emphasis is on the Calgary Bull Sale instead of herd fertility.
1987 - 1989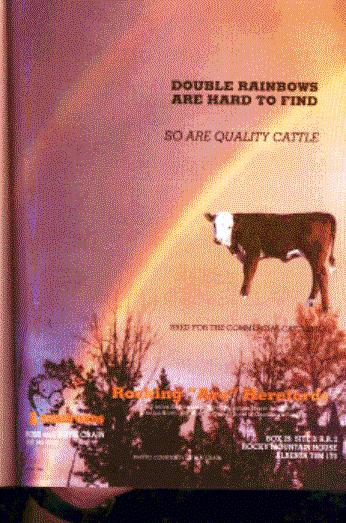 In 1987, we put more effort into advertising. The double rainbow photo taken in my front yard by my father was a dramatic symbol of the pot of gold that Herefords could provide. No one ever commented on the ad, but we used it as a background for several years.
N194 continued as our senior bull. We acquired Tom Irwin's heifer crop prior to his dispersal. After several years of long calving seasons, I gave up and culled all late comers - a heart-breaking but necessary step.
Our major sale outlet for breeding stock was the West Country Hereford Sale held in Caroline. We and four other West Country breeders set up this sale to showcase both polled and horned Herefords. We participated until 1993, when the sale disbanded due to retirement of two of the main contributors. Managing and planning joint sales are a mix of diplomacy and compromise, traits not common to independent ranchers.

1990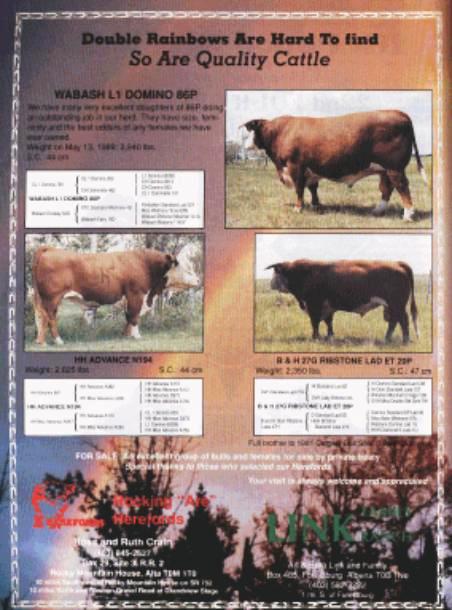 In 1990, we arranged a bull-sharing agreement with Art Link. He was smitten by N194 and I really liked his 20P bull. We shared the rainbow ad for several years. 96P was never used at Rocking "Are" but he was a great performer at Link's.
Our joint efforts put a lot of good females into commercial herds.
A photo of our herd taken by Marty Ross in the spring of 1989 appeared on the cover of the March 1990 Hereford Digest. We received more phone calls on this event than from all other ads combined.
The heifer I received from Art Link as a signing bonus for the bull sharing deal turned out to be one of the top five cows in our herd.
Many of our sales are direct off the ranch. Select animals have sold at the AHA Test Center and the CAHC Supremacy Sale. Some cows, heifers, and cow/calf pairs sell at Cole's Auction in Rocky Mountain House.
1991 – 1994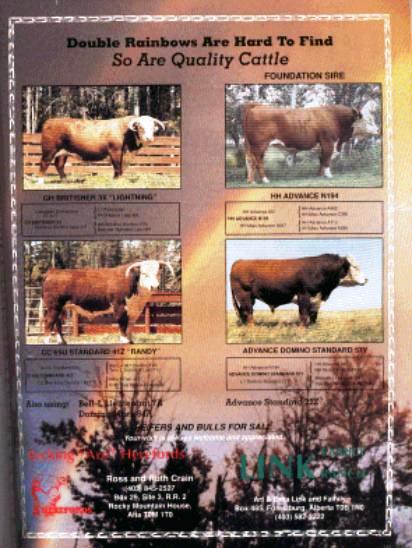 We used much the same joint
ad again in 1991 and 1992, but with more detail about the herd sires. The bull battery did not change.
HH Advance N194 died in service in 1992 from heart failure. GH Britisher 3X was obtained in 1993 from the Hansen Dispersal as a replacement. We called him "Lightning" because of his mellow temperament and quick attention to his ladies. Lightning stayed with us until he died of old age in 1998.
We also picked a Coulee Crest bull, 41Z, as our junior bull.
Our cow herd was very stable during this period, with many N194 daughters performing extremely well.
The West Country Hereford Breeders sponsored the CAHC Tour for 1993. While I was on vacation, two of the West Country breeder's decided that no Field Day events would be held – much to the distress of the CAHC. The rationale for this decision was never explained satisfactorily. CAHC did arrange a separate Field Day at Coulee Crest and Rocking "Are" sponsored the music, to help make amends for the stupidity of the WCHB decision. I may sound a bit bitter here but I was terribly distressed by the WCHB decision and lost a lot of credibility at CAHC meetings.
1995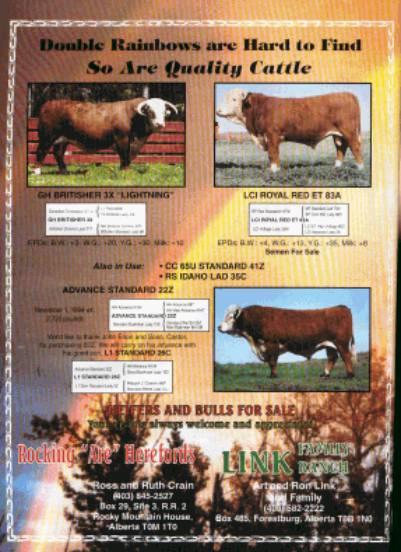 We acquired LCI Royal Red 83A from the Floyd Anderson dispersal. We still had 41Z, 3X, and a good junior bull, so we were pretty "bull-rich". Our bull sharing with Art Link came to a sad end with his untimely passing.
41Z and all junior bulls were retired in favour of the superior EPDs of Royal Red and Lightning. We were also ruthless in culling low efficiency critters, as always.
Our intensive grazing program also paid off, as our weaning weights continued to improve. Grass is our most important asset, and grass management is crucial to economic success.
Rocking "Are" had the high gaining horned bull at the AHA Test Center. He was starved by his new owners and failed to breed. The vet report showed his October weight to be less than his April weight – what a waste!
1996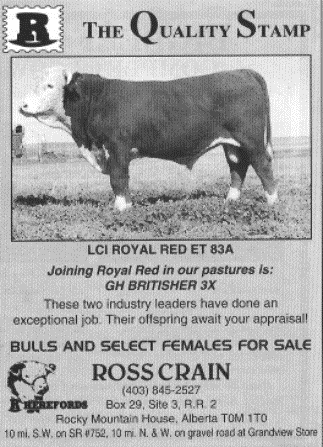 By 1996, two of the best maternal bulls in the industry, 3X and 83A, were working at Rocking "Are". With a good base of N194 cows, and a number of other good "name-brand" cows, our calves looked great. Private treaty sales made it difficult to keep the herd at its normal size, although prices were not as high as expected.
With the help of my herdsman, Kent Maxwell, we made it to a few sales and picked up a few of Edith Santee's cows at her dispersal.
To mark the beginning of a new era at Rocking "Are", I picked a new logo for the ads and Kurt Gilmore gave us a new "modern look". Did anyone notice?
Our bull leasing program, begun in 1989, continued to be very popular. It also gives us some well proven bulls to carry forward as two year olds.
1997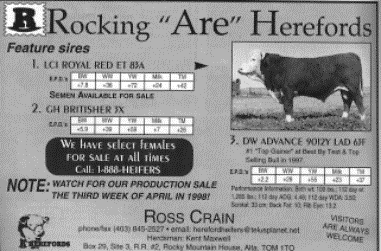 In 1997, we took the top performing bull, DW Advance 9012Y Lad 6F, from the AHA Test Center for our heifers. The bull was a great disappointment as he left many open heifers. Semen tests showed the reason so he was pounded. The open heifers sold high but this is faint compensation for too much hot feed and no exercise at test. Another lesson learned! His only son, semen-tested A-OK, serviced our heifers for two years until he broke his leg in 2001
This year we set up a toll free phone number and an email address to make it easier to reach us. As far as I can determine, only one rancher has ever availed themselves of these free services.

1998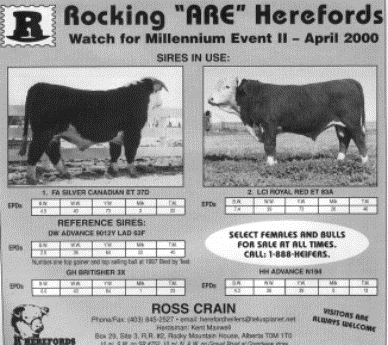 1998 saw 3X pass away from old age a month before breeding season. A few frantic phone calls and we found FA Silver Canadian ET 37D available from Bjorger Pettersen's Ranch of the Vikings.
Combined with Royal Red, we again had two of the industry's top maternal trait leaders. With the 3X and N194 maternal strength in the cow herd we are sitting on the "best kept secret" in Alberta Herefords – superior maternal values with reasonable birth weights, unequaled udders, and perfect feet.
After 20 years of culling more than 280 cows and 500 heifers, it's nice to see the consistent results we have been looking for. It sure takes a while!

1999 - 2000
We held our 20th Anniversary Sale in April 1999. Called "The Millennium Event", it was a great success. Calves from our stock went on to obtain great prices at the AHA Hereford Supremacy Sale in Innisfail. Congratulations to these observant breeders. Millennium Event II, scheduled for April 2000, was cancelled when private treaty sales cleaned out our sale prospects.

2001 - 2003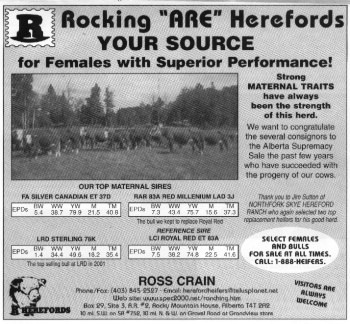 Three years of drought have not hurt our grass due to careful monitoring of our rotational grazing program, aided by some extra rain related to our close proximity to the foothills and the North Saskatchewan River. The swamps are dry, showing how far the water table has dropped. Further North, East, and South, commercial herds are suffering reductions.
We lost Royal Red 83A to old age during the summer of 2001 and have replaced him with one of his best sons, AOWI Red Millennium 3J. FA Silver Canadian 37D continued in service until 2003, when his age became a problem.
We also picked up the high selling bull at LRD's 2001 fall sale, AGF Sterling 78L, to service our heifer crop. Unfortunately, he wasn't much interested in girls, so after 2 years of trying, we gave him away for hamburger.
Our part time herdsman, Kent Maxwell, was killed in a logging accident in early 2002. Although his involvement in our herd had decreased over the last few years, we lost a good friend and keen Hereford eye.

2004 – 2006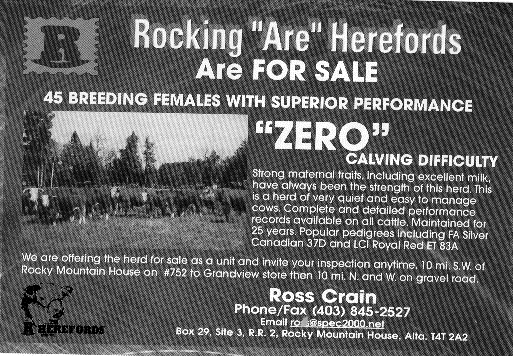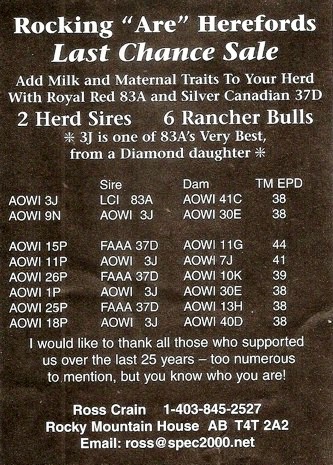 In 2005, I received my Canadian Hereford Association 25-Year pin at the annual summer field day. Later that year, the heart of our herd was sold to the Bohnet family of High River and the younger bred cows were dispersed through Innisfail Auction. The bred heifers, yearling bulls, and 2-year old bulls were sold in 2006.

You can blame my poor eyesight, the tail end of the BSE crisis, and tired bones and body. I quit calving in the cold and the dark of mid-winter, before any serious injuries could overtake me.

Epitaph
I ran grassers from 2008 through 2016 at Rocking "Are" - and leased some grass to a neighbour to keep the pastures in good condition. The property was put up for sale in the fall of 2016. It went on a lease to purchase option in 2018 which was exercised in 2021.

I moved to Calgary in 2016. If you are in the mood to reminisce about Herefords or the state of the world, come and visit me.
I put a lot of time and effort into our Herefords, not to mention love and affection for the cows, their calves, and our great bull power. We miss their peaceful nature and truly mourn the loss of our "family" of purebred Herefords.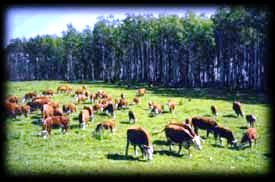 My favourite photo: the Rocking Are herd with heads down and tails up, feeding calves and making beef, on land I cleared, cultivated, and seeded. Ah, to be young and keen again :)

HOUSE Exterior, Interior, and Out Buildings
Photo Gallery

All photos on this page courtesy of Kim Elliot, Re/max Real Estate, Rocky Mountain House.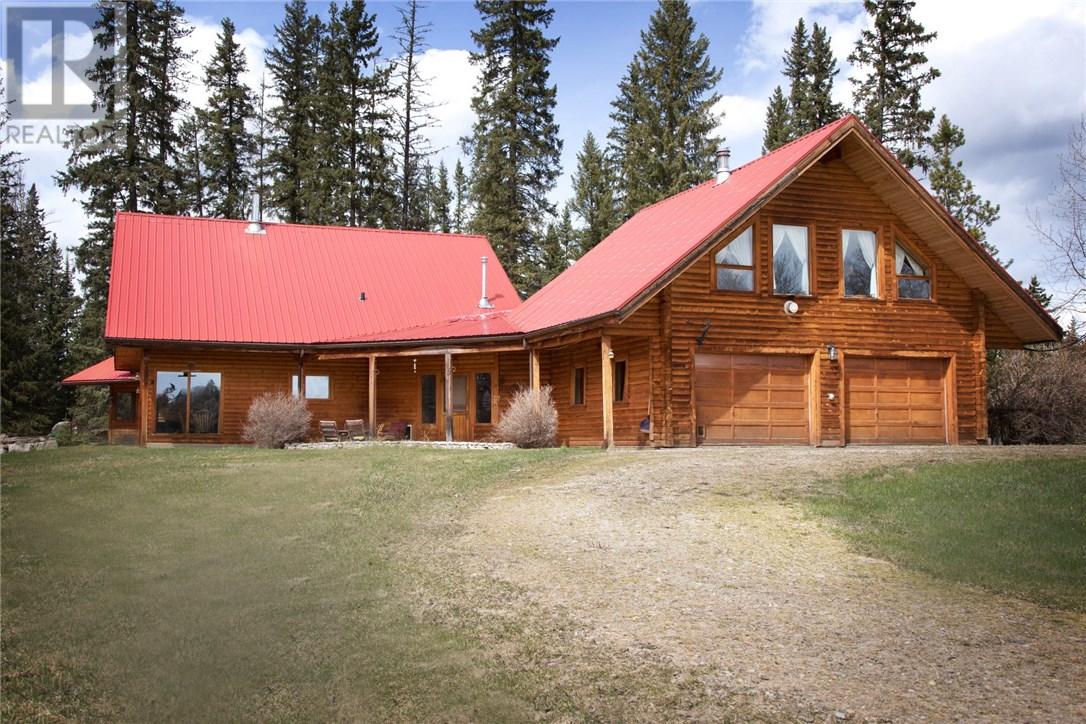 Ranch house and attached garage, with guest house above garage, looking north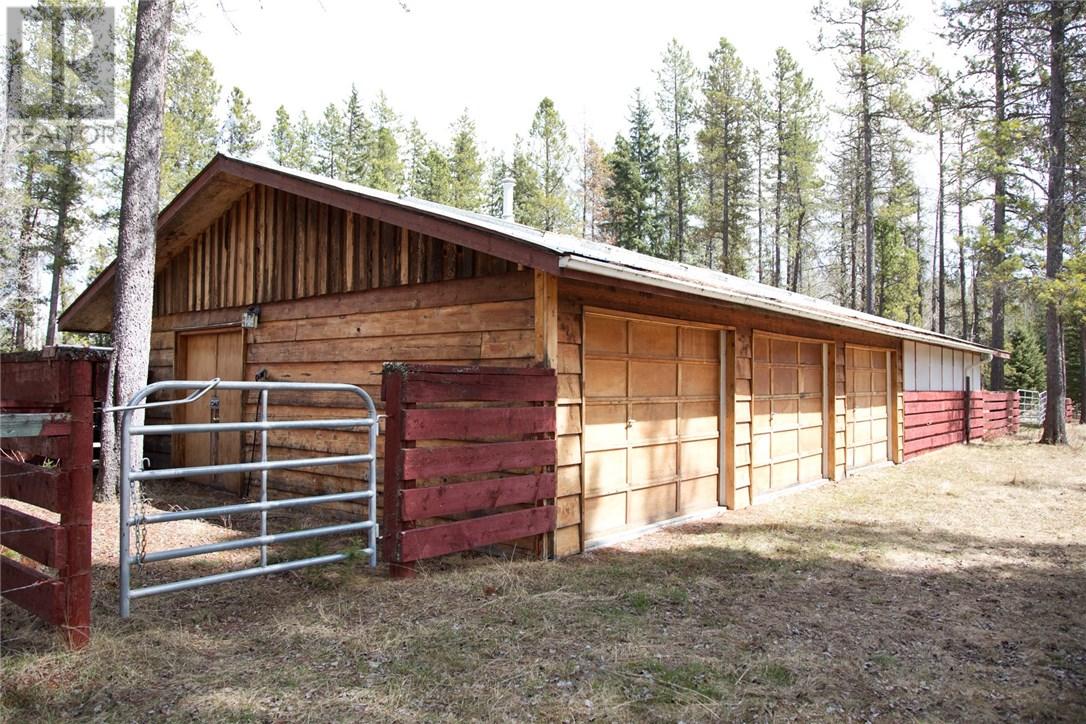 Heated shop / 3-car garage, with open machinery storage at far end, looking north-east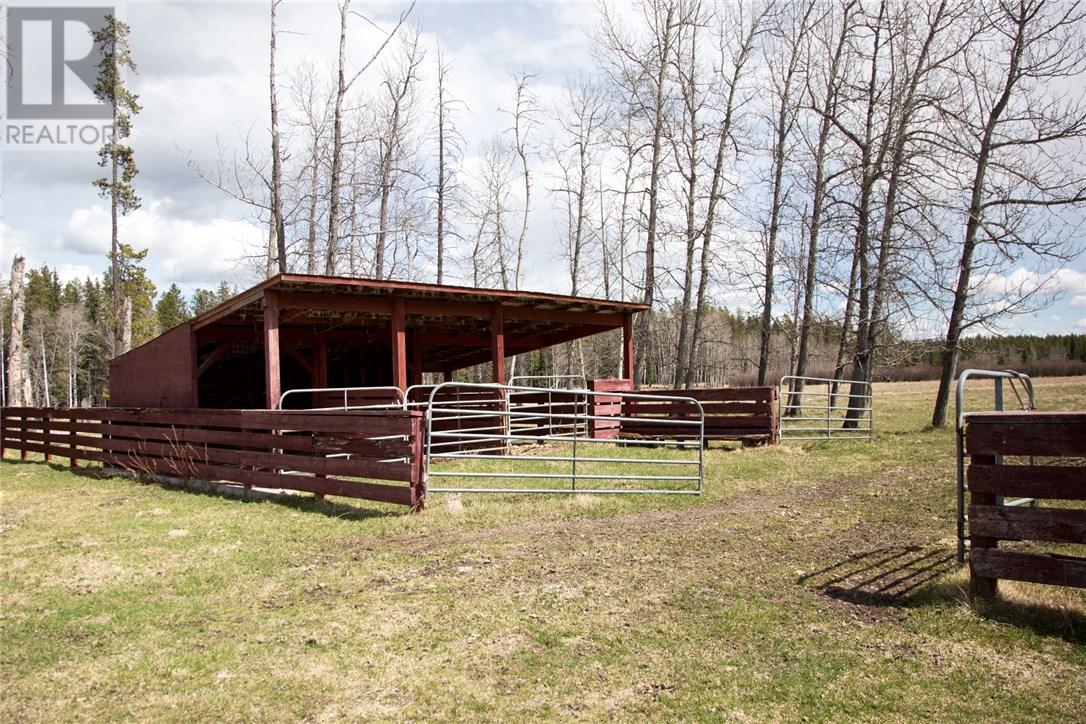 Calving pens on side of Hay Barn, looking north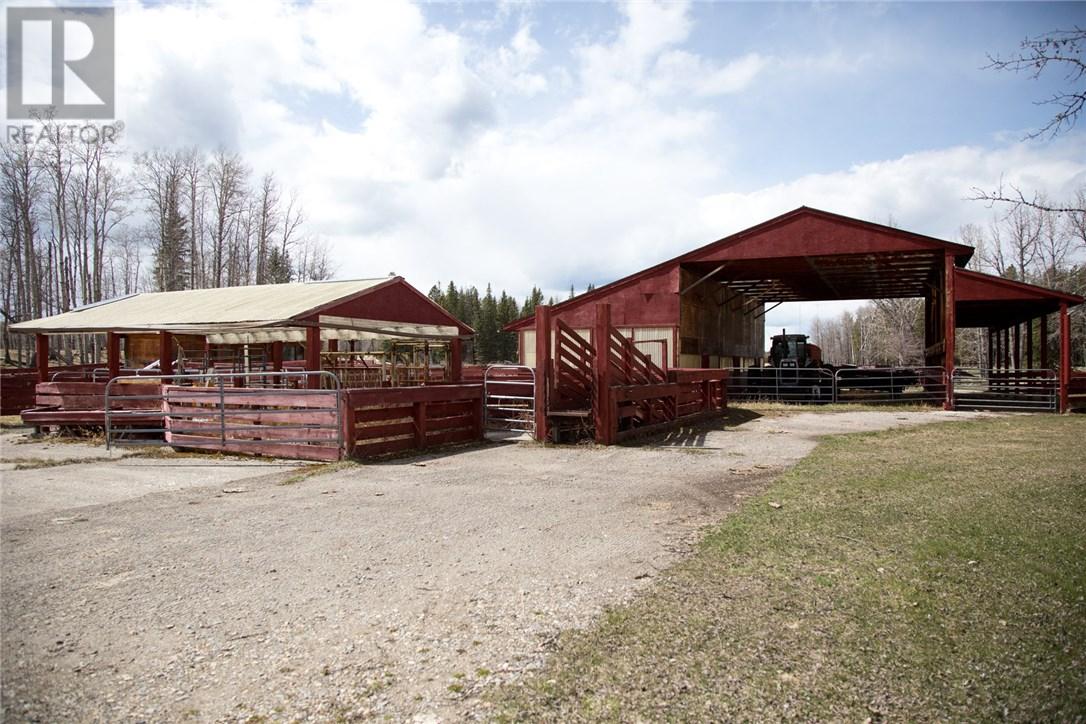 Covered working chute at left, hay barn at right, looking west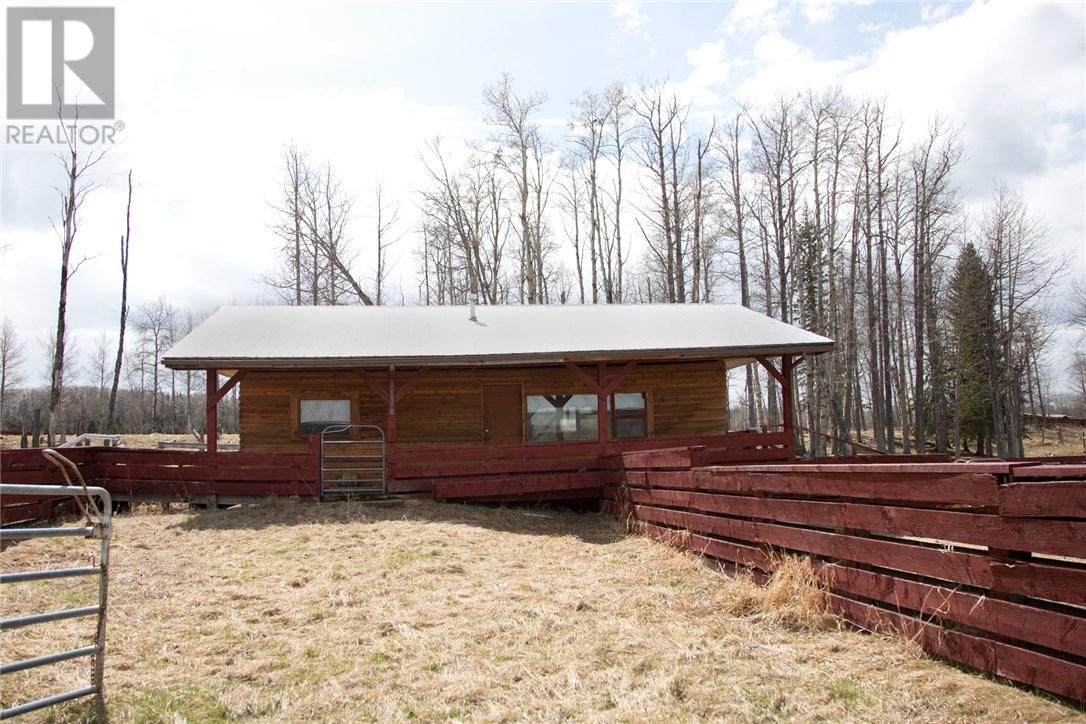 Bunkhouse with maternity pen at rear, heated, looking south from hay barn and calving pens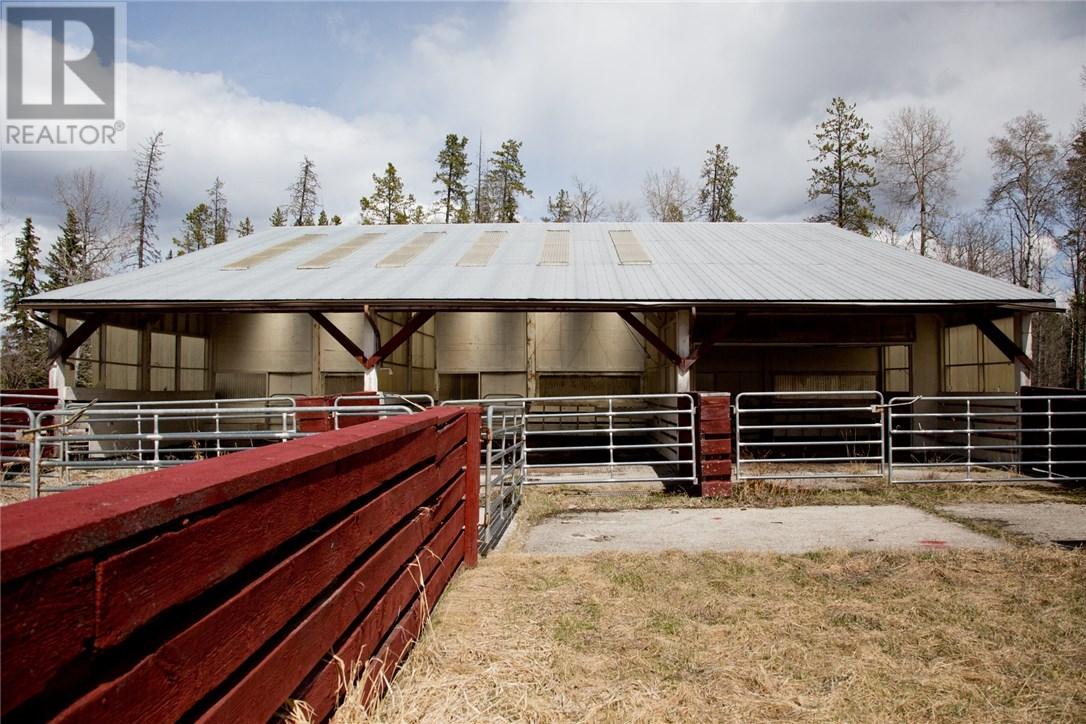 View of calving pens from Bunkhouse, looking north. Eat, sleep, play solitaire in heated comfort while watching calves being born.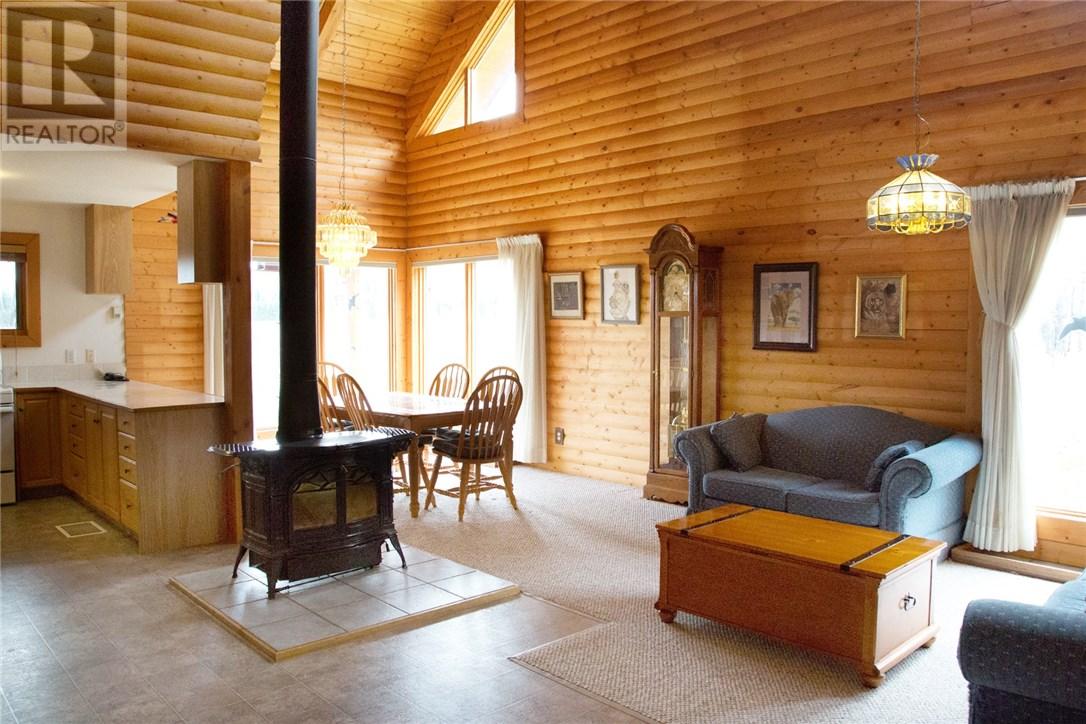 Dining room interior, looking southwest, kitchen at left, living room at right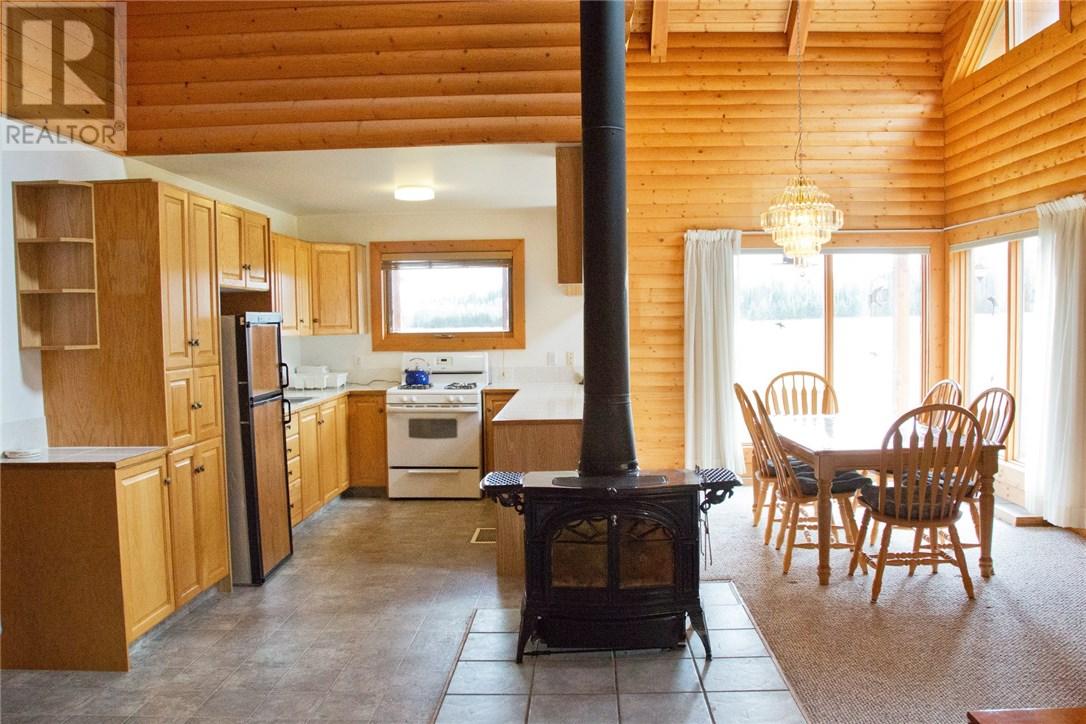 Kitchen on left, dining room at right, looking south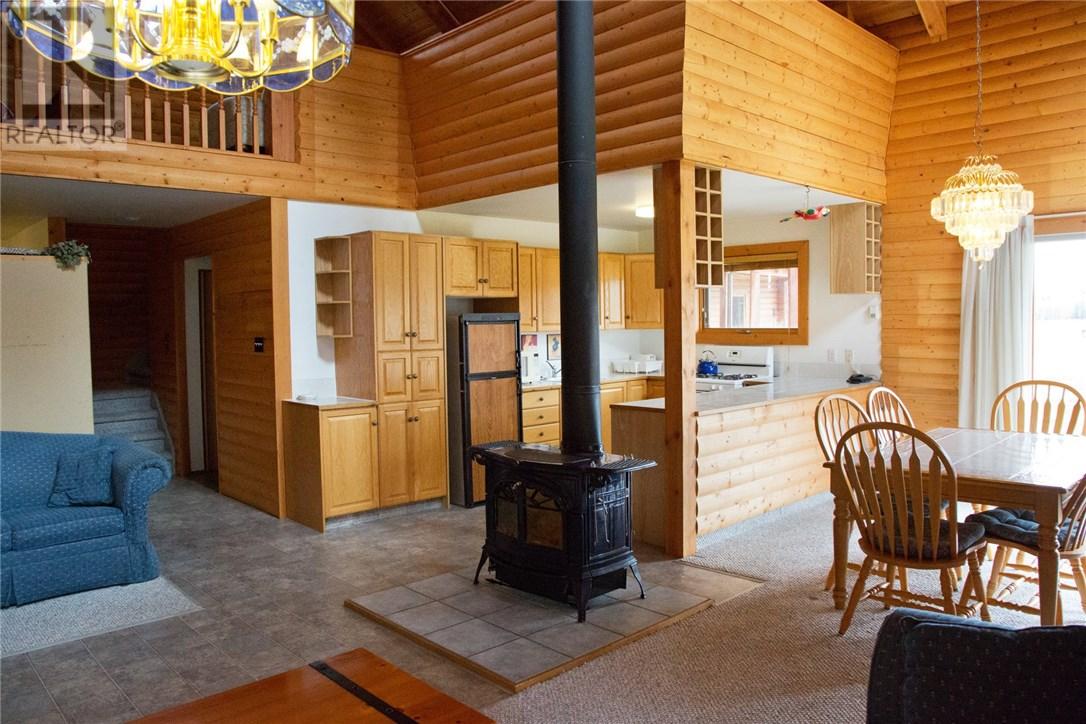 View into kitchen from dining room, looking southeast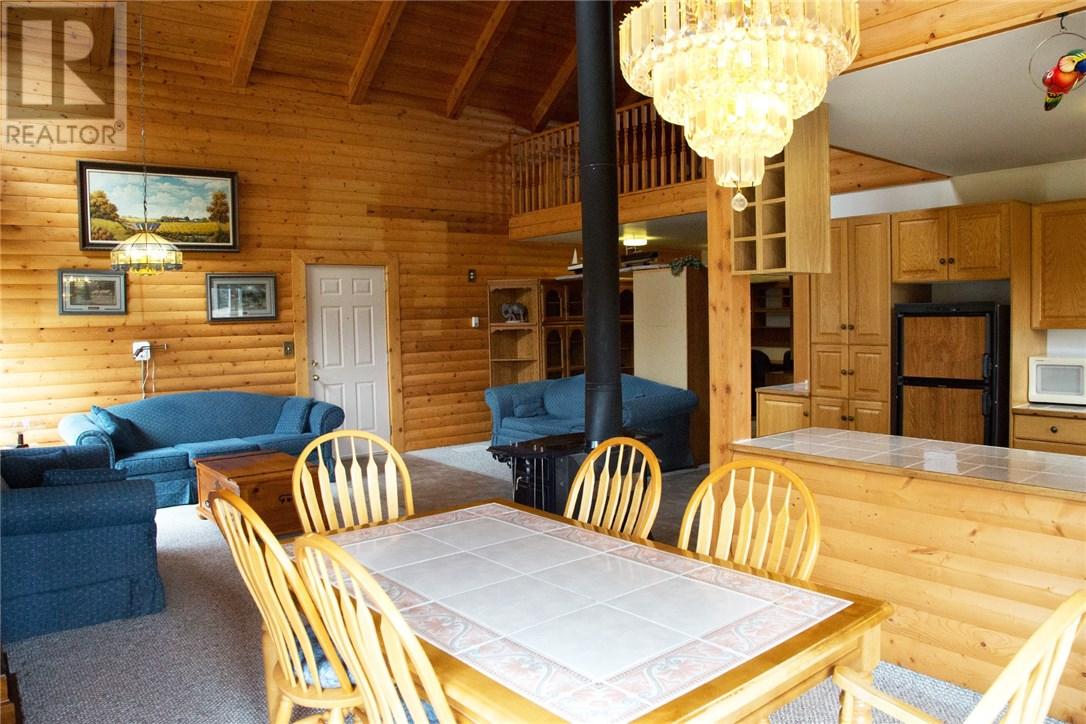 View into living room from dining room, looking north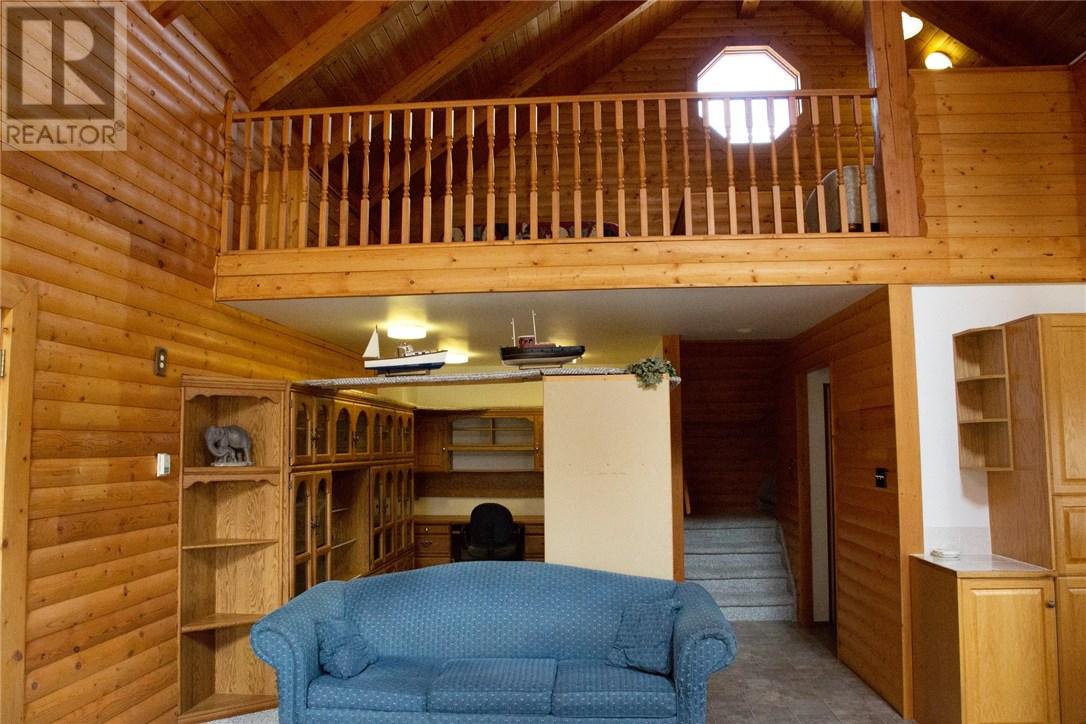 View from living room into office / den with loft bedroom above, looking east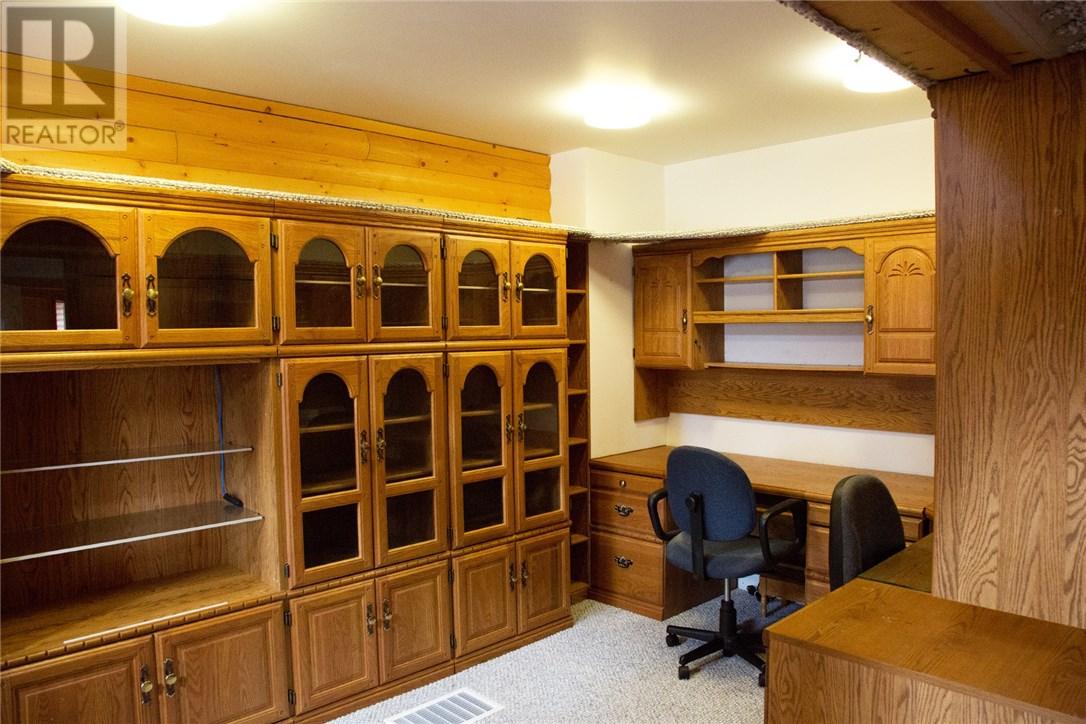 Built-in walnut cabinets / bookcases in office / den, looking north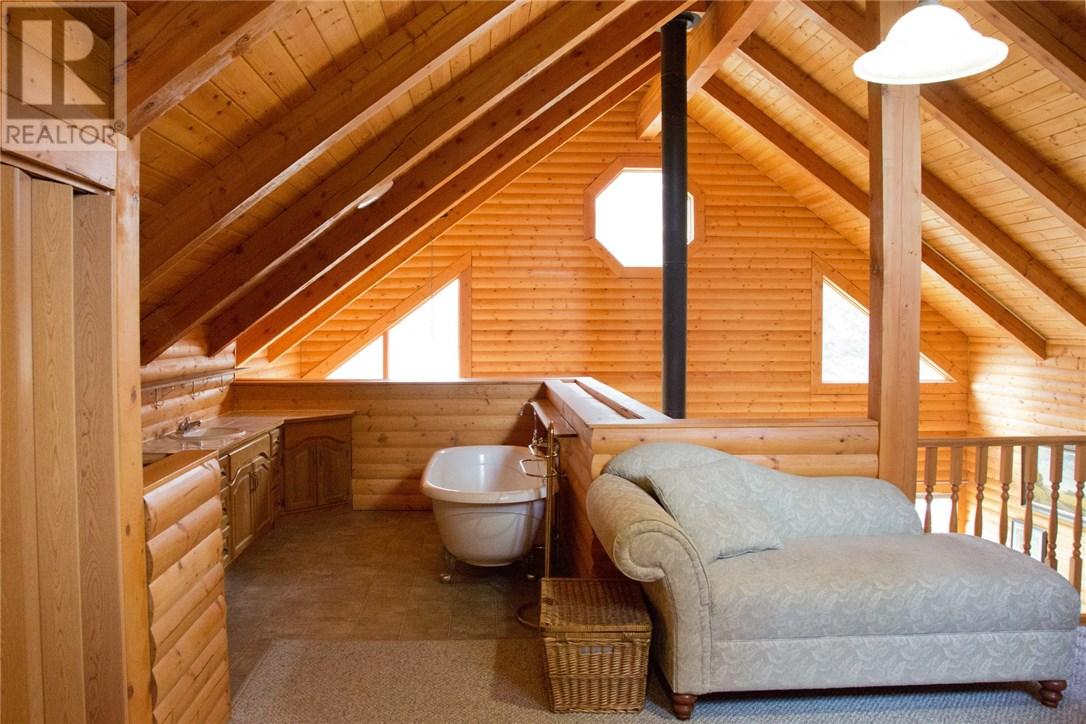 View over dining and living rooms from loft bedroom, looking west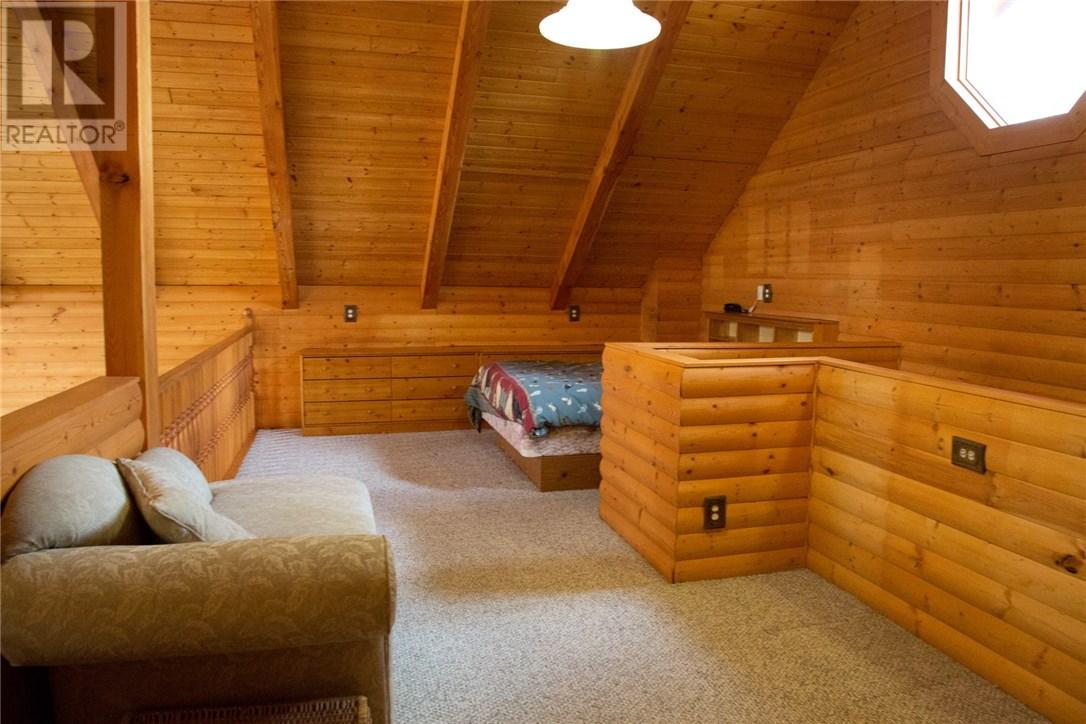 Loft bedroom, looking northeast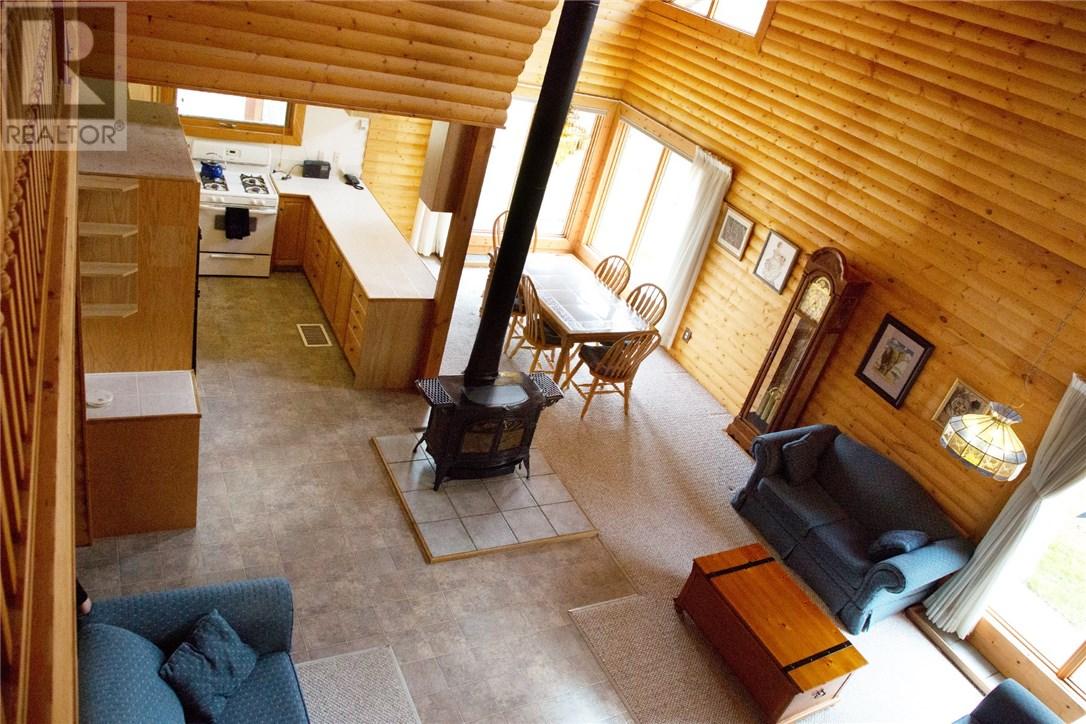 Another view overlooking dining room from loft bedroom, looking southwest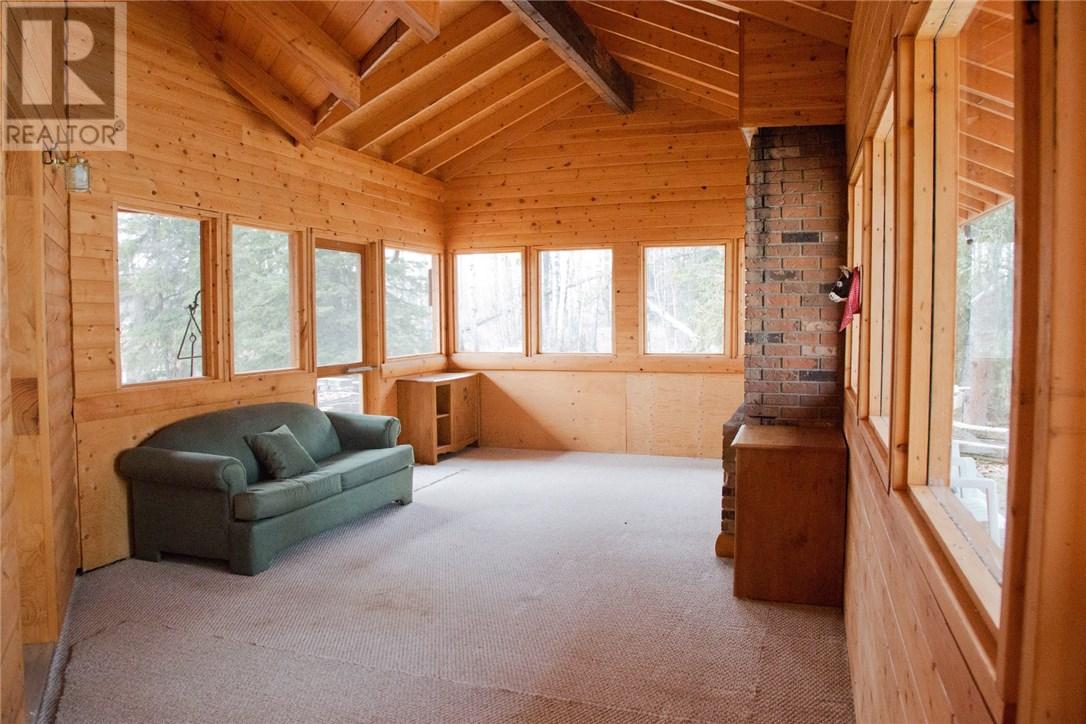 Interior of screened porch / summer kitchen, with brick BBQ at far right , looking west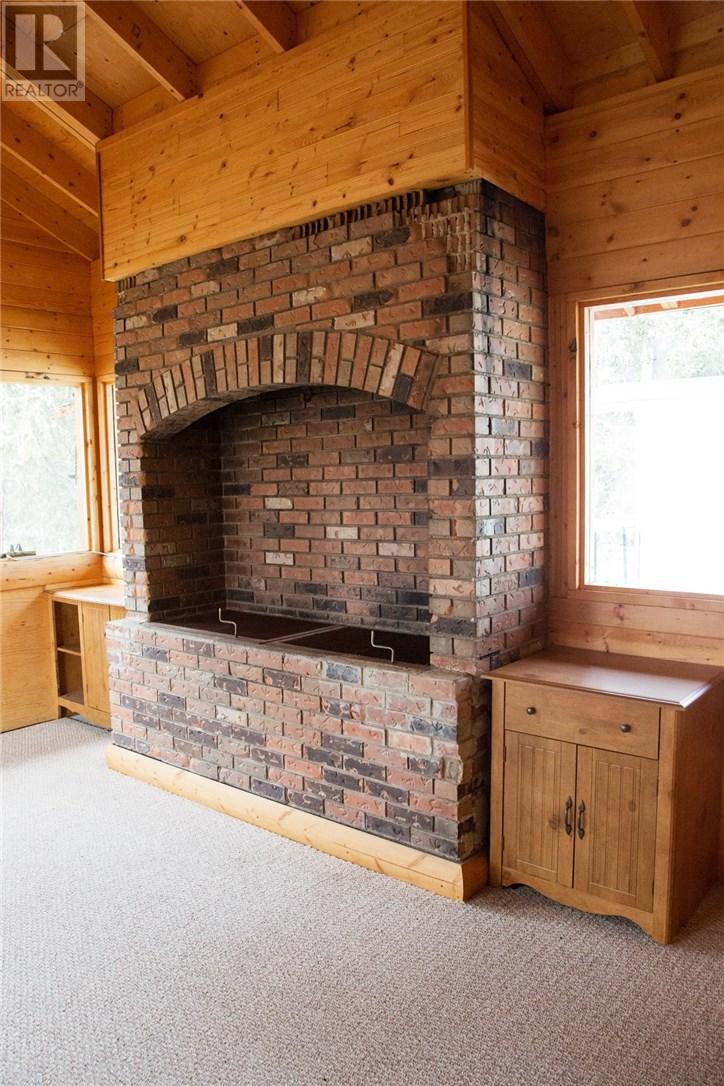 The built-in brick BBQ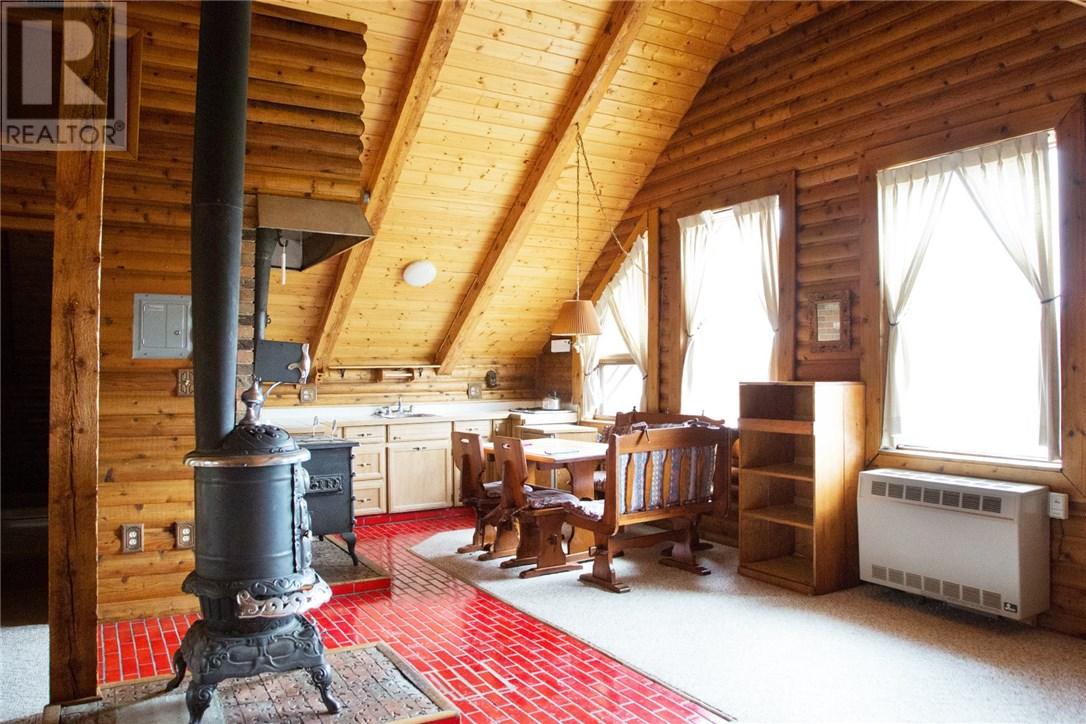 Guest house kitchenette on left and living room on right, looking south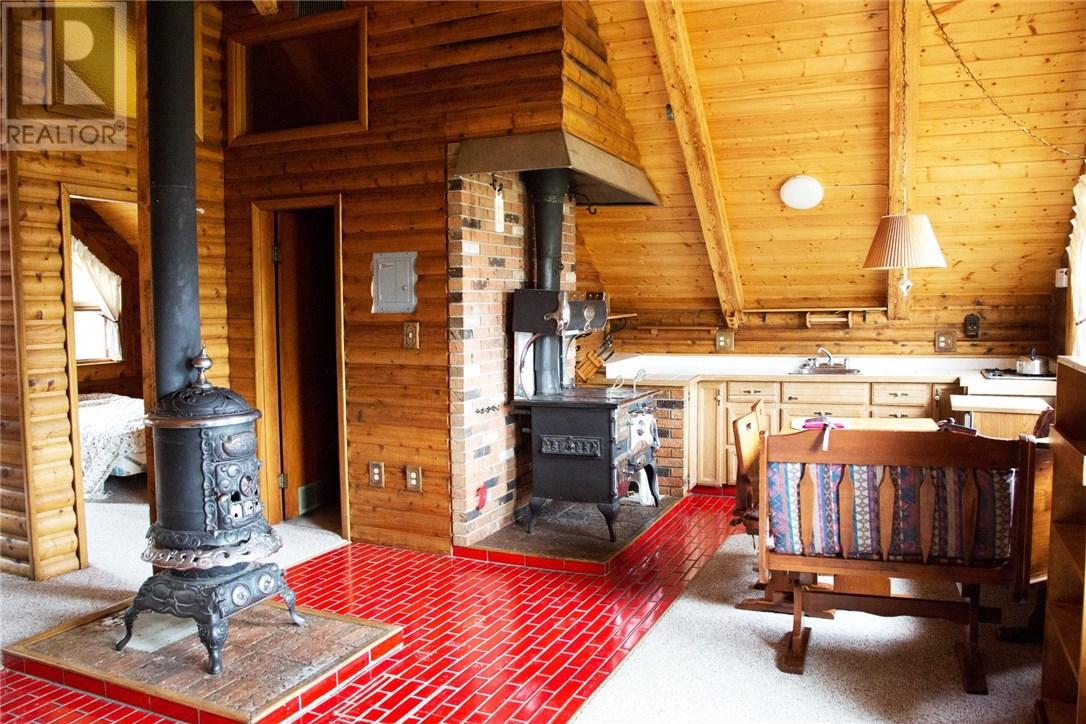 Guest house kitchenette from living room, looking east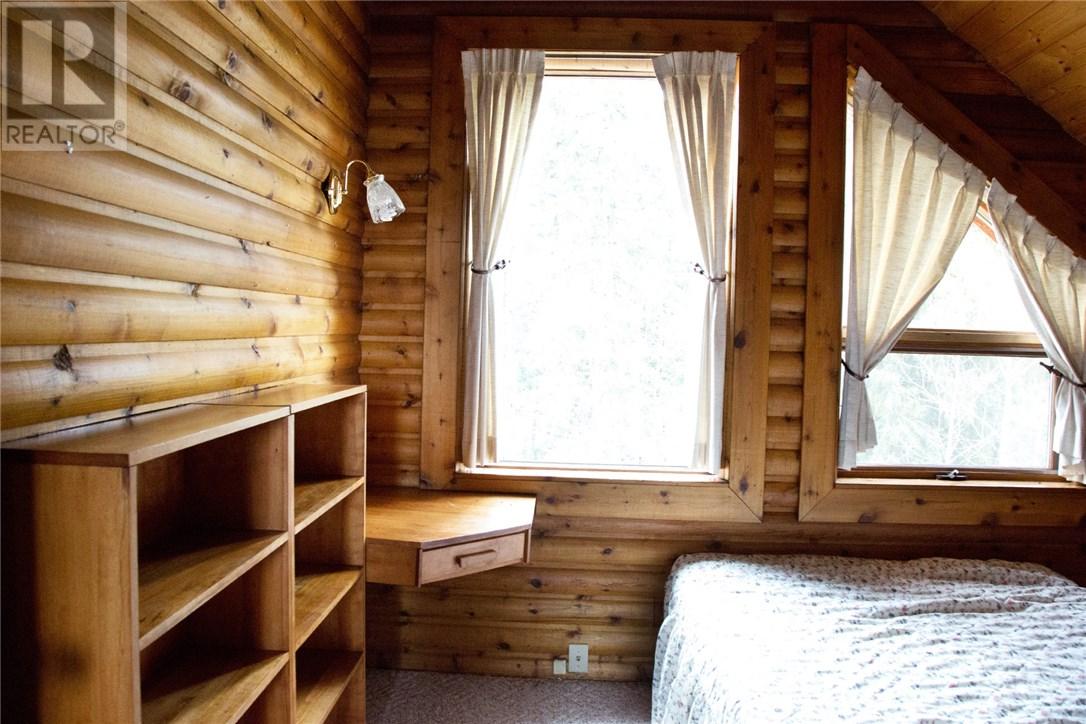 Guest house bedroom, looking north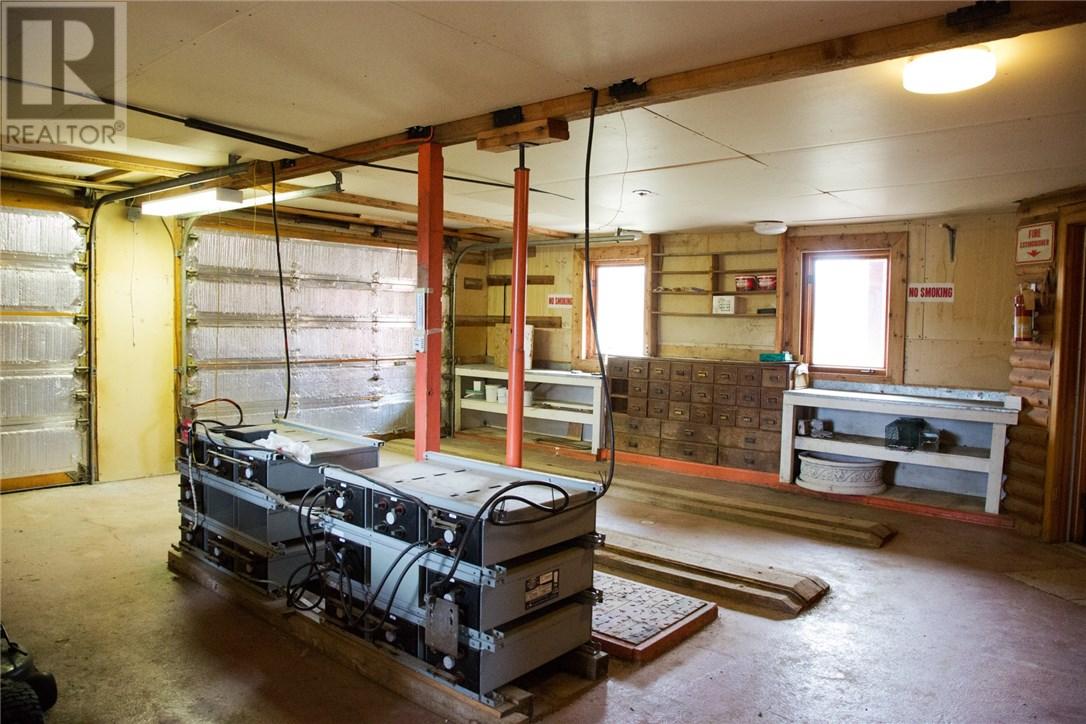 Inside 2-car garage with solar power system batteries in foreground, looking west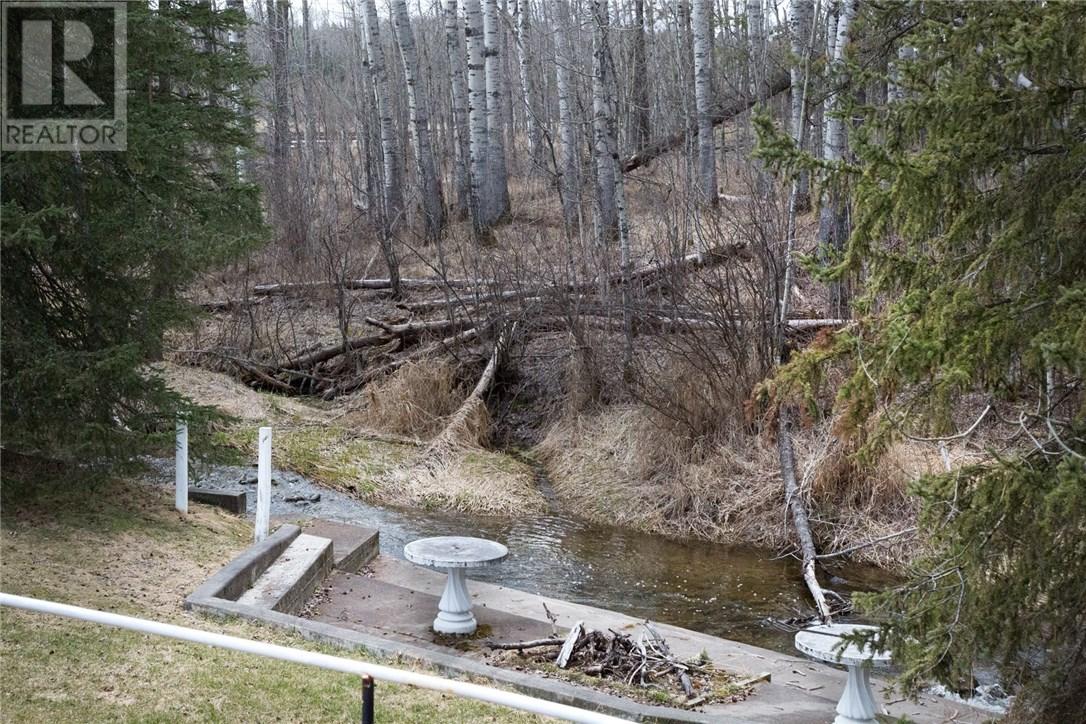 Patio, tables, and fire pit beside year round stream, on west side of house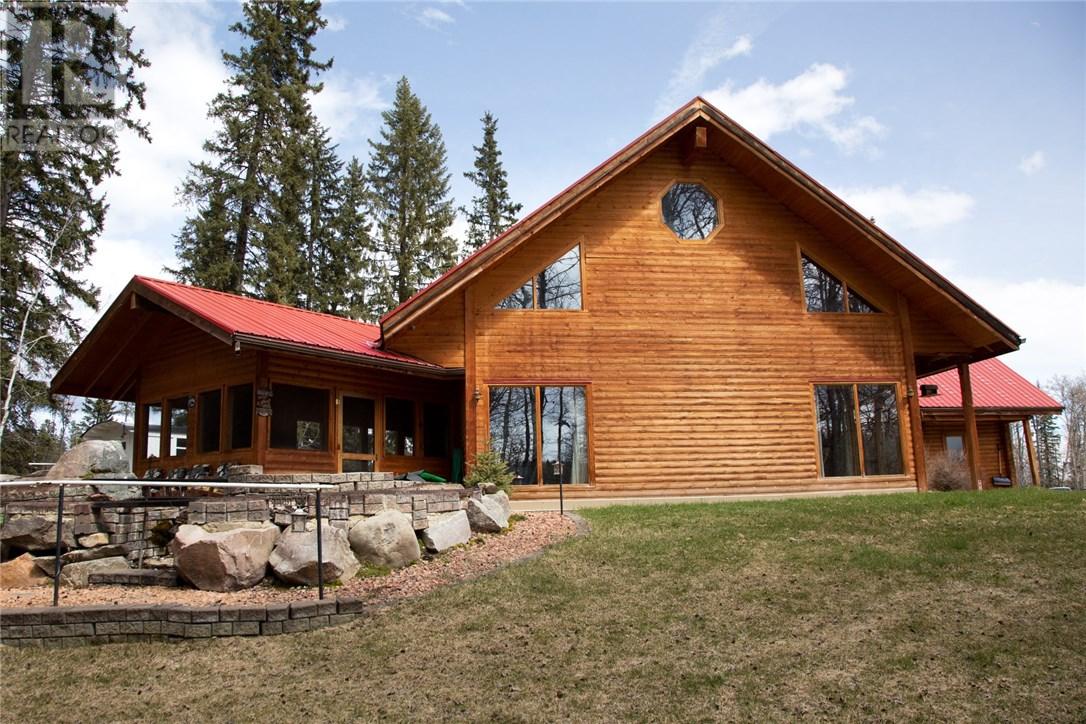 West side of house with screen porch at left, living and dining room at right, rock garden and
garden railway in the foreground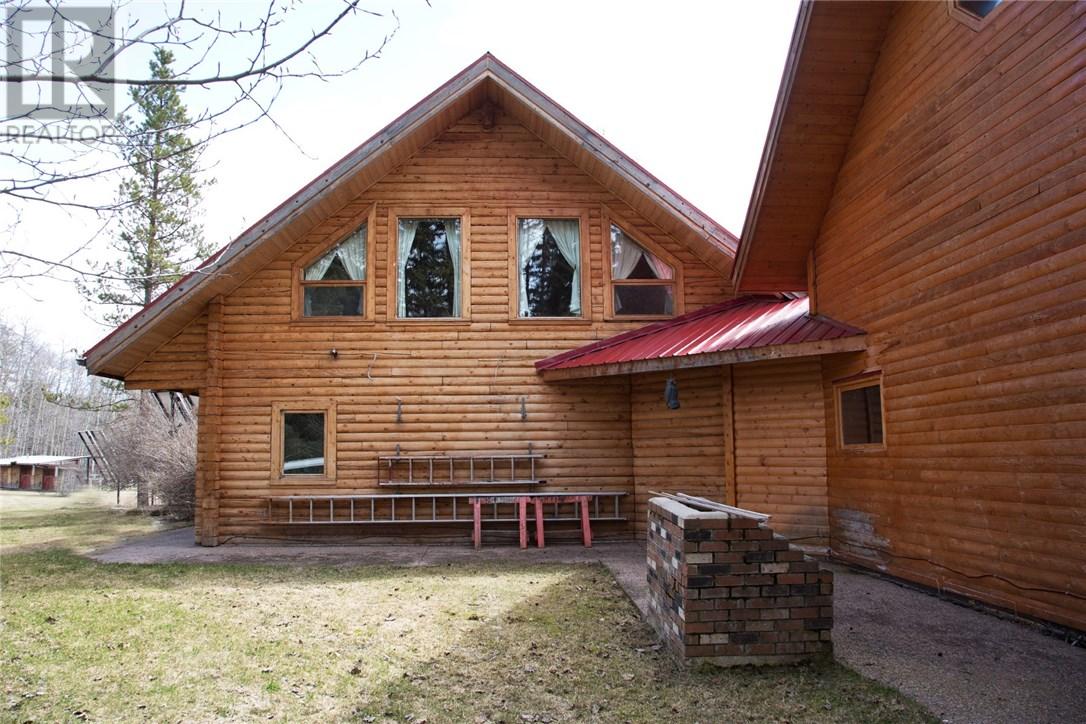 North side of guest house / garage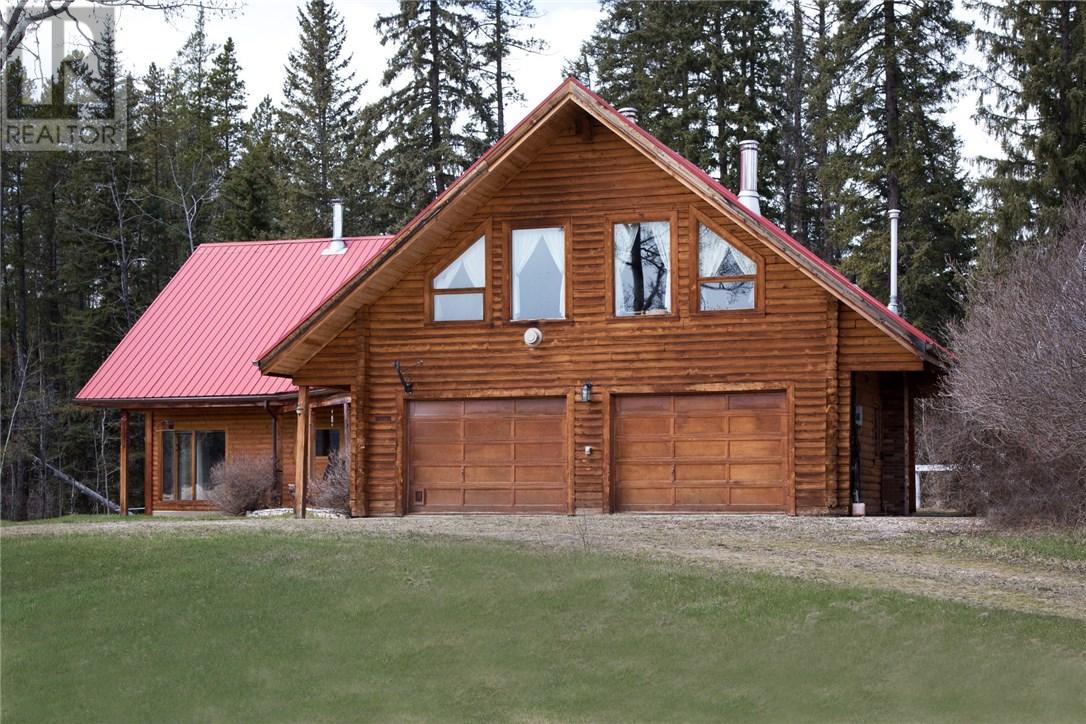 South side of guest house / garage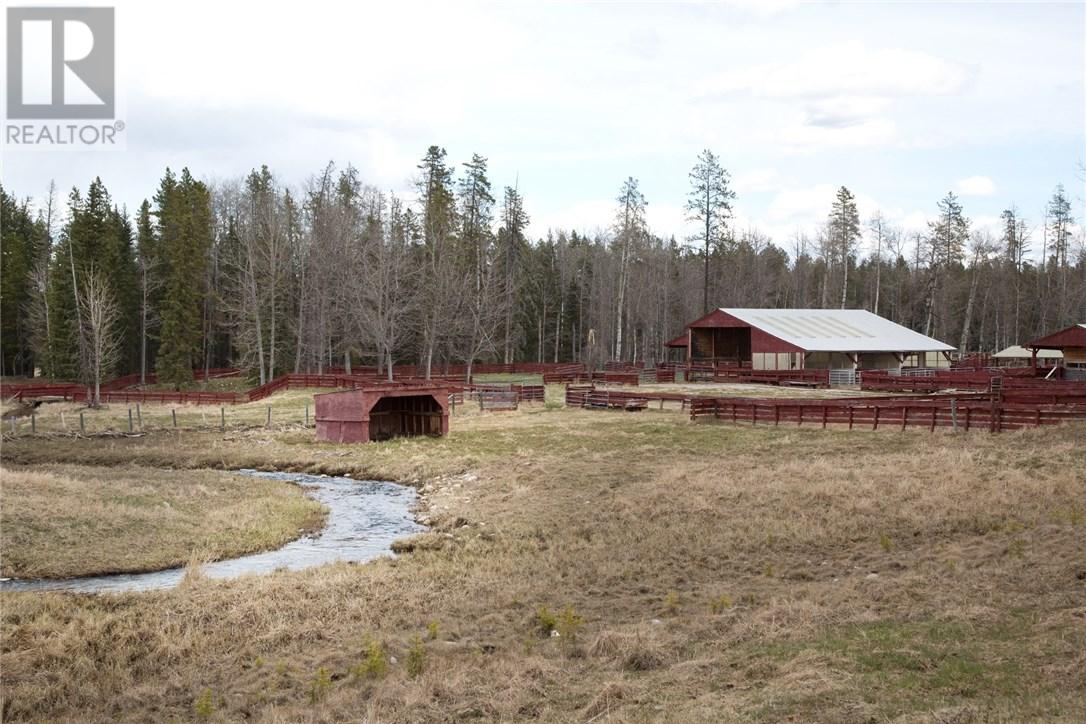 View of barns and corrals from lawn east of house, looking northeast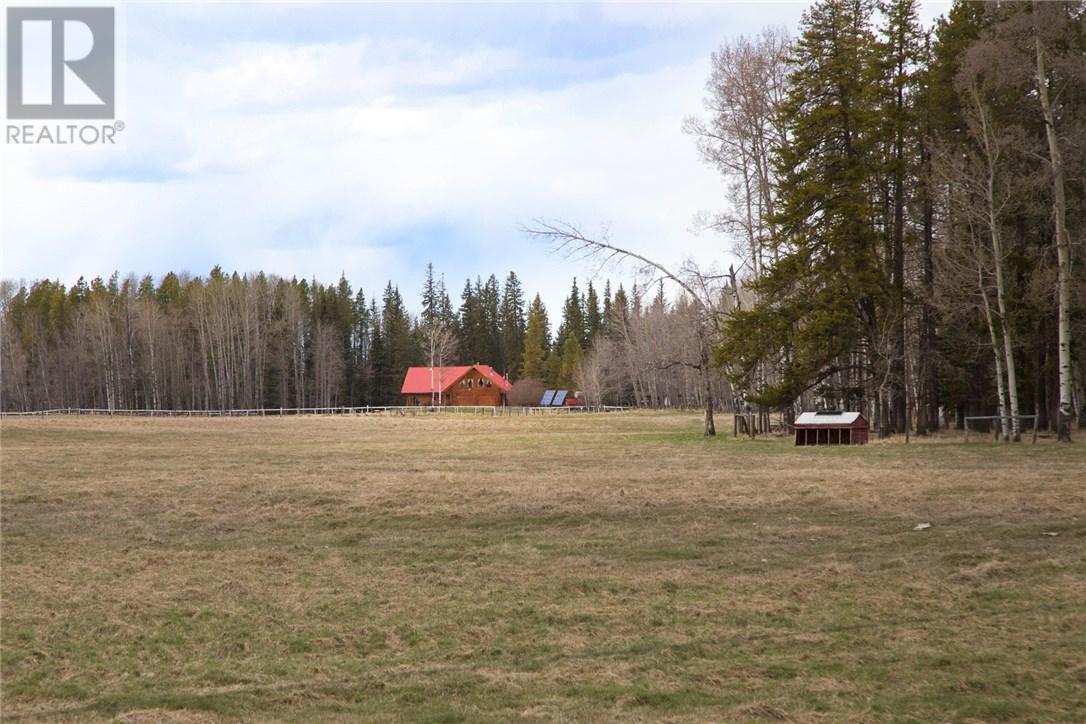 View of house and lawns from south pasture, with solar panels to the right of the house, looking north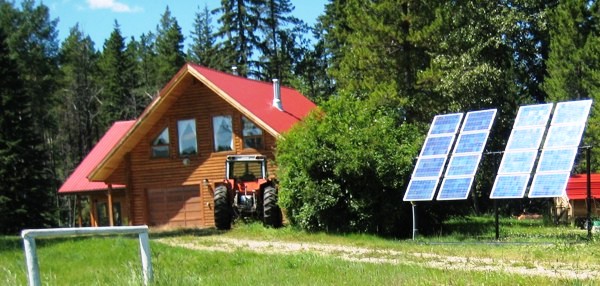 Completely off the grid with solar power and natural gas heat.
Photo by the Owner
Scroll down past the critters and machines to learn how to deal with industrial neighbours in a rural setting.


THE CRitters In My Life
They kept me sane during the tougher times. The unconditional love from a dog is amazingly therapeutic. Cats are a different experience but mine were quite loving and loveable. There were also chickens, ducks, geese, and goats from time to time, myriad birds and 4-footed wildlife co-existed with me at the ranch. I miss them all.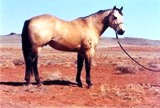 <== Chuckles 1972 - 1995

(* = Rescued Animal)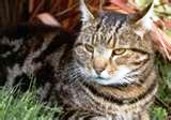 Benjamin 1953 - 1960 *Simon 1954 - 1962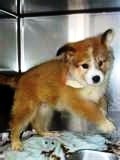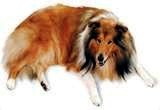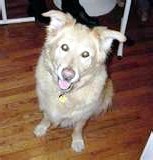 * Cana 1970 - 1983 * Charlie 1982 - 1984 * Chief 1971 - 1984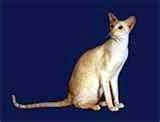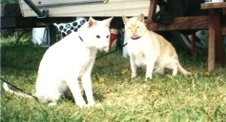 Chulalonkorn and Rama 4th #1 Chulalonkorn and Rama 4th #2
1971 - 1983 1983 - 2005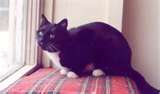 *Socks 1989 - 2000 * Missus Socks 1989 - 1998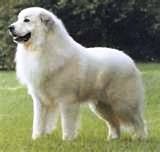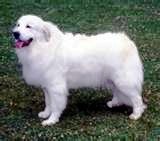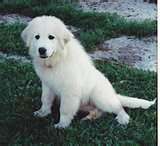 Cochise 1975 - 1987 * Sancho #1 1983 - 1995 * Zara 1987 - 2001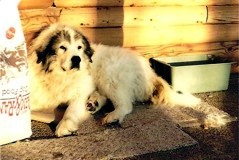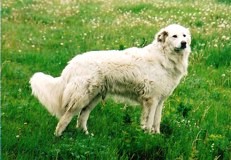 Rocky Bear 1995 - 2007 * Sancho #2 1999 - 2012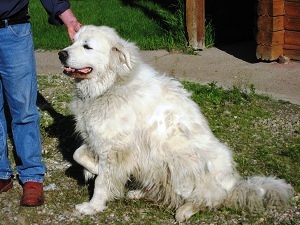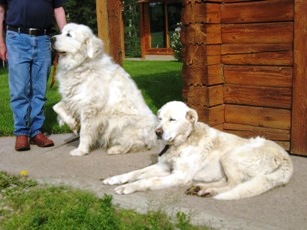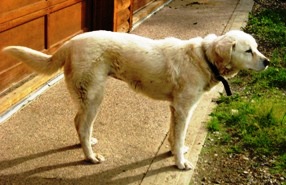 * Magnus 2010 - 2015 Magnus and Lady 2012 * Lady 2012 - 2013

The Vehicles In My Life
I haven't driven a car since 1984, and I miss the freedom to go where I wanted, when I want to. The memories of the miles and milestones in the cars are easy to bring back when I need them, by looking at the tiny photos on this page. Ah, the stories I could tell.

These are the cars I actually paid for. There were company cars in the early days -- a well worn Ford, a worse Chevy, a new Plymouth Fury, a Holden in Sydney, and a dismal Datsun un Calgary. Many memories here too, but not all are good ones.

My farm machinery is also shown at the bottom of the page - I drove this stuff up to around the year 2000, and the MF1200 garden tractor until 2014. After that, I stopped driving around in circles.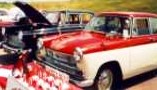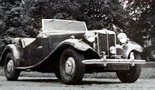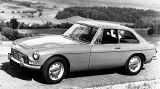 1959 Austin A55 Mk II 1948 MG-TD #1 1965 Austin A60 Stn Wagon 1967 MGB-GT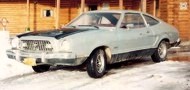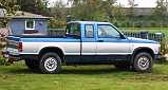 1973 Mustang II GT 1947 MG-TC 1982 Chevy S10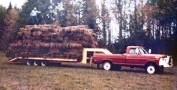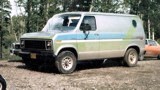 1949 MG-TD #2 1976 Ford F250 and Trailer 1978 Eord Econoline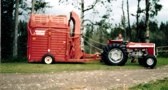 MF 1200 MF 285 and Hesston Stackmaker Caterpillar D-2




MF 210-4 MF 2645 MF 1805



SURFACE RIGHTS FOR RURAL LAND OWNERS
Some Ugly Truths About "Easy Money"

Oil, gas, and mining companies may own mineral rights beneath the surface of land owned or leased by other people. The subsurface mineral rights owner has the right to explore and exploit their subsurface holdings. That right is balanced by the land owner's or lease holder's right to the use and quiet enjoyment of their property; these are known as "Surface Rights".

Where these rights overlap, the two parties must come to some agreement concerning the intrusion by the mineral rights holder onto the land surface. The landholder often loses the use of a portion of his landholding, and loses income derived from that land.

There is also general disturbance to the landholders operations, dust, noise, and many other tribulations. The mineral rights holder is expected to pay for the loss of income and compensate for the disturbance for as long as the conditions exist.

A number of surface rights organizations (with websites) have appeared and disappeared over the past 30 years. Government websites have also evaporated so easy access to information on your rights is difficult to locate.
Use your favourite search engine to find what is currently available.

DISCLAIMER
The author of this webpage is not a Lawyer nor a Land Agent. The opinions expressed are based on 45 years as a rural land owner dealing with Land Agents representing oil and gas, pipeline, seismic, and utility companies. My experiences may not reflect accurately the pertinent Laws and Regulations in any particular jurisdiction. No warranty is expressed or implied. This information is presented as examples only and we accept no responsibility for consequential loss or damages that may arise from using the information on this webpage. You use this material at your sole risk and responsibility. If you notice an error in facts, let me know.

WHO WANTS TO RUIN YOUR LIFESTYLE ?


If a well is to be drilled or a facility or pipeline built near your residence, deeded land, or leased land, you should receive a "Notice to Occupant" briefly describing the proposal. Who is entitled to receive these Notices varies with the type of facility, your distance from it, and the particular regulations of your jurisdiction. Stay in touch with your neighbours -- they may receive a notice and you may not.

Read this document carefully. It will always present the most benign, least intrusive case, and this may not represent reality. It may contain information vital to your operation or lifestyle. It may also contain numerous omissions and errors of fact. For example, I have received 5 Notices on a single facility across a 4 year period. Two of then claimed there would be no flaring of wells (this was a compressor application, no wells were ever contemplated) but failed to mention the flare stack for the facility. Two were for doubling the compressor capacity but failed to mention the added noise that such a facility would generate. When I complained to the contact on the form, all I got was voice mail and he never returned my call. There is no excuse for a careless or misleading Notice to Occupant. Keep the oil company honest by a critical review of all documents you receive and ASK QUESTIONS if it doesn't compute.

Surveyors have a right to enter land without compensation, but the residents expect the common courtesy of an introduction, explanation of the purpose of the survey, and who and what it is for, including contact information.

This is the barn in which surveyor's staked a well location on my ranch. There is no excuse for this level of ignorance.

A surveyor bombing unannounced across private land on an ATV without permission is rude and dangerous - the bulls in my bull yard thought so and I passed on their comments when I caught up with him.

Unfortunately, surveyors are trained to follow orders and to avoid thinking about the world around them. Witness the surveyors who staked a well center INSIDE my hay barn. Or the ones who staked a Level 3 critical sour gas well 100 feet from my driveway, the sole egress from my residence. Eventually, the oil company president showed up to explain that he would have a helicopter on stand-by to evacuate my family, my dogs? my cattle? in case of an H2S leak or blowout - imagine a chopper pilot descending through an H2S plume to rescue us! The surveyor's then located the well center at the edge of an 80 foot cliff - not a legal location and too small for a lease anyway. Finally, they found a 4 acre flat spot far enough away to be non-toxic. Three surveys, weeks of delay, expensive management and technical time wasted, all because the surveyors did not feed back the stupidity of the initial company requests. I'm not making this up - it really happened!!
The moral of this long story is that you DO NOT have to allow the lease to be placed where the operator initially asks for it. With modern technology, they can place the well almost anywhere and still reach their target. Force the operator to consider your needs. If you don't take part in this discussion, you will be stuck with the operator's choice of location for half a century or more.

Seismic crews will arrange for a Land Agent to negotiate a fee, usually based on mileage or number of seismic shotholes to be drilled (if any). Specifics about methods (dynamite or vibrators), helicopter usage, access routes, vehicular traffic (or not), clearing, cleanup, reclamation of shotholes, reclamation of artesian shotholes and stream crossings, timing (after harvest, after calving season), and other concerns must be in writing. Land owners and lease holders are not required to agree to a standard agreement unless it covers ALL your concerns. Be sure to add your concerns to the standard agreement when needed.

In one case, I was asked if my cattle were afraid of helicopters. I explained that it was only takeoff and landing that bothered them, not the actual flight in the chopper. True story.

Since the land and its use are relatively undisturbed, and the operation is short-lived, compensation is not high unless there are serious damages.
Drilling Operations for oil and gas require a great deal more effort during negotiation. The drilling operation will take weeks or months. Drilling creates noise, odours, and traffic, which in turn creates more noise, dust, and interference. The well and its facilities will be on site for 25 to 50 years, and numerous workover events will take place over the life of the well. There is also the risk of spills, leaks, blowouts, and motor vehicle accidents for the life of the well. The area needed for a well site is usually 4 to 5 acres plus use of an existing or new access road.

If it looks smooth and green, someone made it that way. Guess where they want to place the wellsite. Yup -- right in the middle of that nice pasture.

If the mineral rights are owned by a government (provincial, state, federal) the oil company must apply for a mineral surface lease and pay the government a royalty on the value of the production. The land owner or lease holder gets nothing from the production, but will be compensated for the surface area used, plus some other considerations. If the mineral rights are held by the landowner or another third party, the oil company must negotiate with that person as to royalties.
For the record, we have been blown off our place twice because of sour gas releases from oil wells- each a result of human error or faulty equipment assembly. Neither of the companies even admitted that the incidents had occurred (I have photos) and the companies did not report them to the regulators (I did), nor did they offer any compensation. We also put up with "non-toxic" levels of H2S for over 3 months due to a poorly managed sour gas blowout more than 50 miles away. And there was the rig fire that blackened the snow (and my house) with soot for two miles in all directions, and the floods, each time an oilfield access road washed out, and the off-site sump that leaked toxic oil-based mud into my creek for 26 years (still not reclaimed), and ..... well you get the point.

For those who are not aware, H2S (or sour gas) is hydrogen sulphide, a by-product of some oil and gas production operations. H2S is heavier than air and sinks into valleys and low areas, unless blown away by wind. H2S smells awful and if you can smell it, leave the area immediately. If the smell goes away, either the problem has been fixed or you are about to die! The occupational exposure limit is 20 parts per million for 15 minutes, then you go home for 48 hours to recuperate; 200 parts per million will knock you unconscious, and 700 parts per million is immediate death. The residential exposure limit for H2S is supposed to be ZERO - that is, no H2S is allowed to go beyond the lease boundary. Good luck on that one.

To reduce risks from H2S, the gas is supposed to be captured and pipelined to a processing plant. Where this is uneconomic, H2S will be flared (burned), creating sulphur dioxide (SO2) and water vapour. SO2 is less dangerous than H2S but still smells bad and has long term detrimental effects on the respiratory system of humans, cattle, and wildlife. Other by-products, such as benzene, are relatively odourless, but can still make you sick after sufficient exposure. The only cure is for the oil company to capture all gases and put them into a pipeline. Naturally, they will resist doing this unless extreme pressure is brought to bear upon them. Their motto is "The solution to pollution is dilution", hoping that the wind or rain will carry the problem away.

Compressor Sites and Gas Processing Facilities also need a surface lease similar to that needed for a wellsite. But wellsites are pretty quiet compared to a compressor. Three 1600 horsepower compressors will sound like a jumbo-jet during takeoff, all day, all night, every day, all year long. If you are within a mile of this, you will notice, within 500 feet, you will go stark raving mad. A "Noise Impact Assessment" (NIA) will be needed before construction and predicted sound levels must be below specific limits. If there are other noise sources nearby, an NIA for the combined facilities is required.

NIAs may be cooked to keep the predicted levels below these limits and always represent the most optimistic weather and ground conditions. It will always be noisier than predicted, especially under adverse weather conditions. See MORE at the end of this page.
After the fact remediation is expensive and slow to arrive. It took me three years of constant harassment to get the compressor next door to my ranch tuned up enough to meet regulations. Be forewarned.

Pipeline rights of way, like powerlines, are placed on an easement that restricts building close to the line. The setback will vary with the size and type of fluid pushed through the line. Since the line is buried, the surface use, except as to buildings, will return a few years after laying the line. Compensation is based on that loss of use and some for general disturbance during construction. The actual reclamation after construction is problematic - many farmers and ranchers have had serious concerns trying to obtain compensation for poorly reclaimed land.

Sour gas and high vapour pressure lines have fairly large Emergency Planning Zones (EPZ) that can extend well beyond the pipeline setback distance. These will reduce the value of your property and limit where you can build. Plan ahead for future development.



SURFACE LEASE and PIPELINE LOCATION
BEFORE discussing compensation with a Land Agent, first negotiate the location of the proposed operation. If you discuss compensation first, you have tacitly agreed to the oil company's location and the compensation is related to that specific location. Be sure the location is suitable to your operation and as far from your residence as possible. With current technology, an operator can reach its target from anywhere on a given quarter section.
This rule also applies to "Consent of Occupant" agreements for wellsite or facilities on adjacent lands, but within a short distance where consent of occupant is required. I got caught sleeping on this once, when the Land Agent told me that the compressor would be built on the south west corner of the lease. This was not put in writing. The compressor was built on the northeast corner, as close to my residence as was possible. It took three years to get the noise level below regulatory limits, and I can still hear the roar in the early morning and early evening. Verbal promises are worthless.

Before agreeing to compensation, be sure the survey plan is attached to the agreement and corresponds to what you think you are agreeing to. If there is no survey plan DO NOT SIGN anything. If the company refuses to provide a survey plan, go immediately to a Right of Entry Hearing, where a survey plan is required by law.

There are many good reasons for a landowner to require a Right of Entry Order instead of a private agreement with an oil company. They are easier to find, easier to enforce, easier to arbitrate, and easier to modify than private agreements.


SURFACE LEASE and PIPELINE COMPENSATION
An oil company drilling on privately owned or leased land needs to negotiate a surface lease agreement with the land owner or lease holder. The compensation is based on an upfront payment and an annual fee until the wellsite is properly abandoned and reclaimed to the satisfaction of the appropriate government agencies. The table below itemized the specific items that need to be negotiated. However, keep in mind that it is the total compensation package that matters in the end. Dollar values shown below are 2010 averages.

The sum of Items 1 through 6 is to be paid at the time of signing the surface lease agreement with the energy company and covers the first year of operations. No machinery moves on the lease until the cheques clears the bank.

The annual compensation, sometimes called the "annual rent", is the sum of items 4 and 5. This amount should arrive automatically 20 to 30 days before the anniversary date of the lease agreement. If the payment doesn't arrive on time, raise hell with the surface land administrator in the oil company. If a company goes bankrupt, your lease compensation goes on the Receiver's list of debt's owing, and you may get nothing for a while. When a new company takes over the lease, you may get paid immediately or you may want to negotiate a whole new agreement.

EXAMPLE: 4 acre lease plus 1 acre access road, total 5 acres
1. Entry Fee $500 per acre times 5 acres = $ 2500
2. Land Value $3600 per acre times 5 acres = $18000
3. General Disturbance = $ 4000
4. Loss of Use $500 per acre times 5 acres = $ 2500
5. Adverse Effect = $ 4000

TOTAL 1st year compensation = $41000 including Entry Fee

ANNUAL COMPENSATION: Sum of items 4 and 5 = $ 6500 per year

For a pipeline right-of-way, only items 1 and 5 are usually paid, but damages may be claimed against the company.

Damages may be paid if demonstrated, for example damaged roads or fences, culverts, cattle guards, lost cattle, or failure to properly renovate and reseed a lease, right of way, or temporary workspace to the satisfaction of the land owner.


Alberta 2009 Sample Data Sets and Definitions
Alberta Ag once provided online maps for the components of lease and pipeline agreements. Their purpose was to provide price transparency for rural land owners to aid them in negotiating a fair deal. The webpages are no longer active but are listed here to show what used to be available. One can only speculate as to why the maps disappeared.

List Of Obsolete Links to maps of Alberta showing:
land value for surface lease per acre
land value for pipeline right of way
general disturbance payments paid per well site
loss of use payments paid
adverse effect payments paid per well site)

Price transparency, suggested by the publication of the above links, was a bit of fiction anyway. The data used in the maps was from a database developed by W. H.

Marriott and Associates for use by Land Agents through subscription. The database is no longer visible on the Internet. Posting of prices was voluntary. Self-interest on the part of individual Land Agents would reduce the likelihood of posting freely negotiated high values.

No new data have been published since the 2009 data went missing, except in SRB Orders in Alberta and BC.



Sample listing from the Marriott database. Land Agents have access to this kind of data -- landowners do not.
The Canadian Association of Landmen (CAPL) published two articles in their magazine (May and October 2010) about the Marriott database. The articles indicated that CAPL members were in favour of such a database as it "would lower the prices paid for compensation" and reduce costs to the oil companies.

Do CAPL members still share compensation values paid to landowners? If so, is that a breach of privacy laws? Or a breach of the Canada Competition Act?

Land Agents have access to large in-house data sets of compensation values paid out over the years, plus word-of-mouth knowledge via personal networking that land owners do not have access to. Land Agents do not show "comparables" to the landowners, like real estate agents do. It is a very one-sided negotiation. Land Agents are not above stretching the truth, although their Code of Ethics suggests that they shouldn't do this. I know my compensation agreements have been discussed among Land Agents working for different companies - this is a breach of privacy since no one has the right to discuss my private financial affairs with anyone, period.

To find some compensation awards by the various provincial Surface Rights Boards, Google "Surface Rights" "Compensation" "Comparables", and see what you get.

FIVE YEAR REVIEWS
Some jurisdictions provide for an automatic review of the "annual rent" every 3 or 5 years. If this is not a regulatory feature where you live, put the review into the agreement. Think of what a dollar could purchase 25 years ago ! In many cases, oil and gas companies fail to give the required notice or give notice claiming that no change in compensation is warranted. Since inflation of agricultural costs increases by 4 or 5% per year, this statement is clearly untrue. The landowner can request the review and if the company does not respond appropriately, the landowner can apply to the Surface Rights Board for a review, and it will force the company to attend and respond. While the 5 year review is mandatory in Alberta and BC (3 years in SK), there is no penalty for non-compliance, so it is up to land owners to force the issue.
One of my agreements was dated June 1981, so it should have been reviewed before June 2011. The oil company, for reasons unknown, claimed it was dated November 1979 so no review was needed until the end of 2014, even though they gave notice of the review in November 2013. After 9 months of non-response to my emails, I threatened to apply to the Surface Rights Board to correct the date of the agreement and to update a 35 year old compensation package. Amazing attitude adjustment!! We had an agreement in 24 hours, a cheque in 3 days, retroactive to 2011, but no apology for their arrogant attitude or the effort needed to get them on track.
DEALING WITH A LAND AGENT
A surface lease or pipeline right of way is an encumbrance on your land and affects its value forever. Some people think oil field revenue enhances a property's resale value because of the cash flow it represents. This value is offset by the odors, noise, dust, traffic, loss of use, and adverse effect of the lease. The cash may look good now, but even with compensation reviews every 5 years, that cash flow won't be enough 20 years down the road, especially if you want to subdivide or build new structures or change the primary use of the land. And you pay tax on all the compensation, including the upfront cash.

Land Agents, often called Landmen regardless of gender, come in many flavours, from the "Nice Boy Next Door" to "The Cowboy", from the "Farmer Charmer" to "That Arrogant Bastard". Most field agents are male; many surface land administrators in the office are female. They work for, or are contracted agents for, the energy company. THEY DO NOT work for you ! They are your adversary and don't forget it.

Land Agents understand the agreements, surface land regulations, and negotiating tactics better than most farmers and ranchers. They appear to be in a position of power and can be intimidating. You know your land, your operation, and your long tern goals far better than the Land Agent. So you are equal but different.

The Land Agent will try to take charge of any meetings, and will do his best to make you feel inferior. Be assertive, polite, and state your case clearly. Take notes of what you said and what the response was. Prepare for the meeting and research costs and values in advance. Check out comparables as well as you can via the internet and neighbours.

Most Land Agents believe they are working in the best interests of both parties, and believe they are behaving in an ethical manner. This is not really true - they have a boss and he has a boss .... And they do "shade the truth", hide the truth, make promises they can't keep, and can easily misrepresent your negotiating position to their employer. Many Land Agents are independent contractors paid by the oil company to negotiate with you. They will not be hired again if they do not follow orders, so don't expect too much from a "hired gun". He often has no authority to change the terms he was instructed to obtain. Land Agents who are employees of the oil company are no better - their annual review, raises, and bonuses will depend on how well they followed the "company line".

A serious breach of ethics or privacy can be reported to the Land Agent licensing agency (if one exists in your jurisdiction), or to a Land Agents Association, or directly to the Land Agent's boss. If you have a legitimate and serious complaint, notify everyone in sight.

Document all your meetings, what was discussed, time spent, and especially discrepancies in proposals between visits. These notes will be helpful if a dispute arises before the agreement is signed. You are entitled to be paid for your time. At a Hearing, you could be awarded $50 per hour for your preparation and research time. If you use a lawyer or representative or appraiser you might get some or all of their time covered, but the time has to be very closely linked to the negotiation and not on side issues.

This is what you are trying to protect.
Take the time needed to do it right.

The Land Agent will present an agreement
drafted by company lawyers and will offer the lowest compensation that he thinks might fly. DO NOT SIGN THIS DOCUMENT. It will not contain all the terms and conditions you need to protect yourself and your land. READ the links below:
Alberta Standard Surface Lease
You will need time to assess the terms of the agreement and the amount of the compensation. Take that time. Talk about the 5 components of the compensation separately - never accept the first offer without a serious review of each component and the overall compensation. They may have been a bit generous on one item and a bit stingy on another - keep a balanced view.

Make sure all the special terms you need are included in the final draft, either in the body of the Agreement or as an Addendum. If it is as an Addendum, the body of the Agreement must refer to the Addendum and both the Agreement and the Addendum will need to be signed by both parties. See the links immediately above for possible clauses that you need to add, or add them all - none of them will hurt you and may come in handy later.
If the Land Agent arrives without appointment, you may be busy harvesting, planting, calving, or whatever - tell him to come back at a more convenient time. If the Agent does not leave when asked, he is trespassing and can be removed from your land by the police. Don't use force yourself - dial 911 and watch him skedaddle.

When convenient to your schedule, review the text of the agreement, and the survey plan for road and lease layout. You can do this with or without the Land Agent present. See how the plan interferes with your operation, drainage, land/crop quality, and proximity to residences and other buildings. Request changes that make your situation better. For example, a lease in the middle of your best pasture is inconvenient and could be pushed to a bushy, rocky area close to the edge of the property. The Land Agent does not have the authority to say "No" without first discussing the changes with his boss.

You are being paid for the pipeline right of way or the surface lease area specified on the survey plan, but there may be setback distances that prevent certain activities some distance beyond these boundaries. This will "sterilize" a large area of land and prevent building or subdivision near the encumbrance, so think carefully about future possibilities for your land. Although a lease may be entirely on your land, the setback requirements may overlap onto your neighbours land, causing him some possible financial loss that cannot be compensated. Always check the setback distances before you think you have a deal.


The only pot of gold at the end of the rainbow is your land. It is your land and lifestyle - protect it.

Always have the agreement reviewed by your own lawyer. That might cost $400 but the original agreement will be very one-sided. Get every concern of yours embedded in the final agreement. If your requests are reasonable, the company has no reason to refuse them. Such requests might include location and locking of gates, quality and specifications for fences and gates, grading and plowing of roads, seed quality, species, weed control, berms for pollution control, and much more.

Do not give away any rights to the land other than those needed by the company for its specific operation. For example, the company does not need the right to offer the use of an access road to another company - only the land owner has that right. And just because one company has paid for an access road, other companies do not get to use it for free. The agreement should not include construction of other facilities on the same site, without further negotiation and payment.

Verbal promises are worthless - all the terms of the deal have to be in writing, in plain unambiguous language and in one agreement. Check the final agreement carefully - "accidental" errors of omission have been known to occur. Initial every page as you read them before you sign. Be sure the survey plan has not been "revised" without your knowledge. If the agreement is taken away to be signed by the company, check the copy you get back - make sure your initials are on every page and that nothing has been added or deleted.

This agreement will probably last for most of your life or beyond and will be binding on whoever buys or inherits your land. The term of the lease must run until the well is abandoned and the lease is reclaimed to the satisfaction of government regulators and the land owner. Energy companies often want shorter term leases but you must insist on the "life of the well" approach. With the 5 year review, required by Regulation or built into the agreement, you are protected from inflation and changes in land values.

The well will likely change hands numerous times during its lifetime so a satisfactory assignment clause is needed that forces the new owner to notify you of their ownership. You do not want the annual payments to stop because of paperwork problems.

Negotiating both the terms and compensation is your responsibility, but the negotiation can be undertaken by an owner's agent or representative. This could be a lawyer, a neighbour with some experience with lease agreements, a relative of the owner, or a retired (and sympathetic) Land Agent. An owner's agent should always confirm that the owner is satisfied with the agreement before the owner signs.

No matter how friendly the Land Agent appears to be, he is not there to give you the best deal possible without a fight. Each time the Agent has to return to continue negotiation costs the company money. You can use this to your advantage, up to a point. Eventually, the company will insist that you agree or will threaten to go to a "Right of Entry" hearing. They may suggest an alternative dispute resolution (ADR) approach before this. Most ADRs are not binding on either party and may be a waste of time, but the Right of Entry is binding on both parties. On a Right of Entry Order, legal costs and personal time spent can be awarded against the oil company. Appeals to a higher Court are possible but expensive if you lose. Most judges are pretty ignorant about the realities of farming, ranching, and oil field operations so you probably don't want to go here.

So at some point, you will have an agreement. Be sure it is the best agreement you can obtain. Then be sure the company lives up to every obligation that has been agreed to. Keep a copy of the agreement with your other important papers so you or your loved ones can find it easily.


Sign at a property near Grande Prairie, Alberta, reprinted from CAPL Course Notes. CAPL thinks it's funny!
NOISE IMPACT ASSESSMENTS (NIA)
A Noise Impact Assessment (NIA) will be needed before construction of compressor sites and other permanent noise sources. Predicted sound levels must be below specific limits. If there are other noise sources nearby, an NIA for the combined facilities is required. NIAs may easily be "cooked" to keep the predicted levels below these limits and always represent the most optimistic weather and ground conditions. The facility will usually be noisier than predicted, especially under adverse weather conditions.

Noise Impact Assessments are public documents in most jurisdictions. You have the right to read it and comment or ask questions concerning its contents.

Noise Impact Assessments in Alberta are governed by AER Directive 038. It covers general requirements for short term noise, such as drilling operations, and long term noise such as compressor sites and gas plants. The regulations dictate how the facility noise level is to be added to the assumed ambient background sound level. This sum cannot exceed 50 dB in daytime and 40 dB nighttime at a distance of 1500 meters.

Some of the required environmental conditions specified in the Alberta regulations are routinely ignored by both the regulator and the oil company operator, in particular those dealing with cold weather, temperature inversion, combining multiple noise sources, and extremes in weather conditions.

For example, AER D038 specifies in Paragraph 3.1 that a 5 dB "safety margin" be made to account for adverse conditions. This effectively reduce allowable noise levels by 5 dB, since the NIA is performed using conditions that minimize predicted noise levels. However, this requirement is routinely ignored and no allowance is made for adverse conditions. In the four NIAs I have reviewed on a nearby facility, all predicted noise levels were above the allowable when the 5 dB safety margin was used. My objection was refused on the grounds that "the predicted noise level is well below the required value", even though it was not. So much for truth and fair play.

The regulations require that the maximum allowable limit not be exceeded at a radius of 1500 meters from the noise source. However, if there are no residences affected by the noise, no one is allowed to file a complaint even if the facility is well above the legal limit. D038 claims there is no evidence that noise affects wildlife. This is nonsense, if you were a bird who couldn't hear a mating call, or a deer who couldn't hear a wolf or coyote sneaking up, how long would you survive?

My advice: If you can hear it over other background noise, file a written complaint with the appropriate regulatory agency and with the President or CEO of the oil company. Send it by Registered Mail - that gives proof of delivery. I know, "Nothing will happen". But if enough complaints are received, over time there may be a sea-change and common sense will prevail. If we don't speak up, I guarantee nothing will change.

There are two calculations that you might want to do yourself if you receive notice of a facility expansion or receive an NIA for a facility near you.
Distance Calculator: Use this if you have an NIA with a predicted noise level at a specified distance from the source. Enter the Distance (r1) and noise level at that distance (L1) into the shaded boxes. Enter the distance to your residence from the nearest corner of the facility (r2), then click "Calculate" button. In my case, the r1 distance is 1500 meters, the L1 sound level is 38.0 dB (not including the 5 dB safety margin). My residence is 2490 meters (r2). This gives a noise level at my house of 36.9 dB. This is the optimum case. If 5 dB is added for adverse conditions, the result is 41.9 dB at my residence. What this means is that under optimum conditions, I might not notice the compressor but under adverse conditions, I will (and do).

The lower half of this calculator can be used to find the distance that the facility would have to be located so as not to impact your residence.

Summation Calculator: Use this to calculate the sum of several sound levels. Suppose you receive notice that the oil company wants to double the capacity of an existing facility and also add a 5 million BTU heater and a 2750 HP refrigeration unit. The original facility has a sound level of 36.2 dB at the 1500 meter boundary. On the calculator, enter 36.2 dB in the box beside Level 1, put 36.2 in the box for Level 2 (the second compressor), and 34 dB for the heater and refrig unit in Level 3, then click the "Calculate" button. The result is 40.4 dB, which is over the legal limit of 40.0 dB, even without counting the 5 dB safety margin. So some redesign or retrofit would be needed to be compliant.




Copyright © 2022 E. R. (Ross) Crain, P.Eng. email