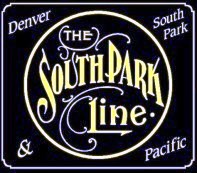 DENVER, SOUTH PARK and PACIFIC RAILROAD
DSP&P Baggage Cars #40, 41, and 45
Baggage cars #40, #41, and #45 had two relatively narrow baggage doors, each centered on the left and right half of the car, with a window on either side of the door. There was a third door at the center of the car with a very high threshold. It may have been used for mail or express parcels. All three doors had square tops, and penetrated part way through the letterboard. These cars had end platforms and the platform roofs were the broken duckbill style with a flat eave line. Later they were reprofiled to the then more common bullnose style and windows were eventually eliminated. They had decorative battens or strips that came down from the corner of each window and the center door. They also had much more prominent smokejacks than most cars. The strips also disappeared and conventional T&G siding was installed. Both end platforms were removed after entering C&S service.

Sources: MidContinent Museum DSP&P Passenger Car Pages
| | | | | |
| --- | --- | --- | --- | --- |
| DSP&P | U.P. 1885 | DL&G 1889 | C&S 1899 | C&S 1906 |
| #40 | #1000 | #1000 | #102 | #1 |
| #41 | #1001 | #1001 | #103 | Gone |
| #45 | #1002 | #1002 | #104 | #2 |
DSP&P No.
#40 41
#45
Car Type

Baggage

Build Date

1879

Built by
DSP&P Denver Shops
Length Over Endsills
34'-0"
Length Over Buffers (1916, no platforms)
36'-10"
37'-0"
Truck Wheelbase (1916)
5'-0"
5'-6"
Truck Centers (1916)
21'-6"
21'-3"
Width (1916)
8'-0"
8'-2"
Height of Body (1916)
9'-0"
9'-1"
Body Above Rails (1916)
37"
37"
Clear Opening of Doors (1916)

3'-5 ½" x
5'-7 ¾"

3'-5 ½" x
5'-5"
Weight
1912
13 tons
16 tons
1916
34,400 lbs.
35,880 lbs.
Wheel Size
1885
24"
1916
26"
Heating

Stove

Lighting

Oil Lamps

Interior Finish (1916)

Yellow walls, white ceiling

Platform Roof
1885
Broken Duckbill
1916

Bullnose

Termination Date

1939

Not yet

HISTORY
Baggage cars #40 and #41 were built by the South Park's Denver Shops in 1879, probably from parts manufactured by one of the eastern car builders. Baggage car #45 arrived in 1880, along with numerous passenger cars and two baggage-mail-express cars, It was built by the Denver Shops and was very similar to the first two baggage cars, but there were minor dimensional differences
In 1885, the Union Pacific renumbered #40, 41 and 45 to #1000, 1001 and 1002, numbers they retained until 1898 under the Denver, Leadville & Gunnison. Sometime during this period, the cars were rebuilt. Their side windows were sheathed over and their roofs redone with the bullnose profile.

When taken over by the Colorado & Southern in 1899, DL&G #1000, 1001 and 1002 became C&S #102, 103 and 104. Baggage car #103 was destroyed at South Park Junction in June 1902, after being wrecked in a head-on collision.
During the C&S renumbering in 1906, #102 became baggage car #1 and #104 became #2. Both were rebuilt in 1915 when the end platforms were removed. Both were officially dismantled in 1939, but #2 actually lives on at the Stuhr Museum of the Prairie in Nebraska.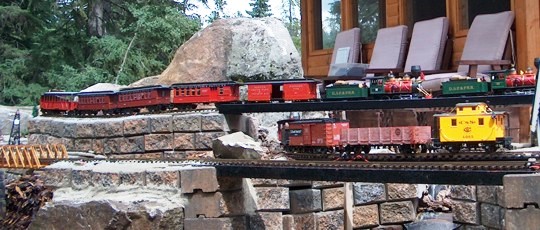 A double-headed DSP&P passenger train on the Rocky Mountain House, Leaverite and Northern tracks in Alberta. Locos and cars are LGB models with roofs painted black.


PHOTO GALLERY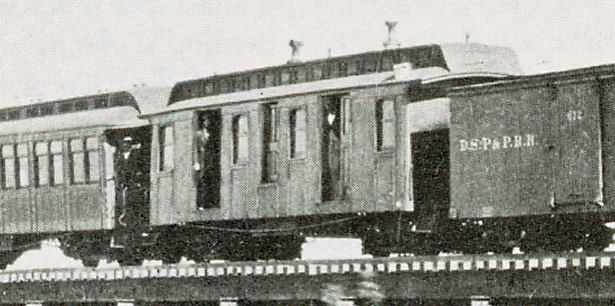 DSP&P baggage car #40, 41, or 45 in the early 1880's, showing positions of side windows and center door.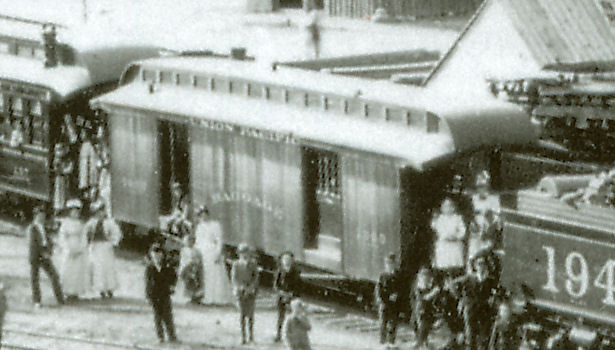 Denver, Leadville & Gunnison baggage car #1000 (ex DSP&P #40) at Morrison 14 June 1892. Windows have disappeared and roof profile has the bullnose style over the platforms.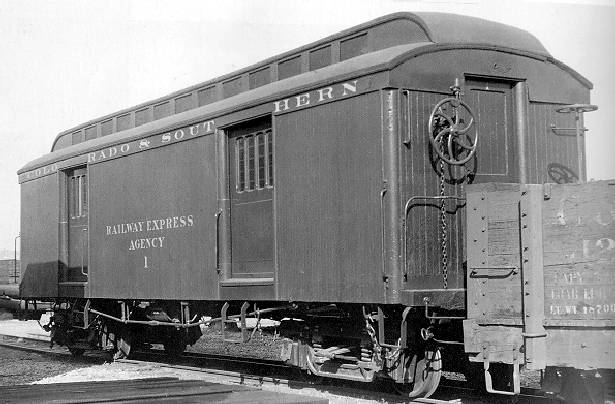 C&S baggage car #1 (ex DSP&P #40) at Denver, 12 August 1936. with end platforms gone


FOLIOS and PLANS
This plan by John Maxwell shows the side windows and center door of the original DSP&P baggage cars #40, 41, and 45 and include the end platforms. Plan is based on the first photo in the Photo Gallery above. The plan below the 1880's version represents the cars in the early C&S era, with end platforms, fewer side windows, and no center door.
DSP&P Baggage Cars #40, #41, and #45 -- C&S #1 and #2


DSP&P Baggage Cars #40, 41, and 45, later #1000 to 1002
C&S Baggage Cars #101 to 104 (later #1 to 4)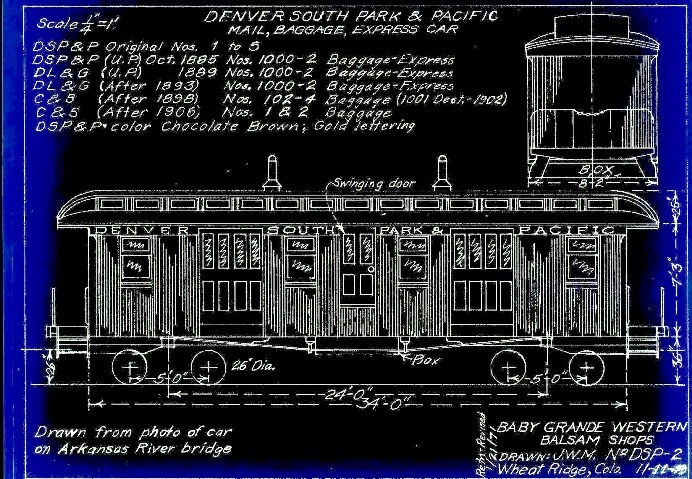 .

These folios of the the DSP&P baggage cars show their configuration after 1906. You will need to add the side windows, center side-door, and end platforms to visualize their appearance in the DSP&P era of the 1880's. Body dimensions should still match the original cars.