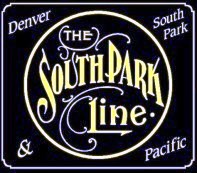 Denver, South Park and Pacific Railroad
DSP&P Box Cars: History, Photos, Plans

The first order for rolling stock on the DSP&P went out in 1874 for 30 flat cars, 5 box cars, 5 coal cars, a coach, a combine, and 6 excursion cars. This initial batch of cars plus 2 small locomotives were sufficient for construction and revenue service for the next four years. Subsequent orders over the next 10 years brought the total fleet of freight cars up to about 1300.

Like most railways, the DSP&P roster was dominated by boxcars, nearly 600 of them, delivered in 12 orders across 11 years. Many did not survive the rigors of rough service but a fair number made it to the C&S era.. All were painted oxide red with white lettering on sides and ends. They had double-board wood roof. Many had a small door in one end for loading lumber. Many had ladders on the right end of each side; some had hand grabs. There were no steps and no grabs on the left. A few older cars had a ladder on each end wall and nothing on the sides, so there was lots of variety.


DSP&P RR BOX CARS 1874 - 1898

ORIG #
TYPE
1885 #
LENGTH
MFG
BUILT
500-504

Box

==

23

Hallack

1874

512-514

Box

24082-24103

26

DSP

1878

515-529

Box

26

B&S

1878

530-554

Box

26

Litchfield

1879

560-739

Box

24104-24275

26

Litchfield

1879

740-799

Box

24276-24410

27

UP

1882

800-849

Box

27

UP

1883

850-889

Box

27

UP

1883

890-919

Charcoal

24041-24074

31

UP

1883

920-969

Box

24411-24570

30

UP

1883

970-1049

Box

30

Peninsular

1883

1080-1099

Box

30

Peninsular

1884

==

Box

24075-24081

24

Lamothe ?

1885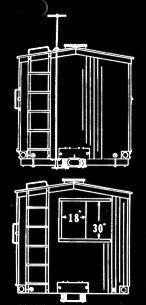 HISTORY
The first DSP&P boxcars #500 to 504 were short 23 footers, built by Hallack Brothers in Denver in 1874, using castings and trucks from the east. They were gone by 1885.

Three 26 footers, DSP&P 512 to 514, were built by DSP&P in 1878. The number gap was filled by refrigerator cars 505 to 511. This is confusing since these were supposedly delivered four years after the number gap was created. Also in 1878, Barney and Smith delivered 15 26-foot boxcars #515 to 529.

In 1879, Litchfield delivered a batch of 25 cars numbered DSP&P 530 to 554, and a second batch of 180 26-foot cars numbered 560 to 739. The number gap was again filled by a group of refrigerator cars that also appear to have been built two years after the gap was created. All the 26 foot cars ended up in the 24082 to 24275 series in 1885.

Union Pacific Omaha shops produced 150 27-foot boxcars in 1882 and 1883 in 3 batches of 60, 50, and 40 cars. These were DSP&P #740 to 889. They became 24276 to 24410 after 1885.

Surviving 24, 26, and 27 foot boxcars ended up in the C&S 7200 - 7699 series.

Still in 1883, 30 longer and taller 31-foot outside braced boxcars were built by UP as charcoal cars, numbered 890 to 919, renumbered to 24041 to 24074. On the C&S, they were converted to standard gauge trucks and numbered 979 to 997.

DSP&P #920 to 1099 were 30-foot cars from UP (50 cars in 1883)and Peninsular (130 cars in '83 and '84). The 30-footers were renumbered into the 24411 to 24570 series in 1885.

DSP&P #24075-24081 are listed as 24 foot 20 ton capacity cars in the 1885 roster. These are not the original 1874 23 foot cars and speculation suggests they may have been LaMothe pipe-framed design.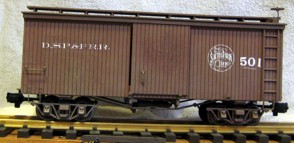 DSP&P #501, a 23' boxcar on the author's garden railway.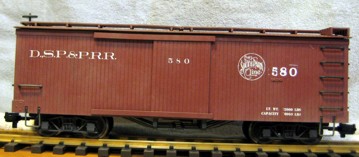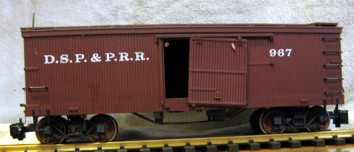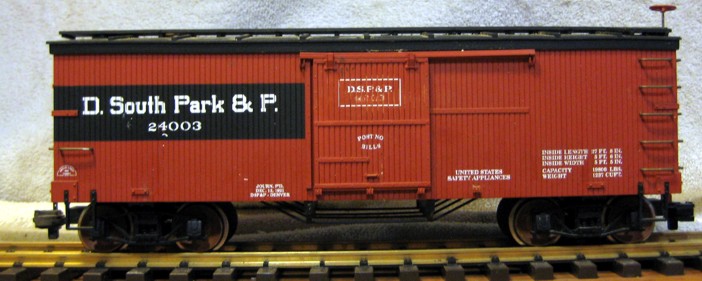 Some of the boxcars on the author's garden railway in Alberta, Canada


PHOTO GALLERY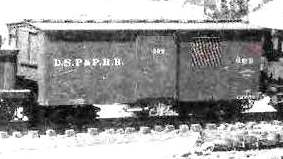 DSP&P Boxcar #883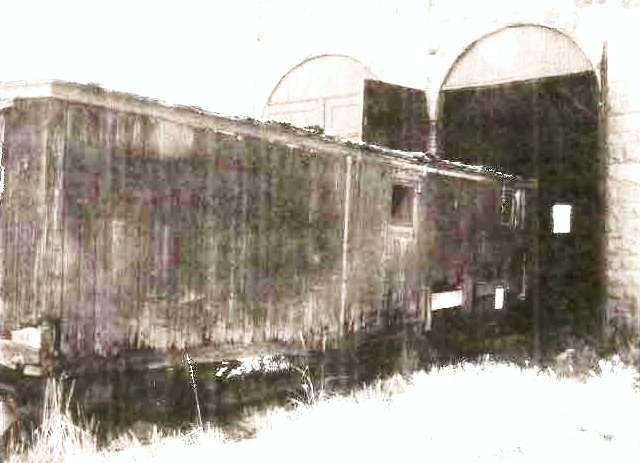 DSP&P boxcar 608 awaiting cosmetic restortaion at Como roundhouse in 2010. (Photo from DSP&P website)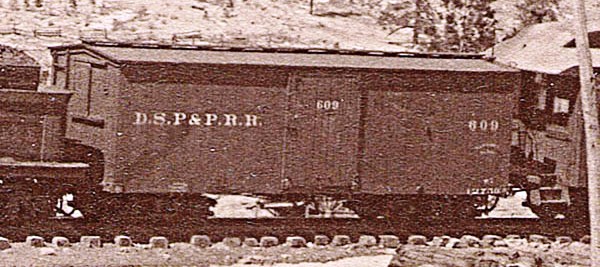 DSP&P boxcar 609 circa 1883 - 84. (Photo from DSP&P website)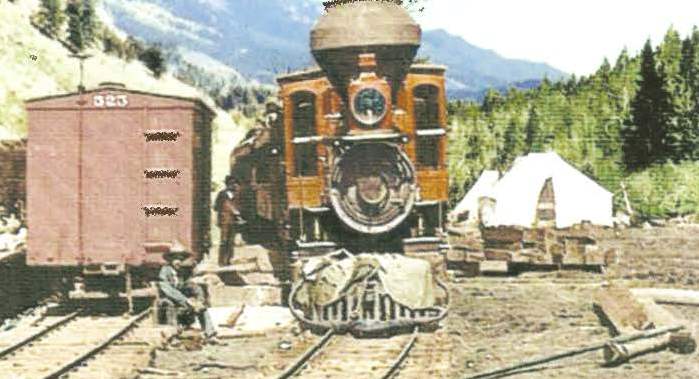 DSP&P Boxcar #801 and Reefer #1057




DSP Boxcar #24141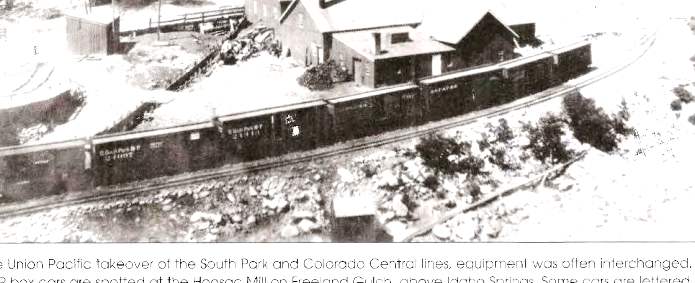 DSP&P freight train after 1885 with old and new lettering schemes




String of DSP(P boxcars, with Masom Bogie on the point.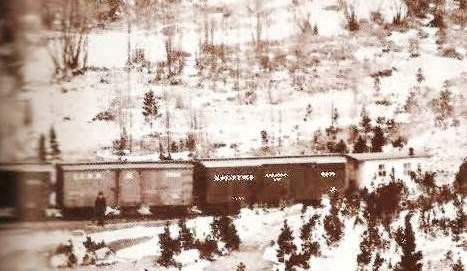 The rest of the train, with Waycar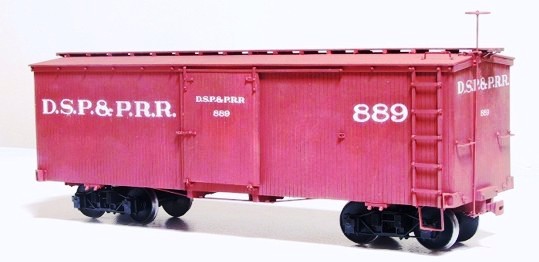 Hartford Products craftsman kit of DSP&P Boxcar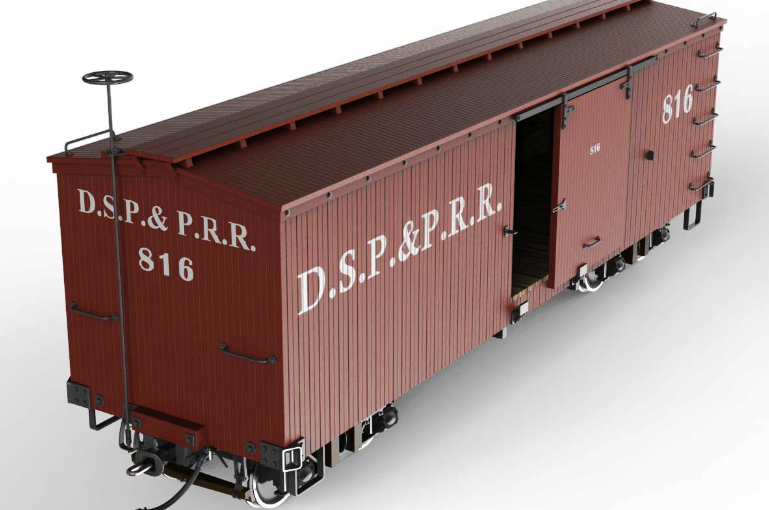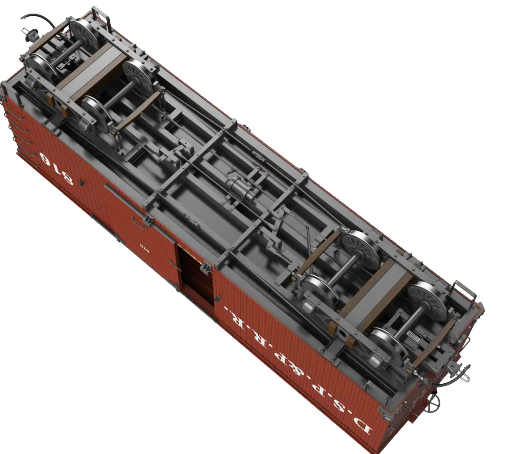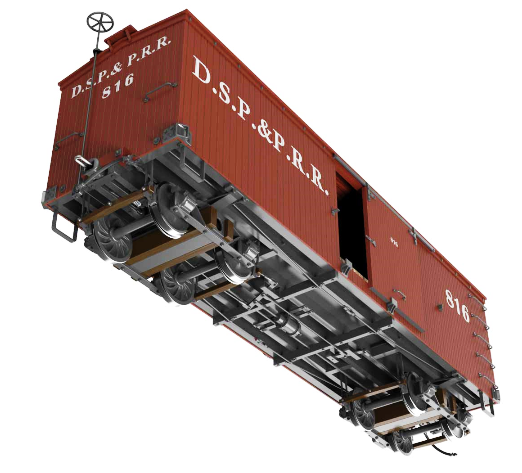 DSP&P Boxcar #816 CAD image by Bill Gould. See Bill's website for many more images, exact-scale plans, and fine art prints for sale.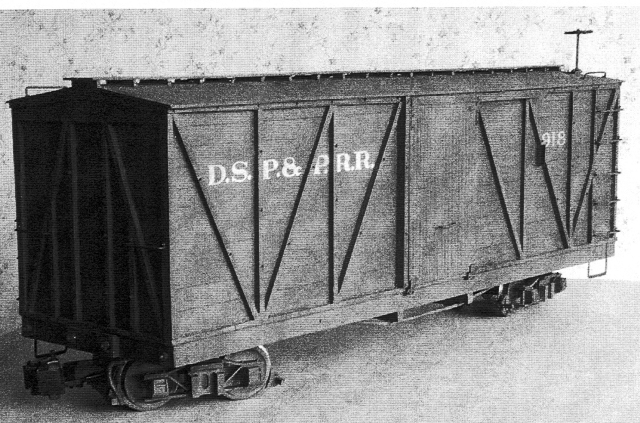 A 1:20.3 model of a 31 foot DSP&P charcoal car by Peter Bunce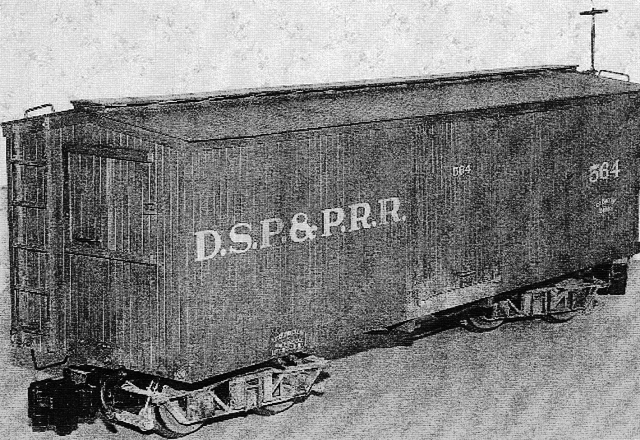 Peter's model of a conventional DSP&P boxcar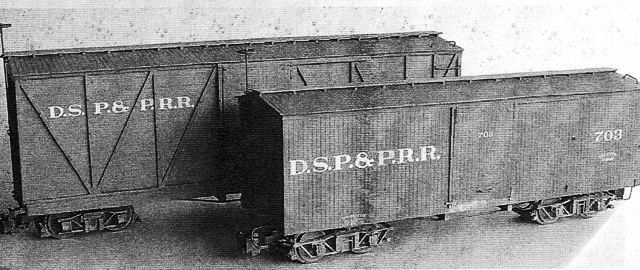 Comparative size of the charcoal boxcar and the normal car.


PLANS by John Maxwell
DSP&P 27 Foot Box Cars 500 to 899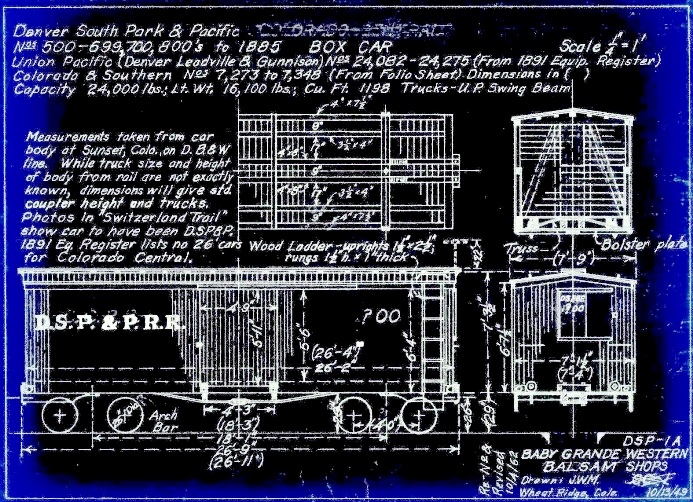 DSP&P 27 Foot 900 Series Boxcars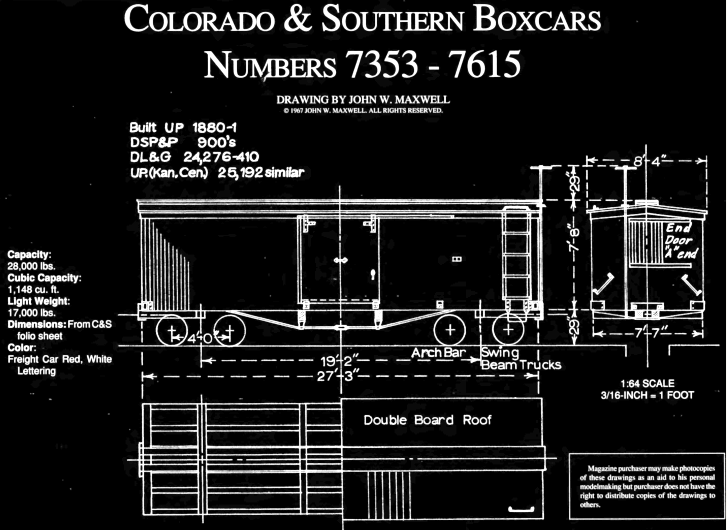 PLANS by Ron Rudnick
DSP&P 23 Foot Box Car #501


DSP&P 26 Foot Box Car #525 and 517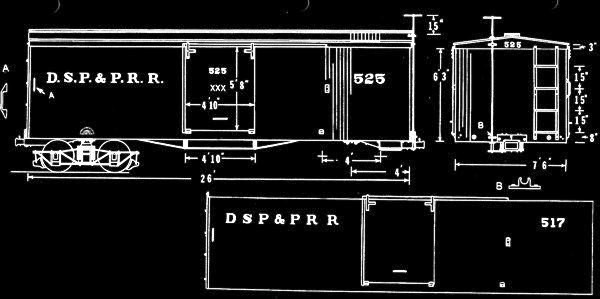 DSP&P 26 Foot Box Car #618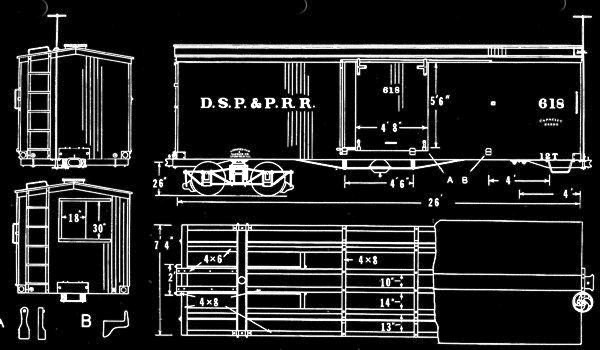 DSP&P 27 Foot Box Car #874


DSP&P 27 Foot Box Car #931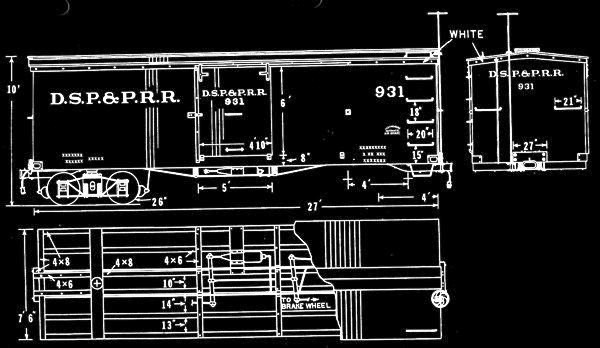 DSP&P 30 Foot Outside Braced Box Car #918 for Charcoal Service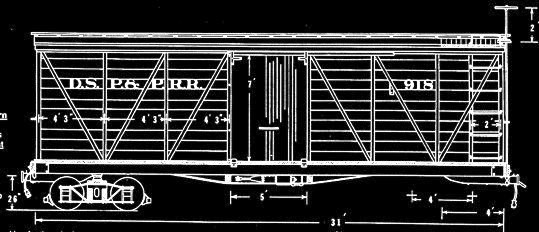 DSP&P 30 Foot Outside Braced Box Car #918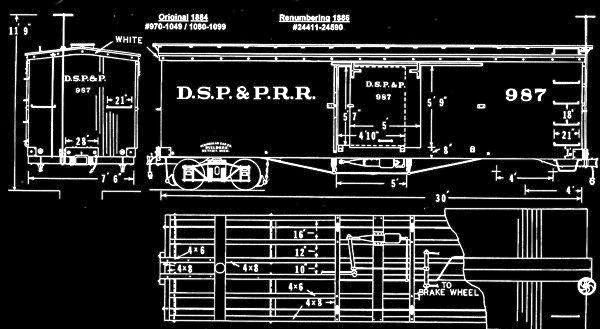 DSP&P / DL&G 26 Foot Box Car #24145 after 1885


DSP&P / DL&G 26 Foot Box Car #24175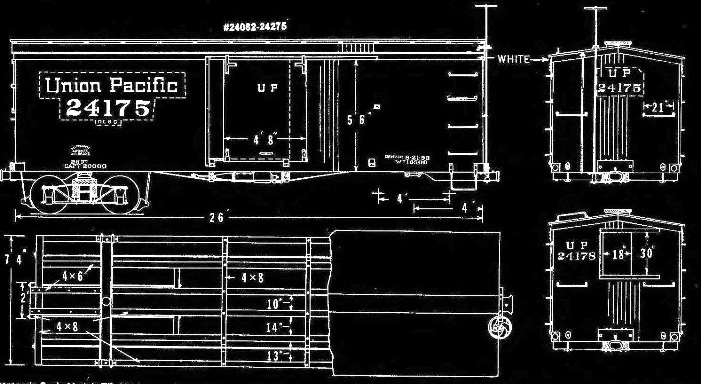 DSP&P / DL&G 30 Foot Box Car #24483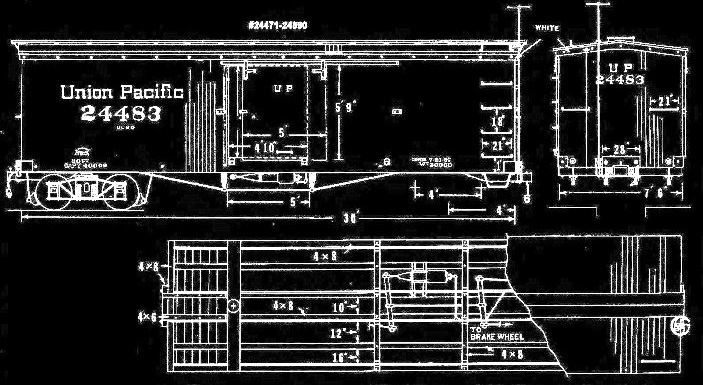 PLANS by Others
DSP&P 27 Foot Boxcar #608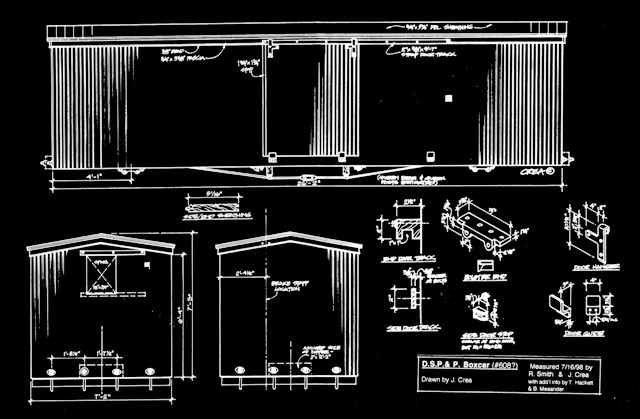 DSP&P 27 Foot Boxcar #816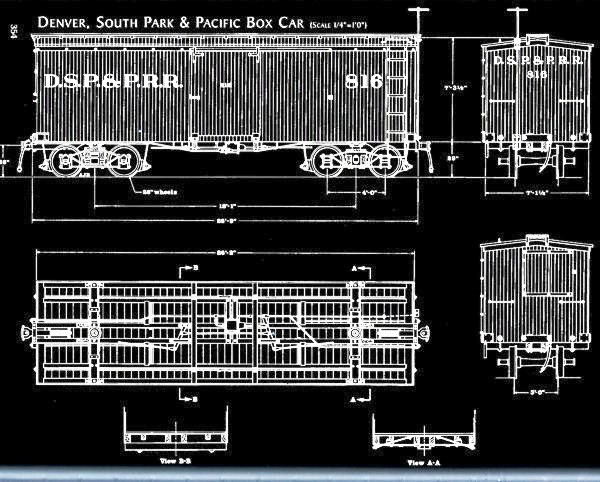 DSP&P 27 Foot Boxcar #816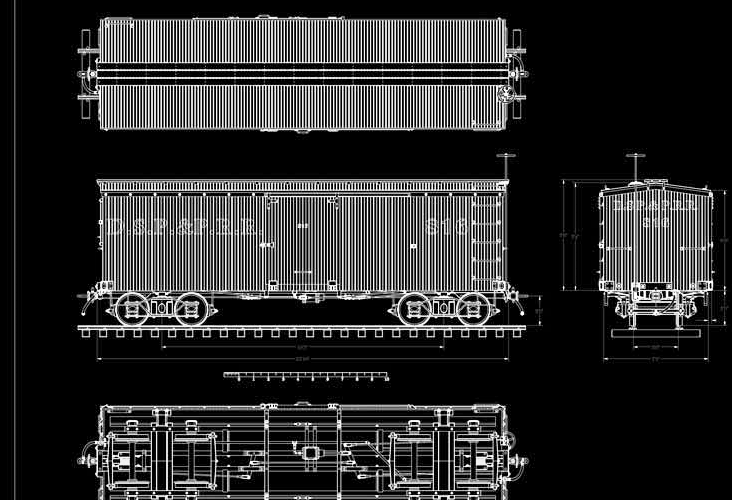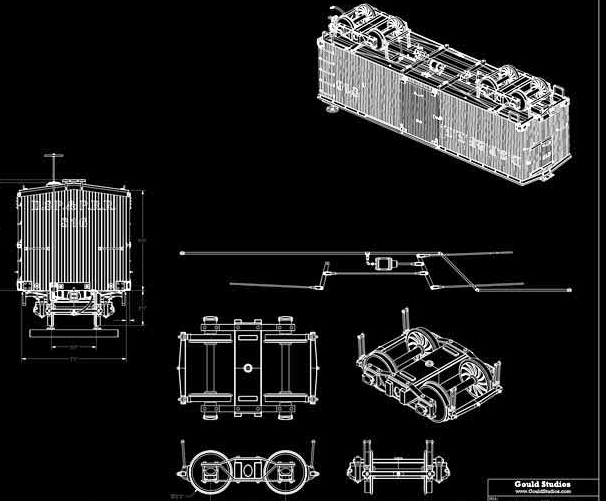 DSP&P 27 Foot Series Boxcars after 1885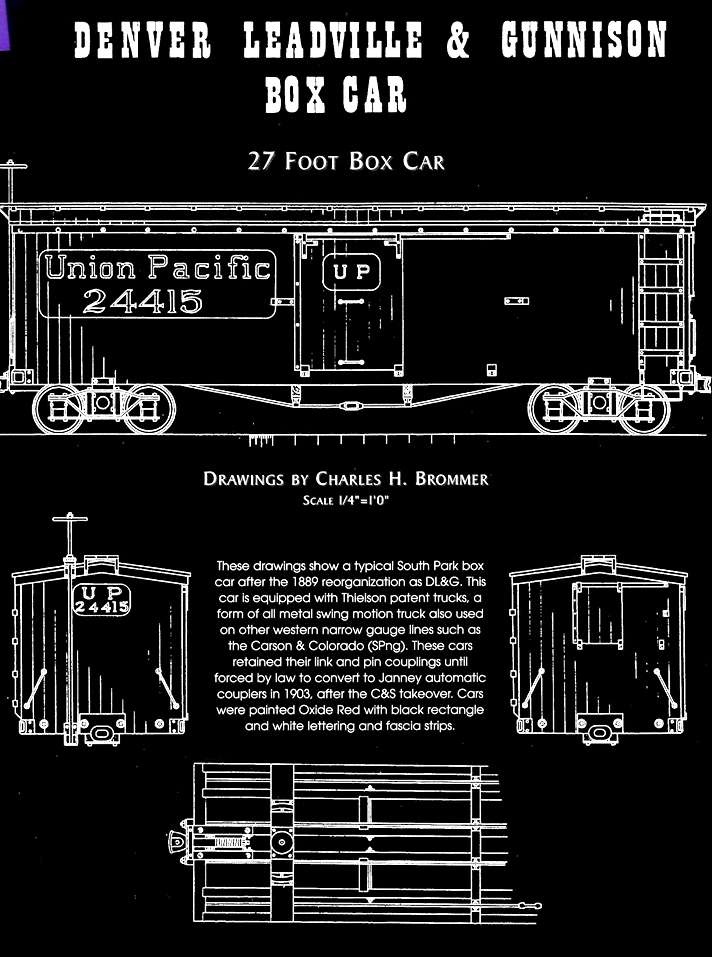 DSP&P 27 Foot 900 Series Boxcars