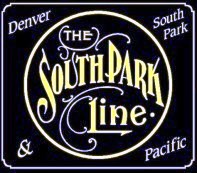 Denver, South Park and Pacific Railroad
DSP&P Plans by Ron Rudnick

The plans on this page are from Ron Rudnick's wonderful Modeling Guide for the DSP&P. It contains a well researched history and rosters. Other guides are available for Colorado Central and for DL&G / UPD&G / UN / KC of the 1879 to 1899 era. Contact Ron Rudnick 4715 N. Black Canyon Hwy. No. 2071, Phoenix, AZ, 85015 (spark@quik.com seems to be out of service, so Ron's contact info above may also be obsolete).
Ron's work covered only freight cars in their many variations. For locomotives and passenger cars you will have to see other pages on this site - see Site Navigation.
The images here have been reduced in size to protect the artists' original materials. For a complete index of Ron Rudnick's Modeling Guides, CLICK HERE.