Hong Kong - Macau FerrY - 2009


Several fleets of high-speed Macau ferry vessels serve the 40-mile route between Hong Kong and Macau: jetfoils, turbo-cats, jumbo-cats and CotaiJet. There are more than 100 sailings throughout the day and evening, with all-night service by jetfoils.
There are two terminals in Hong Kong. The main sea terminal and heliport are located in Shun Tak Centre, on the waterfront west of Central District on Hong Kong Island. It stands over the MTR Sheung Wan Station.
The other terminal is the China Ferry Terminal offering ferry services from the Kowloon side, located on the Tshim Sha Tsui waterfront alongside Harbour City, and is used for Jumbocats, and Hover-ferry sailing to and from Macau.
In Macau, the Maritime Terminal and heliport is situated in the Outer Harbour, close to lots of casinos and hotels. The older, more interesting city, is a modest hike west and inland a bit. Good restaurants exist but are hard to find.
The Boeing 929 - 100 Jetfoil hydrofoil ferries are 90 feet long with a beam of 31 feet carrying 190 passengers in very comfortable seats. They can travel 50 miles per hour using two 3300 horsepower gas turbines driving 2 mixed axial flow, 24,000 gallons/minute Rockwell Rocketdyne Powerjet 20's. The ship burns 430 US gallons of fuel per hour, getting about 0.1 miles per gallon. The hydrofoils lift the ship's hull out of the water giving a very smooth ride even in a large swell.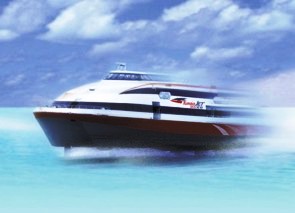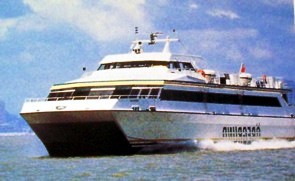 The oldest Jetfoil "Flores"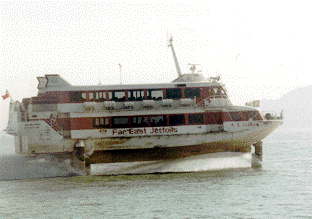 built in 1975.
A year before our trip to Hong Kong and Macau, 133 of 435 passengers were injured, 19 of them seriously, when two high-speed ferries, Funchal and Santa Maria, collided five nautical miles away from Macau and limped back to Macau to treat the injured. Now I know why some, but not all, Jetfoil ships have seatbelts. But where in hell was the radar that night????