RAILroad Museums and Heritage Parks
Vintage Railway History

This page covers museums and heritage parks with a railroad focus in Canada,and USA that I have personally visited and really enjoyed. Check out my shorter photo essays on the German and Swiss Transportation Museums, Kowloon Canton Railway Museum, and the Western Pacific Mudeum at Portola CA.

There are many, many more that I never got to see. If you would like to contribute a photo essay on a favourite spot, send me a word-doc with the story and embedded images. Email me.

Scroll on down to see samples of what the world has to offer.

EXPO-RAIL - "CANADA'S RAILWAY MUSEUM", Montreal, Qc - 2012


The Canadian Railway Historical Association (CRHA) founded the museum back in 1961, but I remember visiting their collection as a teenager in the 1950's - most items were stored outdoors in the weather then. Fund-raising and enormous contributions from volunteers over the following 60 years has created a fabulous collection with 140 immaculately restored pieces of Canadian railway heritage, including a large collection of Montreal streetcars dating from the horse-drawn era of the 1860's to the end of service in 1959.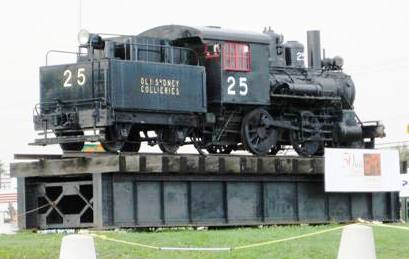 The museum operates a heritage streetcar line around the grounds as well as a heritage railway which pulls a small passenger train on a former freight spur to Montée des Bouleaux. The streetcar operates daily during the spring, summer and fall while the railway operates every Sunday during the same period. The museum is located on the south side of the St. Lawrence River at St. Constant, Quebec, south of the City of Montreal. Use your GPS -- the site is hard to find, even though there is a large locomotive on a pedestal by the parking lot.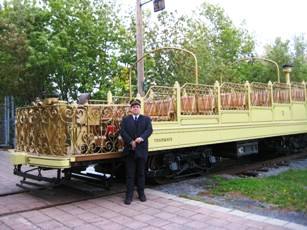 The best part of this visit for me was the ride on the "Gold Car", an open-air sightseeing streetcar that used to run in summer in Montreal. This was our favorite outing when we were kids in the 1940's and 50's. The ride, and the tour of the Museum, was escorted by Steve Cheasley, the museum President, who generously provided a personalized commentary on the background and significance of each exhibit. It was a wonderful re-visit to the railways of my youth, all the way back to my grandparents early days, with some of the best restorations in the world on display. This is a "must see" railway venue.

These photos were taken by Sonja in 2012.



SOME OF EXPORAIL's heritage TRAINS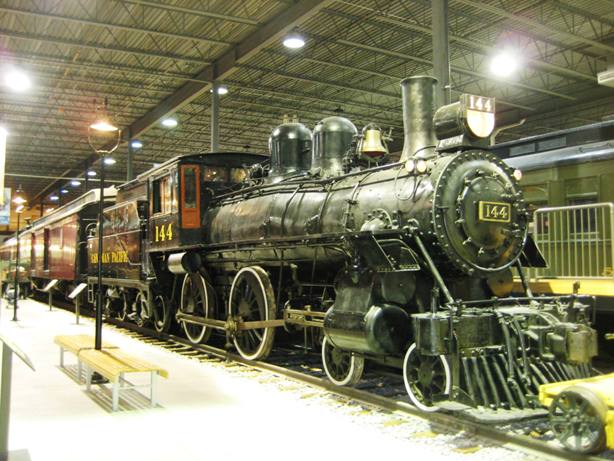 CPR 4-4-0 #144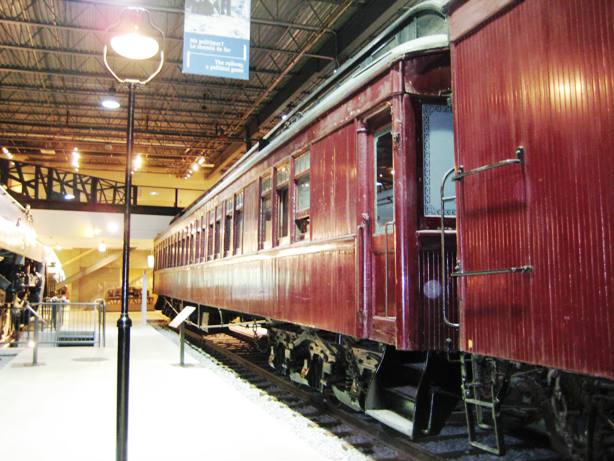 CPR Colonist Coach #1554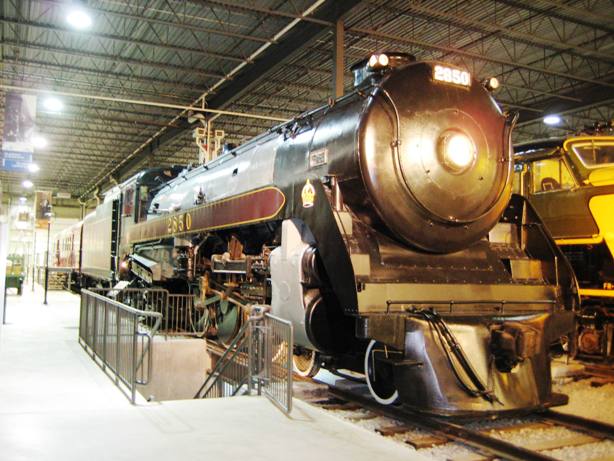 CPR 4-6-4 #2850 "Royal Hudson". Note the crown on the running board skirt.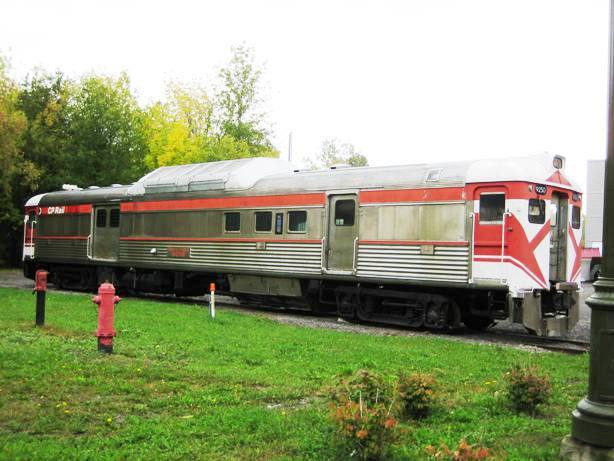 CPR Rail Diesel Car #9850 (Budd RDC-3 used on Dominion Atlantic Railway)



CPR Rail Diesel Car #9850 (Budd RDC-3)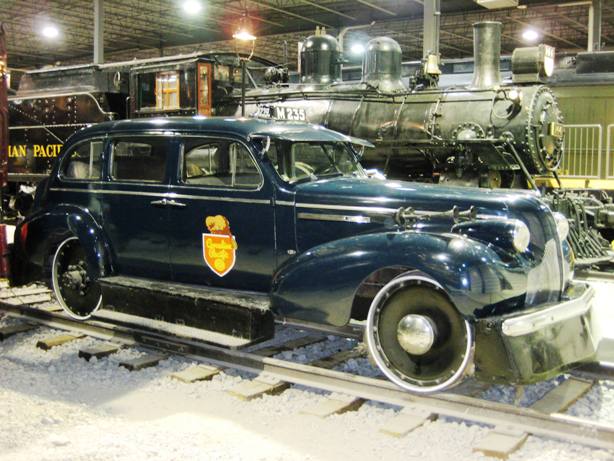 CPR Railcar M235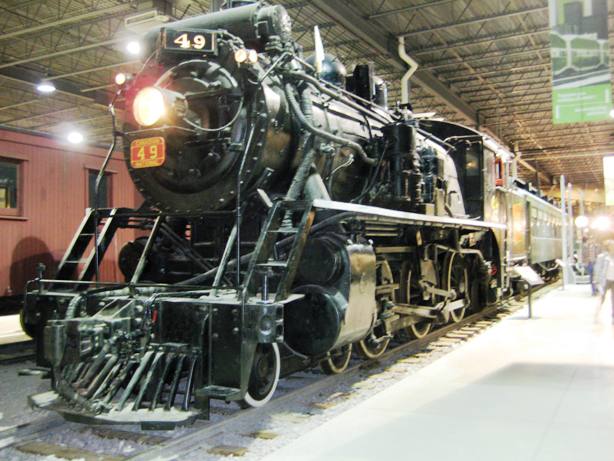 CNR #49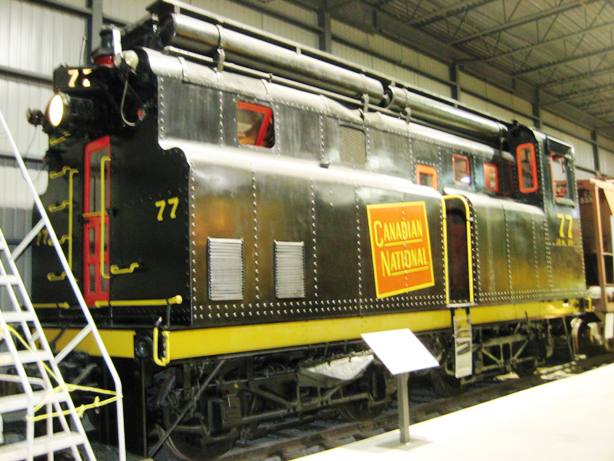 CNR #77 First Canadian Diesel Switcher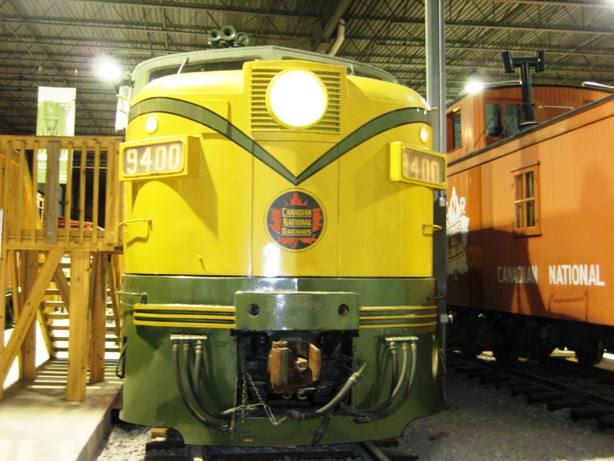 CNR #9400 First Canadian -built freight diesel (FA-1)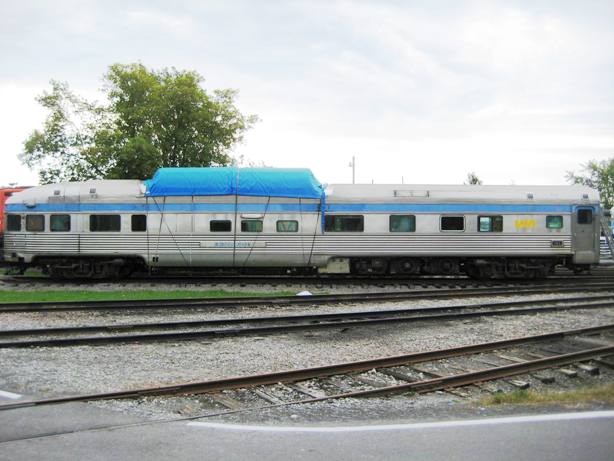 Via Rail "Park" class dome observation car (ex CPR "Canadian") first streamline train in Canada 1955. We slept three nights in her sister "Banff Park" on the trip home from this visit to ExpoRail.


SOME OF EXPORAIL's heritage STREETCARS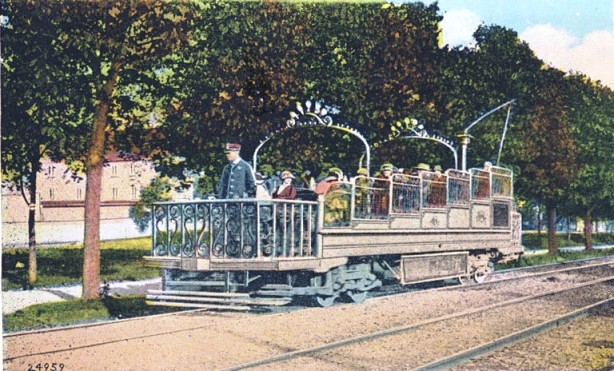 Montreal Tramways "Gold Car" #1 at work in the 1950's on Park Avenue in Montreal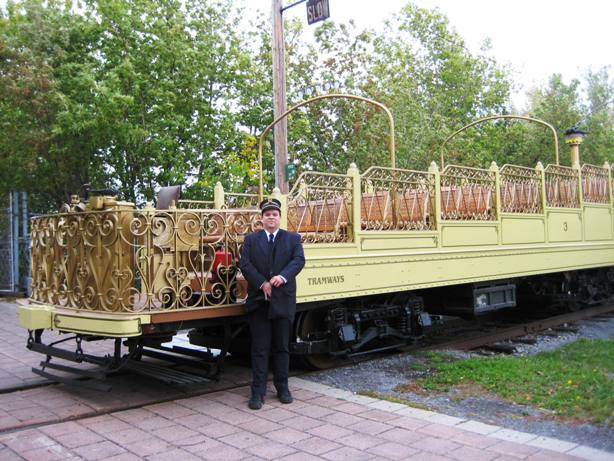 Montreal Tramways "Gold Car" #1 at work at ExpoRail in 2012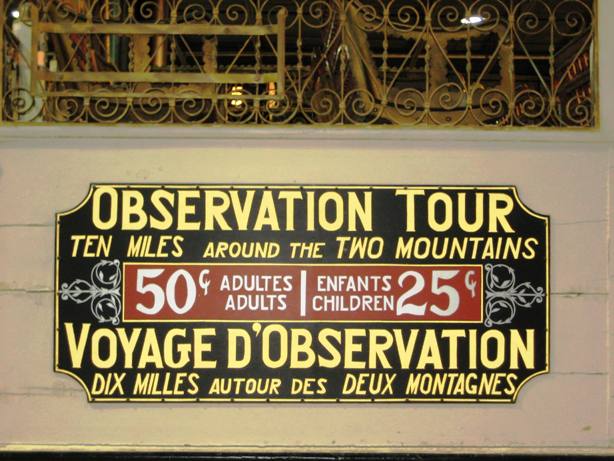 Montreal Tramways "Gold Car" #1 front end says it all: 50 cents was a lot of money in 1950, about $7.50 today.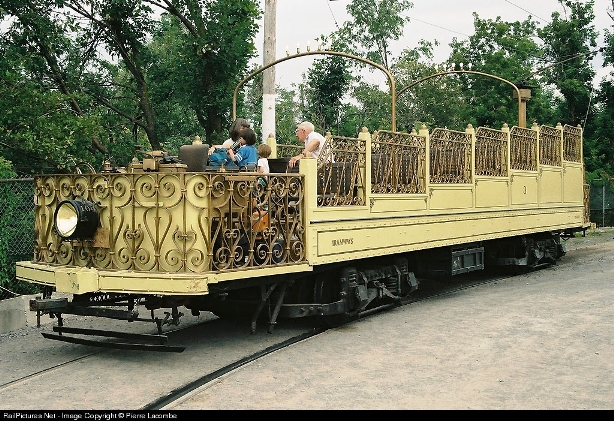 Montreal Tramways "Gold Car" #3 at work in 1950's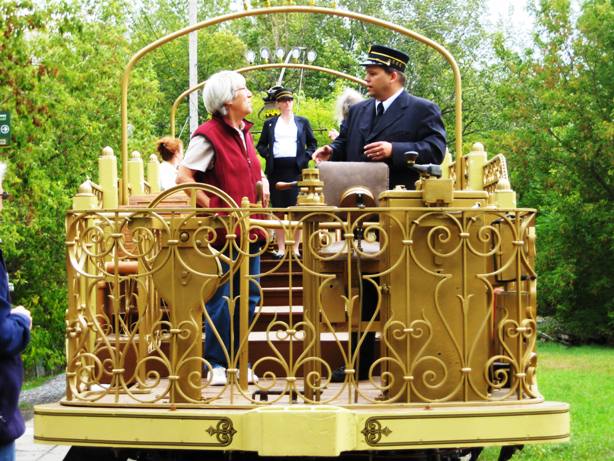 Closeup of the fancy scrollwork on Montreal Tramways "Gold Car" #3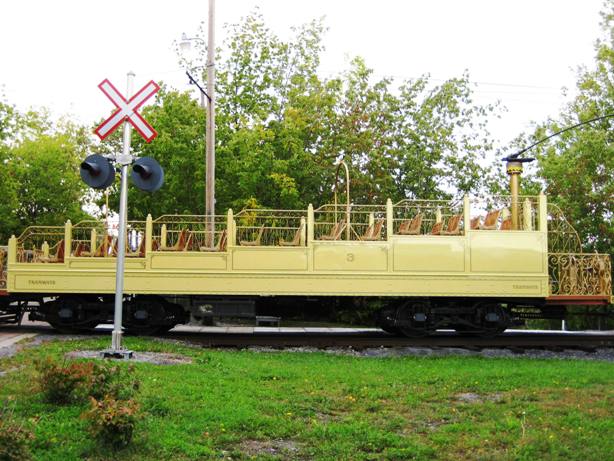 Montreal Tramways "Gold Car" #3 at ExpoRail in 2012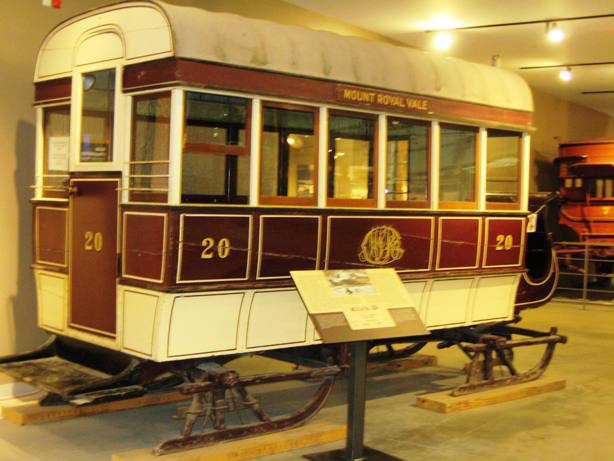 Montreal City Passenger Car Company horse drawn streetcar #20. more than 1000 horses were on staff in the 1870's.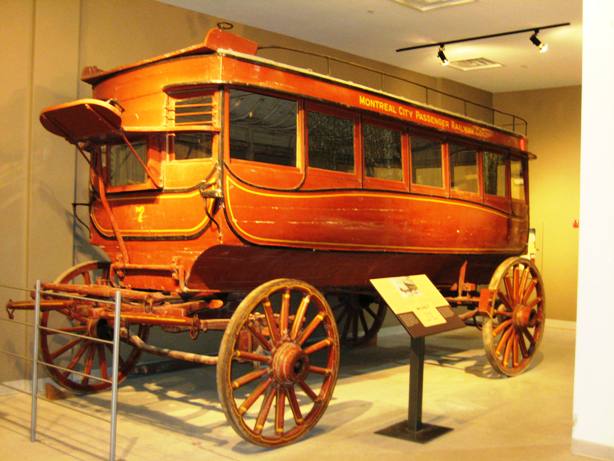 Montreal City Passenger Railway horse drawn streetcar. #7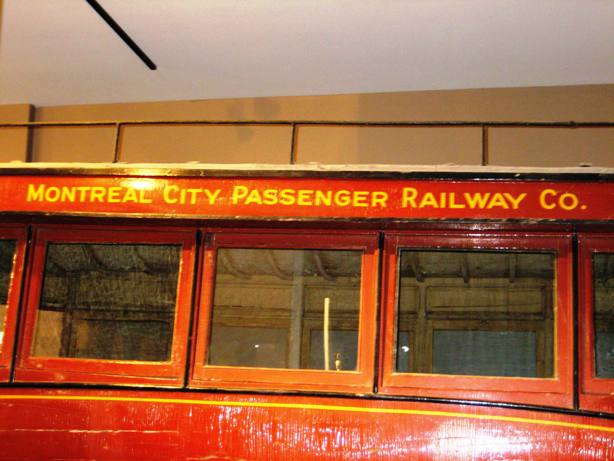 Montreal City Passenger Railway horse drawn streetcar. #7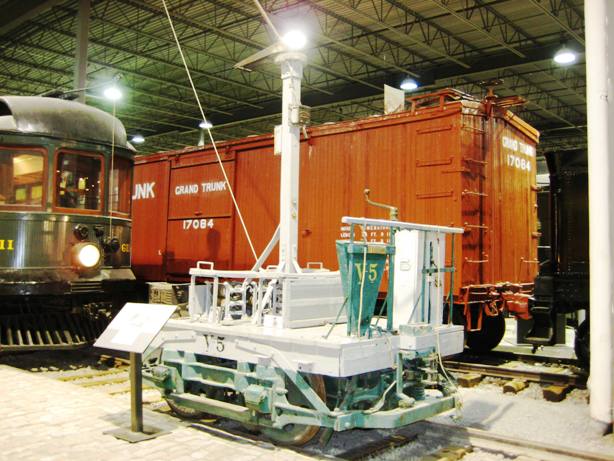 Montreal Street Railway #Y-6 yard switcher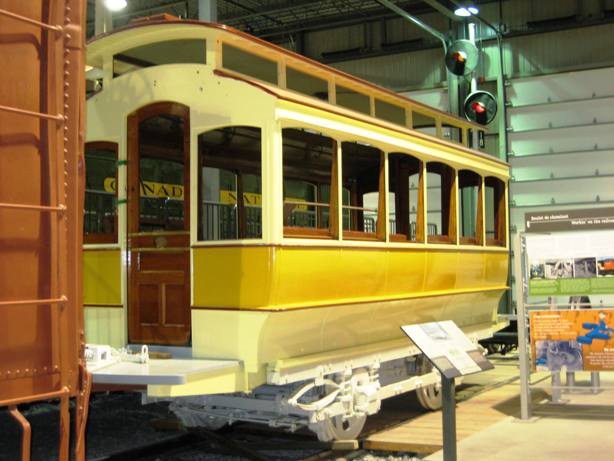 Montreal Street Railway #274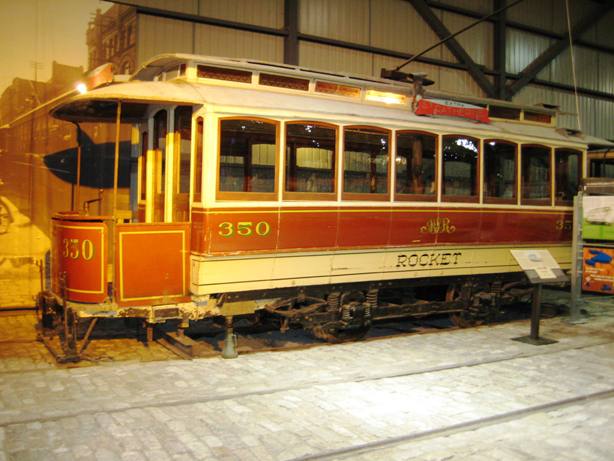 Montreal Street Railway #350, nicknamed the "Rocket"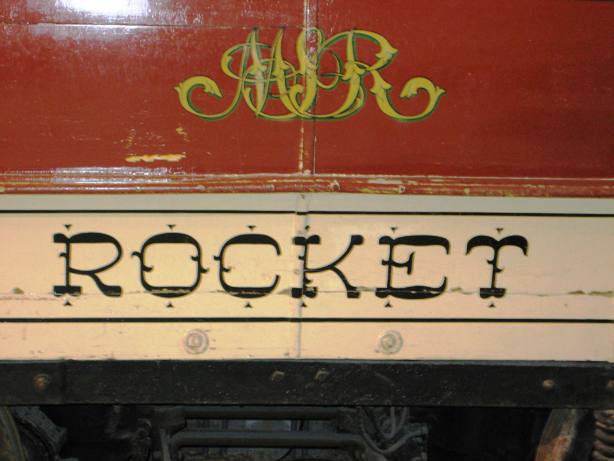 Montreal Street Railway #350, nicknamed the "Rocket"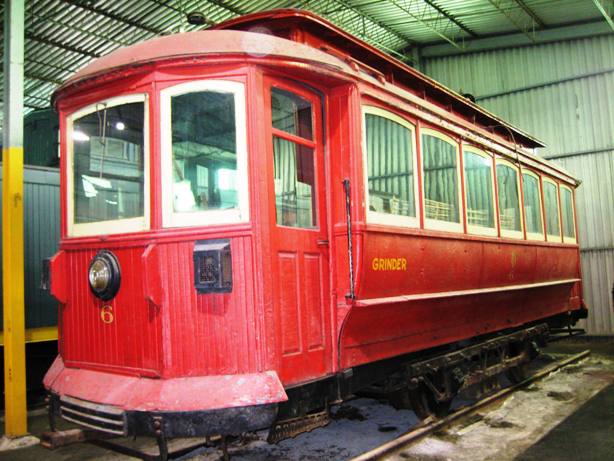 Montreal Tramways Rail Grinder - I watched this car, welding cars, snow sweepers, and overhead repair cars on a regular basis when I was a boy in Montreal.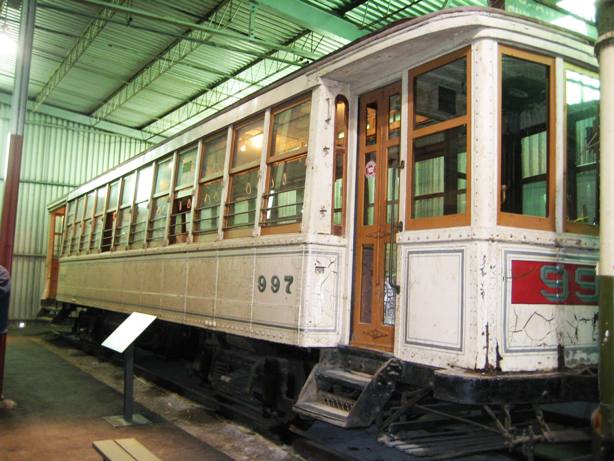 Montreal Tramways #997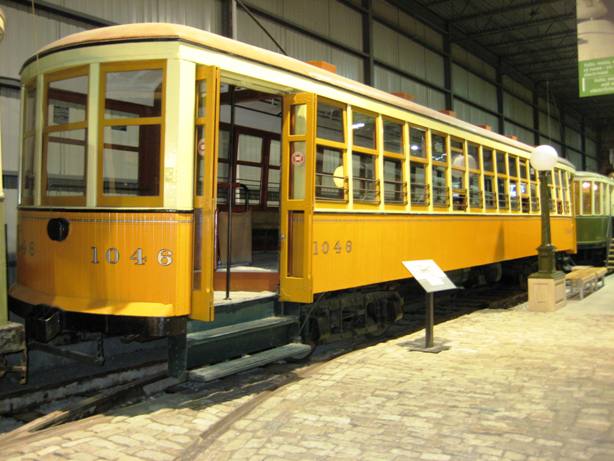 Montreal Tramways #1046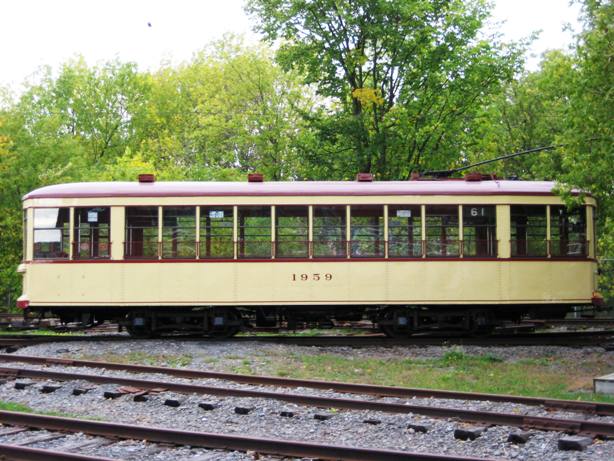 Montreal Tramways #1959. I rode this one and her sisters when a teenager going to McGill University; the fare was 10 cents in 1957 and only 1-2/3 cents in 1945-47 (3 tickets for 5 cents).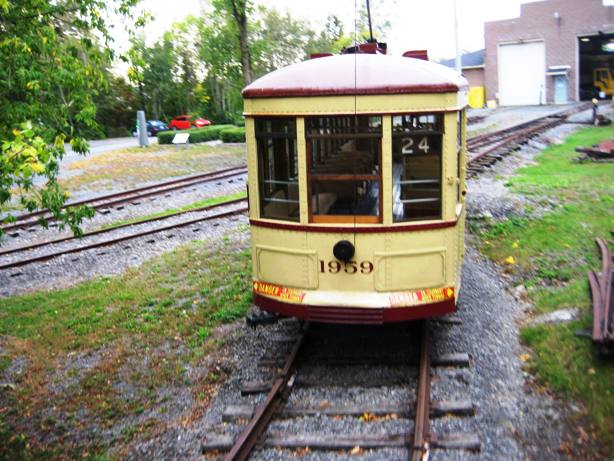 Montreal Tramways #1959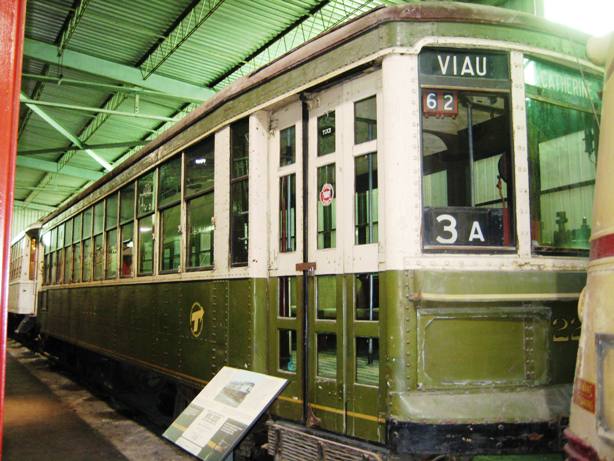 Montreal Tramways #2222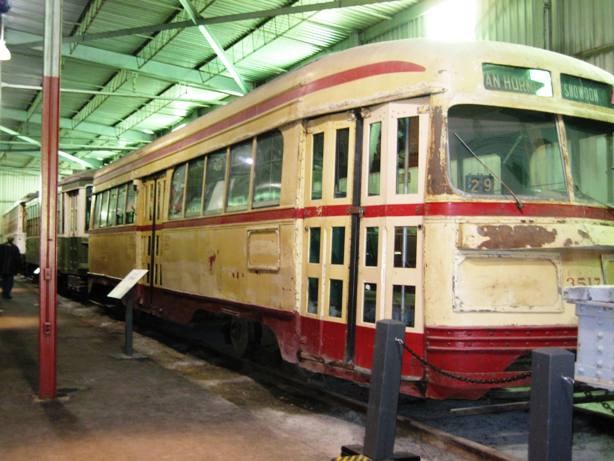 Montreal Tramways "Presidents Conference Car" #3517. I rode this one and her sisters going to grade school in the late 1940's. Children's tickets were 3 for 5 cents. Imagine 1-2/3 cents per trip!
An MTC children's ticket circa 1949 -- 1-2/3 cent each (3 for 5 cents)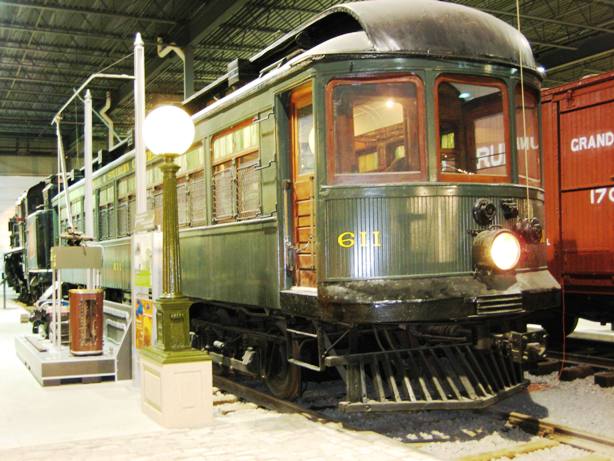 Montreal and Southern Counties interurban car #611 -- I rode on this one or one of her sisters in the late 1940's.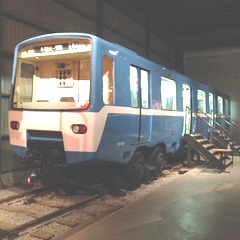 First Montreal Metro subway car. Rubber tires with metal guide wheels. These cars never saw daylight so were not built to withstand weather.


WINNIPEG RAILWAY MUSEUM, Winnipeg, MB - 1912
Manitoba Railway History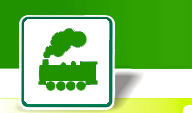 Inside the ornate 1911 ex-CPR passenger station in Winnipeg is one of those hidden gems of railroad history - the Winnipeg Railway Museum. It has a number of totally unique items, like the CPR 1946 Packard inspection car, industrial locomotives, and freight and passenger cars closely related to the history of Manitoba. Pride of place goes to the "Countess of Dufferin", a 4-4-0 that was the first locomotive to run in Manitoba.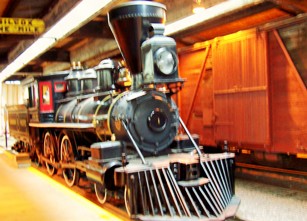 The "Countess of Dufferin" was built in Philadelphia by Baldwin for the Northern Pacific and delivered to Breckenridge, MN in 1872. She worked as Northern Pacific #21 in the Minnesota and Dakota Territories until delivered to St. Boniface (Winnipeg) in 1877, by barge down the Red River from Fisher Landing, MN. Here she worked on Canadian Government Contract #5 constructing the Pembina Branch, which linked Winnipeg with St. Paul. In 1833, she was renumbered CPR #151 and helped construct track between Winnipeg, the Lakehead, and Golden, BC, where she was sold to the Columbia River Lumber Company. She was returned to the city in 1909 and put on display. In 1972 the "Countess" was placed on permanent display in the Winnipeg Railway Museum.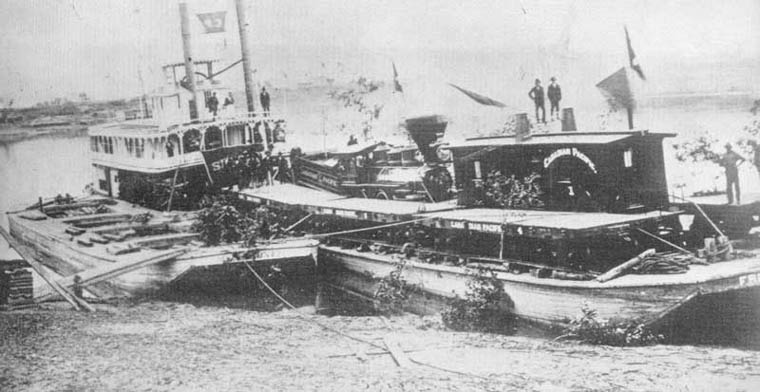 The "Countess of Dufferin" arriving at Winnipeg on a barge in 1877, with a boxcar /office car?


PHOTOS AT WINNIPEG RAILWAY MUSEUM
Photos taken in 2012 by Sonja. For rolling stock and MOW, see Museum Website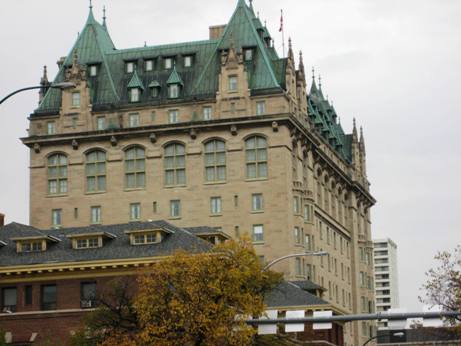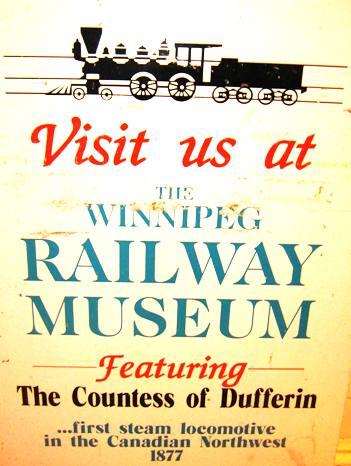 Winnipeg Union Station (ex 1911 CPR) nicely restored inside and out is home for the Winnipeg Railway Museum, and is still in use for Via Rail "Canadian"



Side view of the "Countess of Dufferin"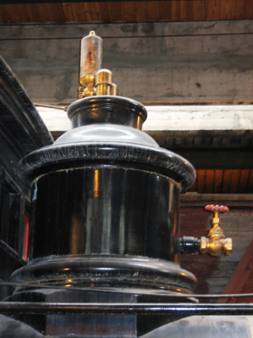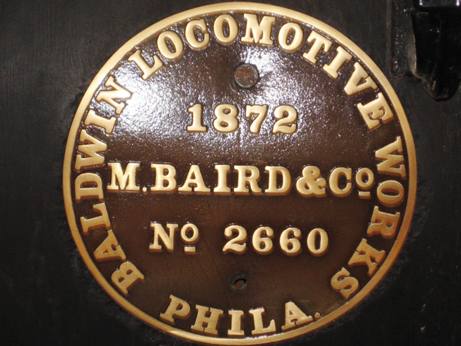 Whistle and builder's plate on the "Countess of Dufferin"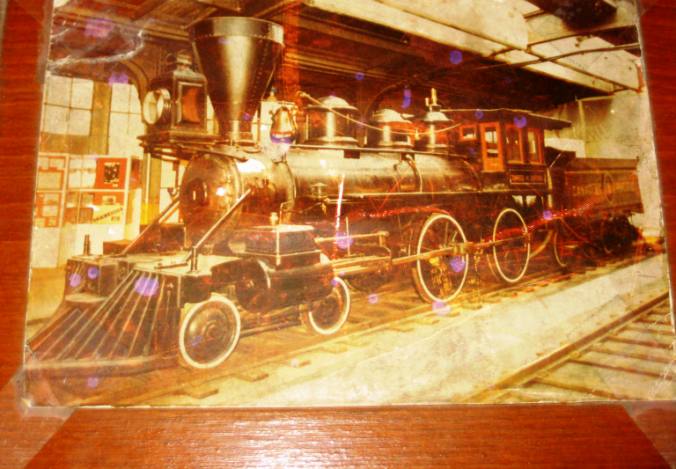 Side view of the "Countess of Dufferin"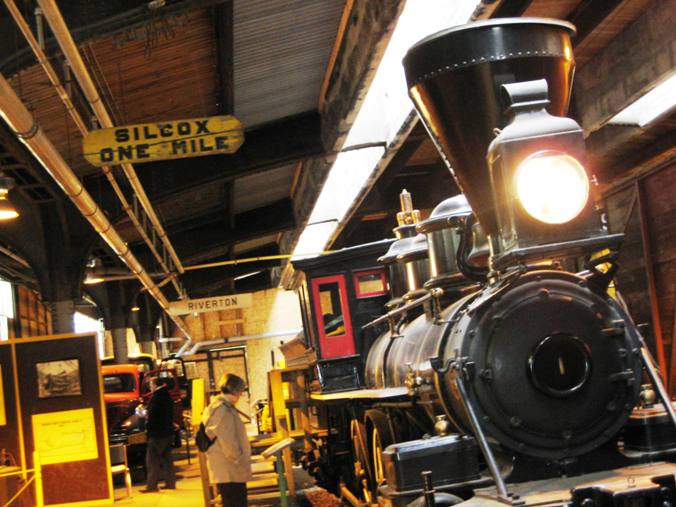 Nearly head on view of the "Countess of Dufferin"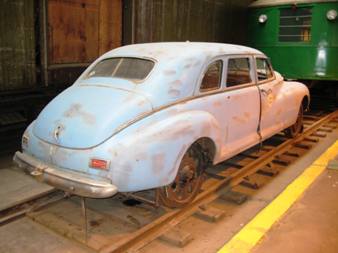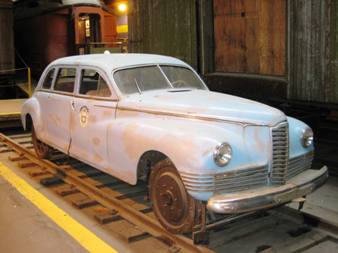 Greater Winnipeg Water District Railway inspection railcar, 1946 Packard, built by CPR shops in Winnipeg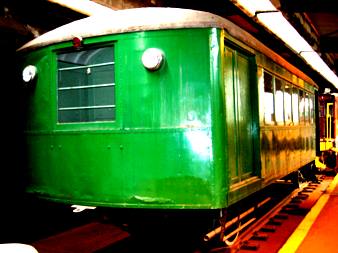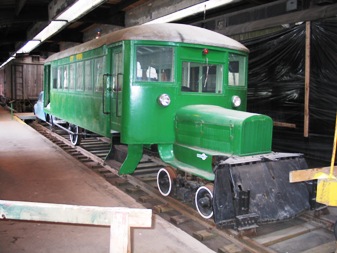 Manitoba Hydro Mack B-1 railbus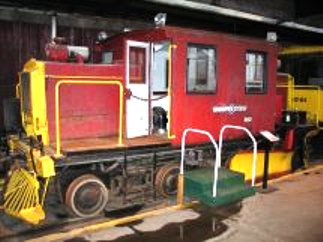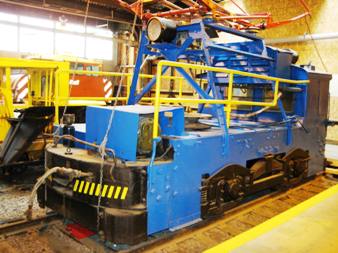 Winnipeg Hydro #4 250 HP gasoline-electric 20 ton 4- axle Davenport built 1927 (left)
Hudson Bay Mining & Smelting electric locomotive #95 20 ton General Electric 250 Volt built 1926 (right)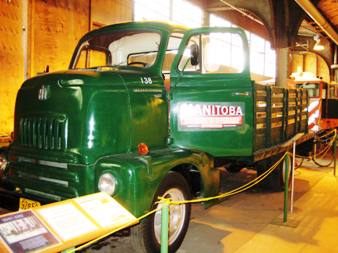 1955 International S-160 2 Ton truck 1941 Fargo 1-1/2 Ton truck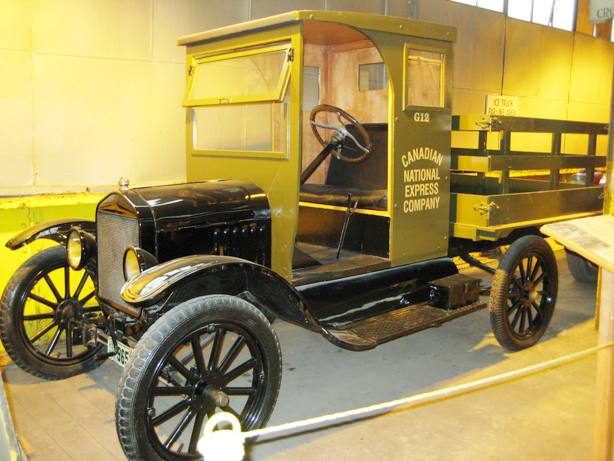 1920 Ford Model T, CN Express truck

CALGARY'S HERITAGE PARK, CALGARY, AB - 1990 - 2010+/-
Classic Western Canadian History



With more than 200 exhibits and attractions spread over 127 acres of parkland, Heritage Park Historical Village has a lot to offer history buffs and railroad fans. Live steam train rides, restored turn of the century amusement rides, an auto museum, and heritage buildings offering homemade cinnamon buns, ice cream, and full meals appeal to everyone. Antique cars, a 1905 bus, a horse drawn bus, a working railroad turntable, a paddlewheel cruise ship on the reservoir, and a replica of the first oil well drilling rig in Alberta are just a few of the operating exhibits.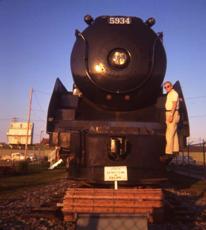 The Park is 50 years old (2014) which makes it a historic site that is itself a historic site. Most of the restored buildings date back 75 to 100 years ago. The railway equipment covers the period from open platform passenger cars of the late 1800s to the 1949 vintage 2-10-4 Selkirk, CPR #5931 on display. The working steamers are ex US Army 0-6-0 switchers, painted as CPR #2023 and 2024. CPR 2018 is a dieselized 0-6-0, used rarely. An operating restored Calgary streetcar carries passengers from the parking lot to the Park gates.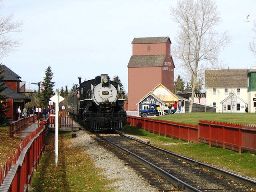 CPR 5934 on display in 1968 in downtown Calgary, before she was moved to the Park. Renumbered to its original #5931 in 1991.

CPR #2024 at the grain elevator =>

The normal Heritage Park passenger train consist is either 2023 or 2024 and passenger cars Morrissey, Fernie & Michel Ry #62 and 63, built around 1885; as well as Canadian National Observation Car #15097, built in 1892. A freight with box car, stock car, tanker, and caboose is also run, with other special cars on display at the roundhouse. On Railway Days, both freight and passenger trains are run, as well as double-header passenger trains and turntable demonstrations.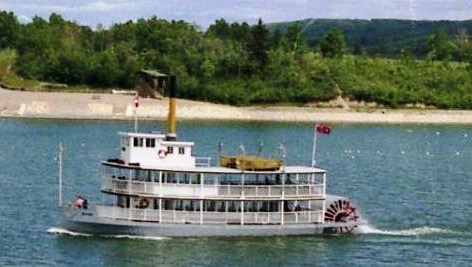 A diesel powered replica of the SS Moyie, a steamwheel paddle steamer, cruises Glenmore reservoir beside the Park. The original paddle wheeler was built in 1898 and sits fully restored as a National Historic Site in Kaslo, BC. The ride runs about 45 minutes and is the most peaceful thing you can do in Calgary, short of canoeing the Reservoir at sunrise in June.

The following pre-digital photos were taken at Railway Days sometime in the late 1990's. It was dull and rainy so the photos lack that great Kodachrome colour.




CPR #5931 AT THE HERITAGE PARK GATES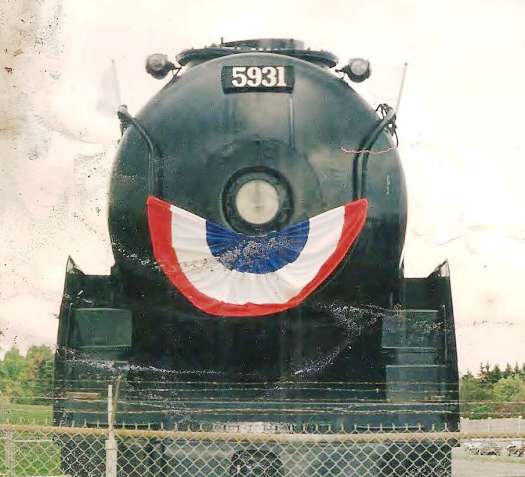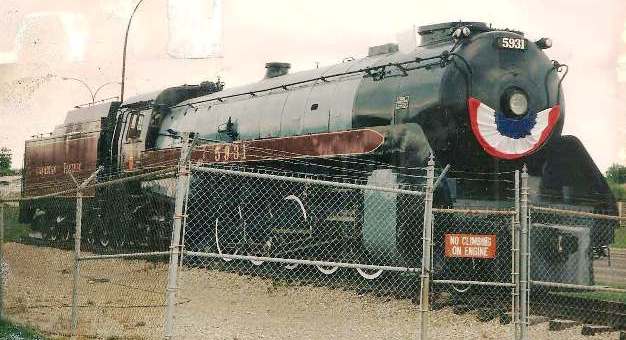 HERITAGE PARK STREETCARS
The double ended street car carries patrons from the parking lot to the park gates. Calgary Municipal #14 is a restored original car; #15 was built from spare parts with a brand new body to match #14 (after these photos were taken).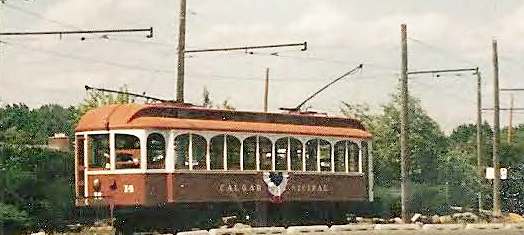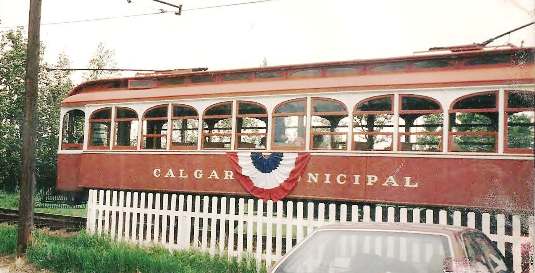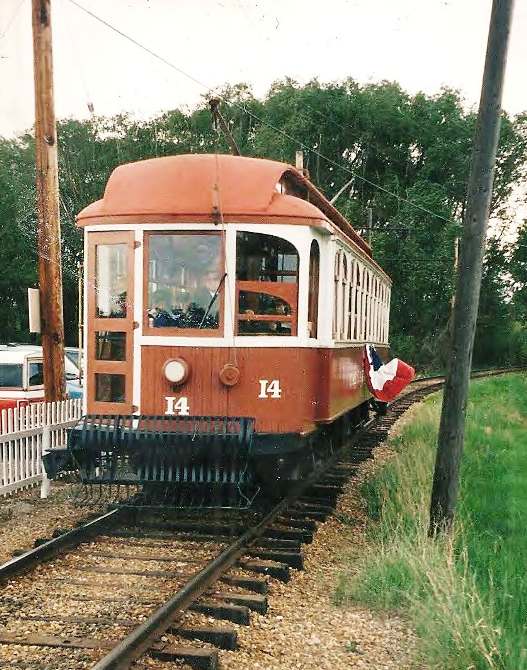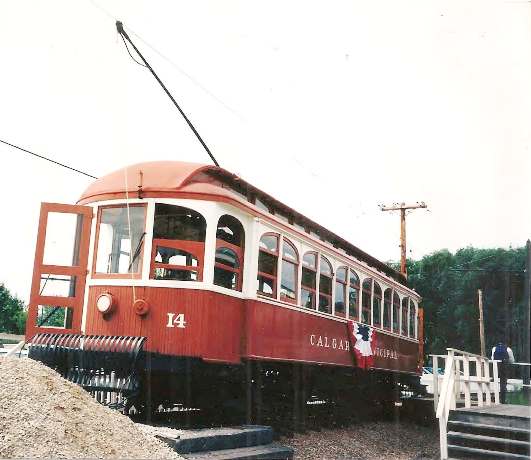 HERITAGE PARK TRAINS
Trains run all day at Railway Days, with a passenger, a freight, a mixed, and a double-header alternating around the loop, making for a lot of similar but different photo opportunities.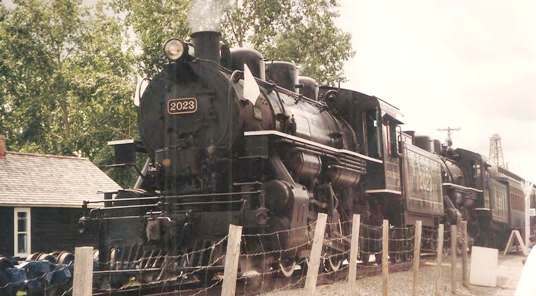 CPR 0-6-0 #2023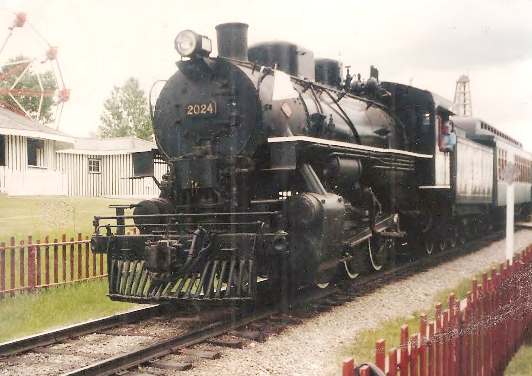 CPR 0-6-0 #2024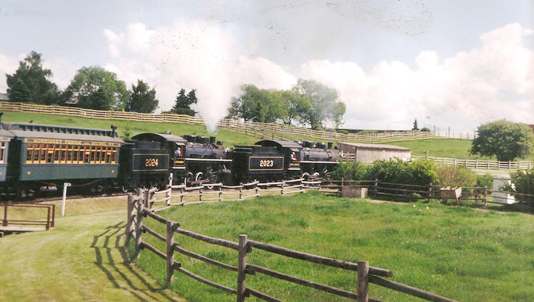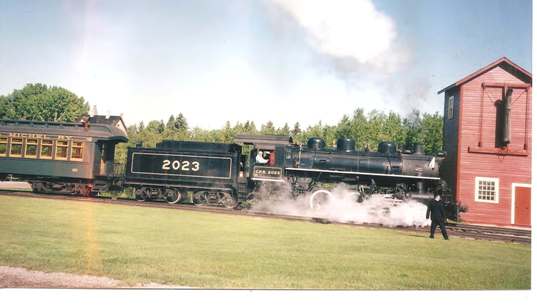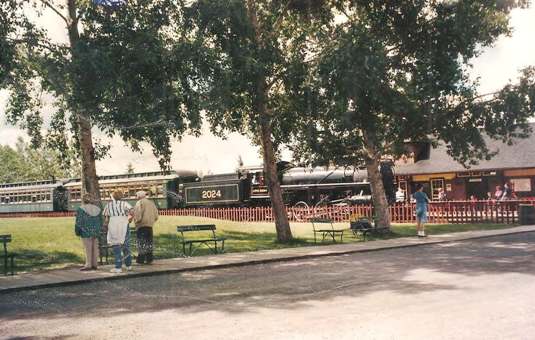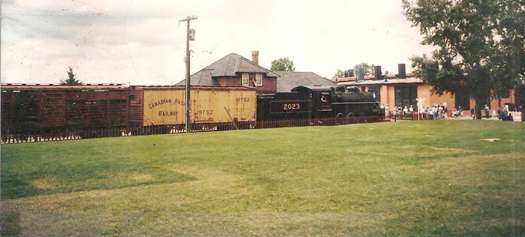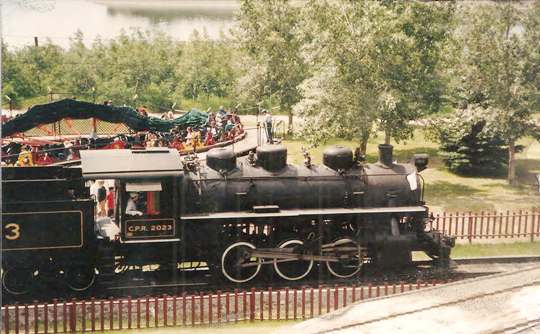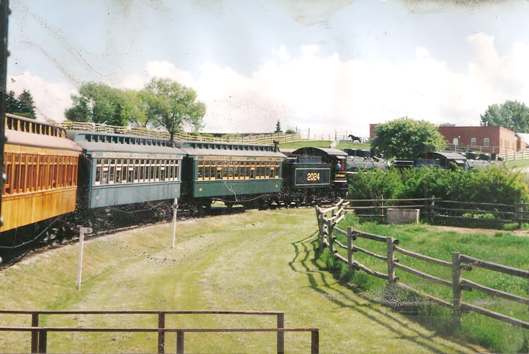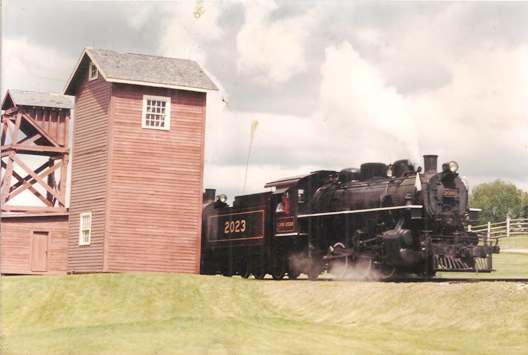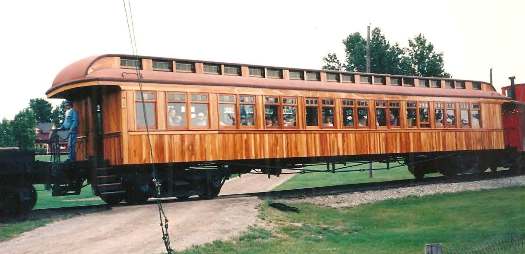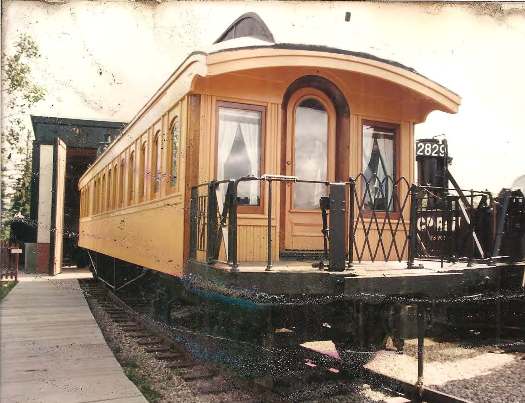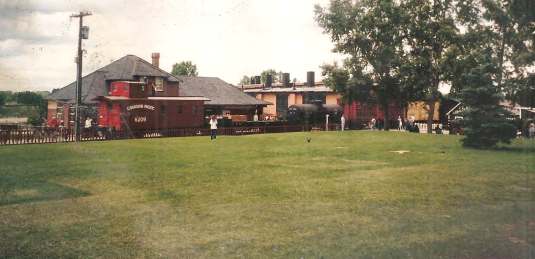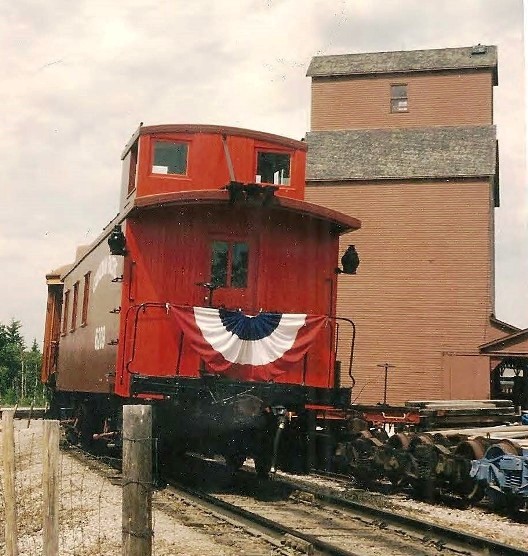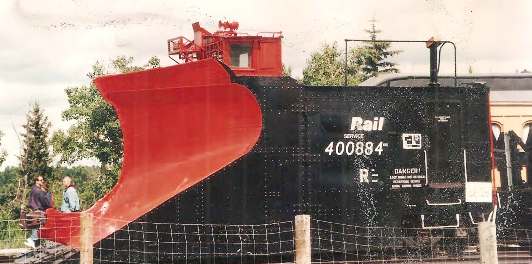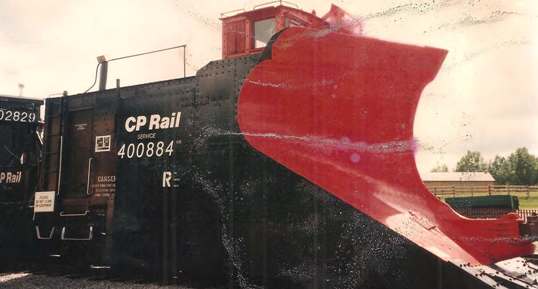 SOME HERITAGE PARK SCENES and Vehicles
There are more than 200 historic structures in the Park; almost all are open to the public May through October. The auto museum and some other activities are open year round.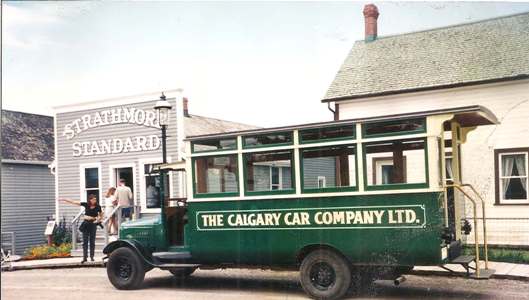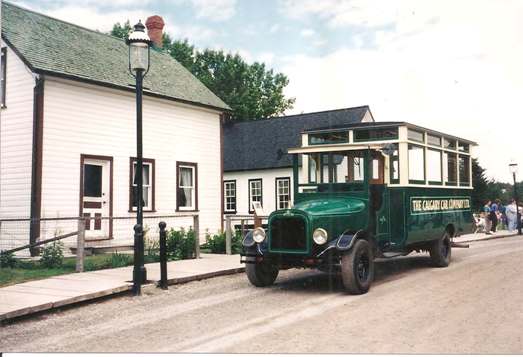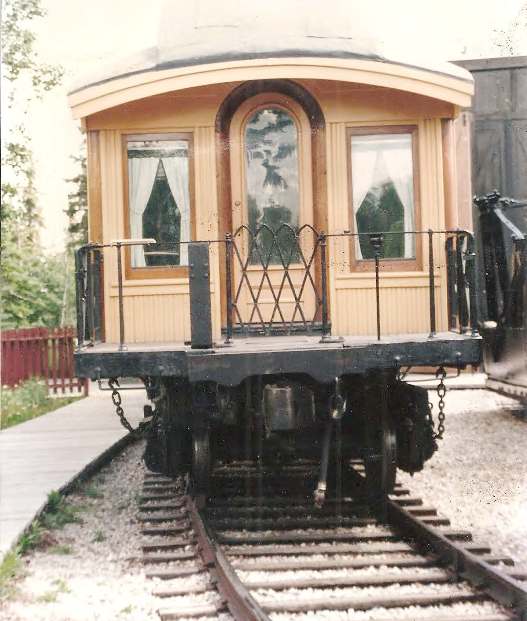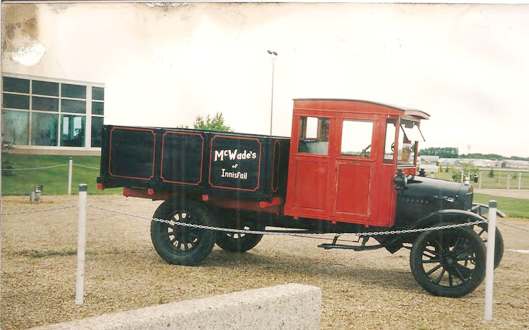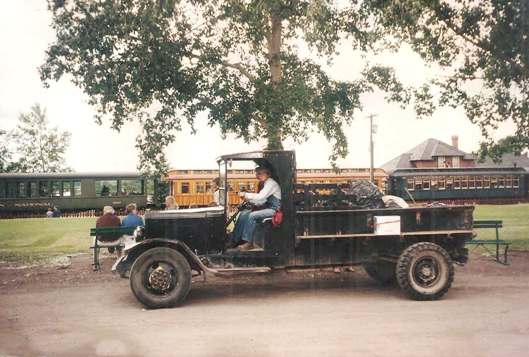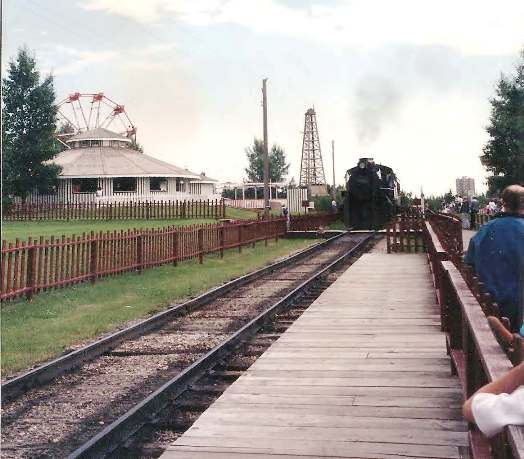 CPR 0-6-0 #2023 with the Dingman #1 oilwell replica in the background.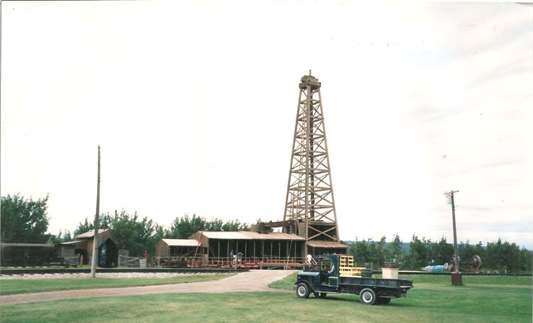 Dingman #1 oilwell replica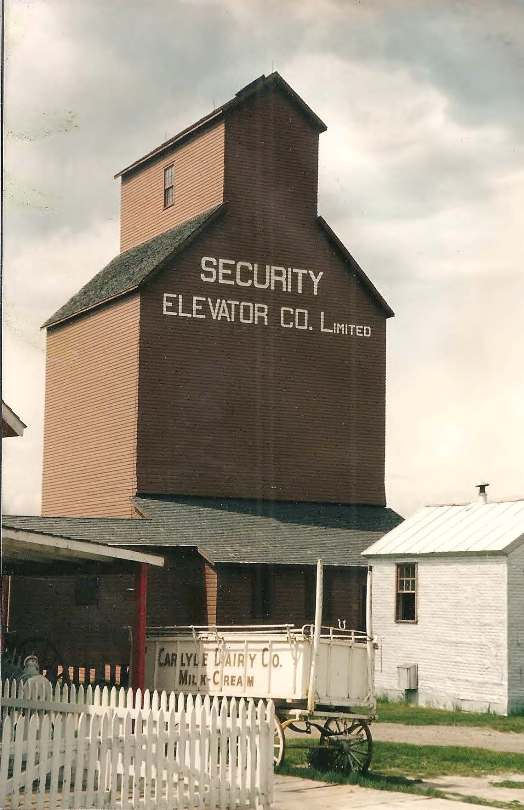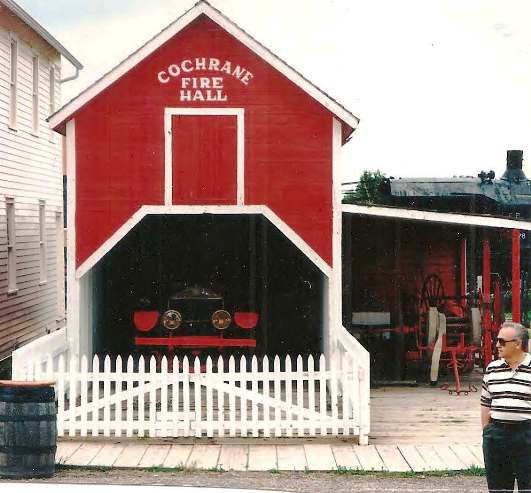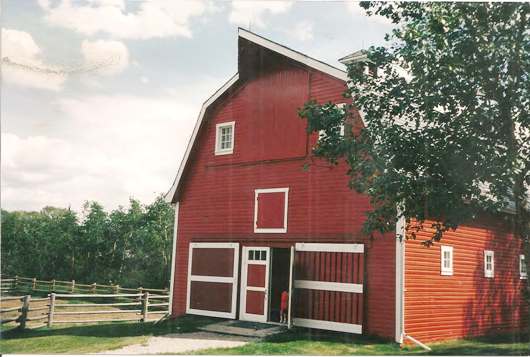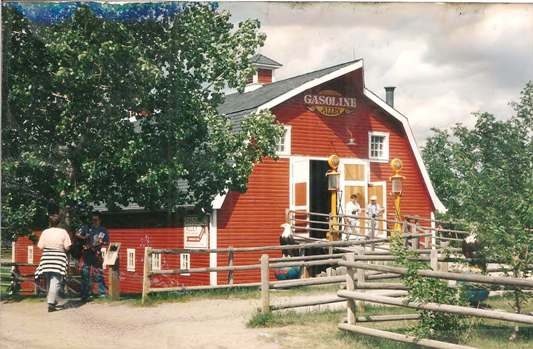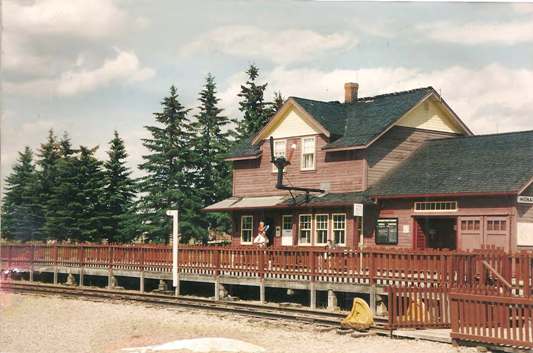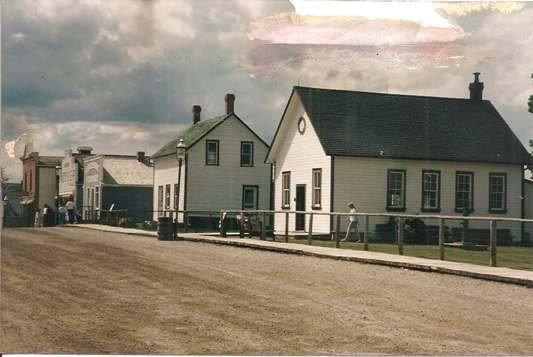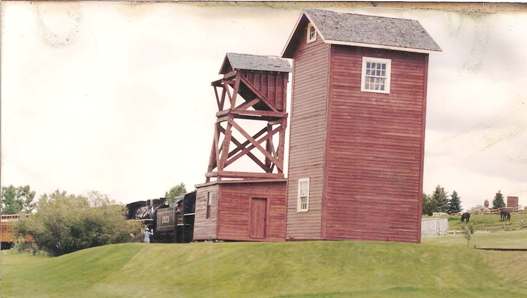 FORT EDMONTON Historic PARK, EDMONTON, AB - 1998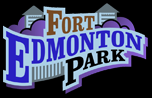 Time stands still in the 150 acre Fort Edmonton Park. Life as it was lived through four historical periods are brought to life in distinct groupings of buildings and realistic settings - the days of the fur trade around 1846 and the pioneer years of 1885, 1905, and 1920. Costumed interpreters bring the past to life and invite you to experience the best of each period.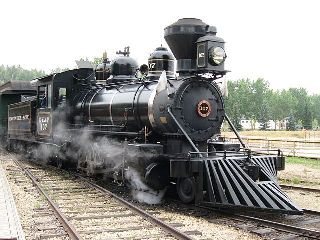 You can ride on the Edmonton, Yukon and Pacific Railway steam train or on some beautifully restored streetcars, or spin and twirl on vintage midway rides. The street cars are run and maintained by The Edmonton Radial Railway Society. Rides on the train and the streetcars are free with admission ticket and save a lot of walking.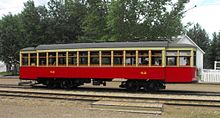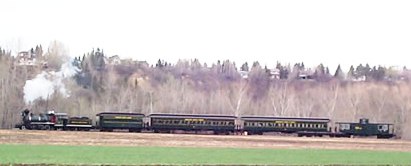 EY&P #107, a 2-6-2 Prairie type built by Baldwin in 1919, was a Louisiana native for 50 years before the lumber company was abandoned. She arrived in Edmonton in 1977, was restored, and is now serving tourists. Not a bad life for a 95 year old lady. At the Park, she pulls three ex-CPR coaches and a caboose fitted for wheel-chair access.
#107 never ran on the real EP&Y tracks that connected the rails from Strathcona across the Saskatchewan River through Edmonton to Stoney Plain in 1902. The EP&Y was merged into the Canadian Northern Alberta Railway in 1910.

The following pre-digital photos were taken sometime in the late 1990's.



FORT EDMONTON STREETCARS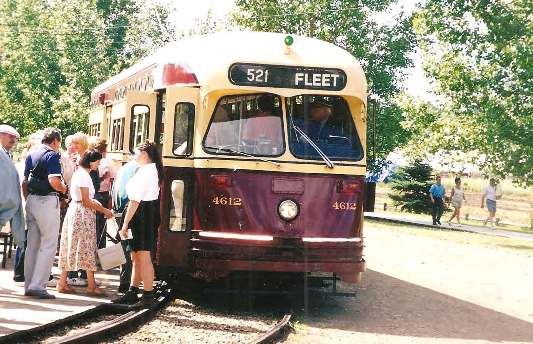 Toronto Transit Corp #4912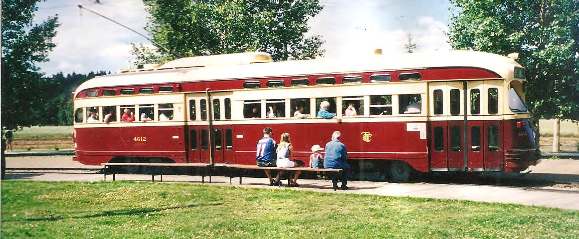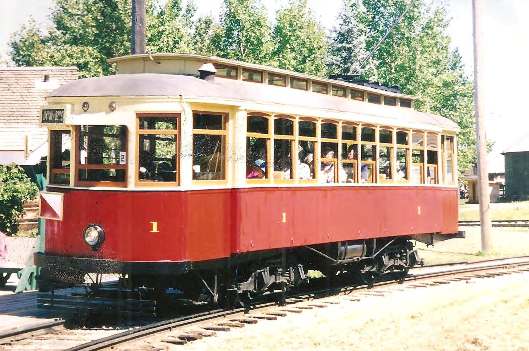 Edmonton Radial Railway #1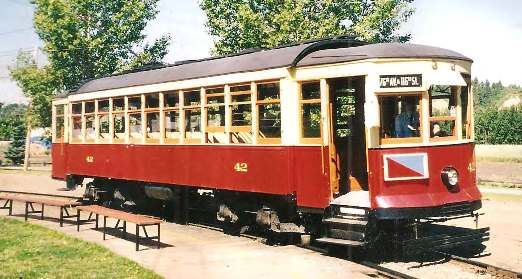 Edmonton Radial Railway #42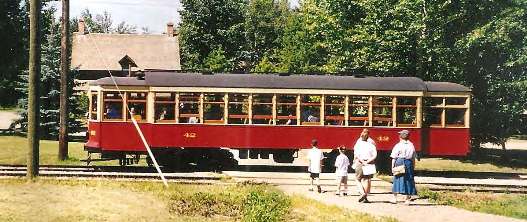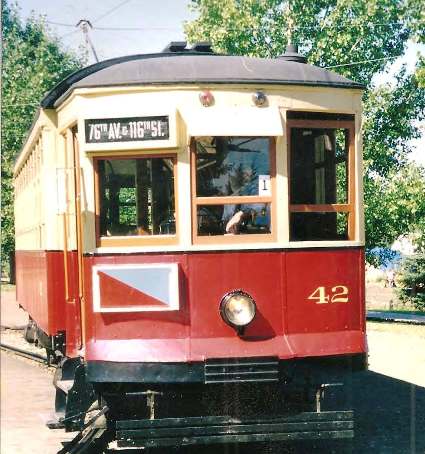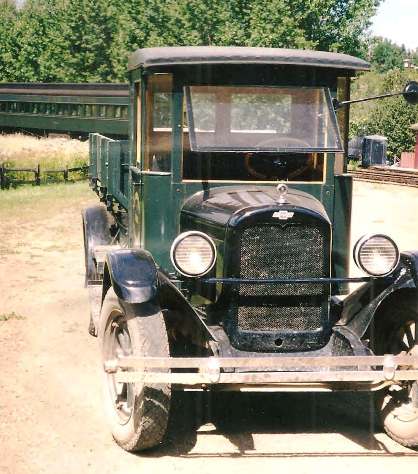 Fort Edmonton Maintenance Truck 1913 Ford Model T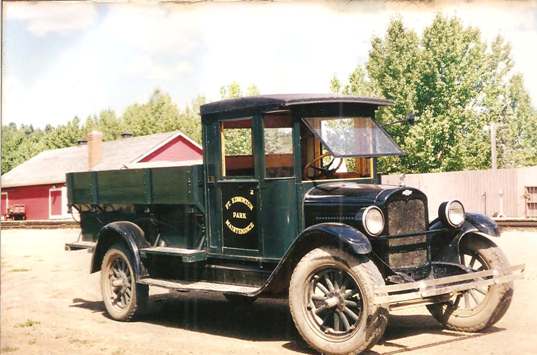 FORT EDMONTON TRAINS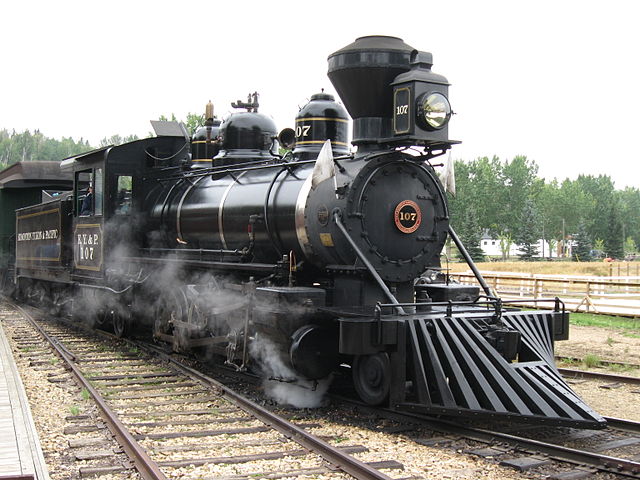 EP&Y Baldwin 2-6-2 Prairie locomotive #107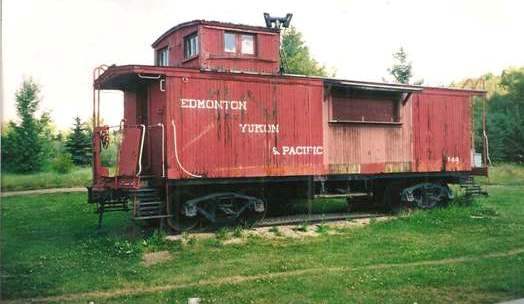 EY&P Caboose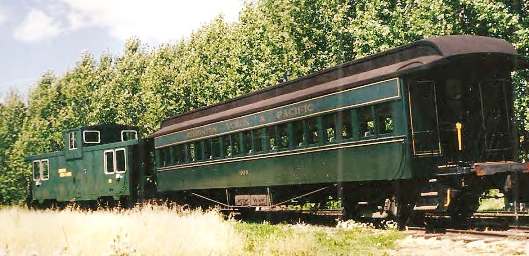 EY&P Caboose (ex CNR) and Coach (ex CPR)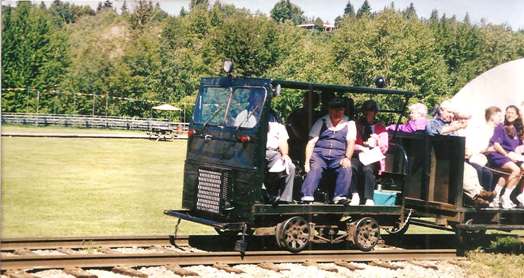 Fort Edmonton's Speeder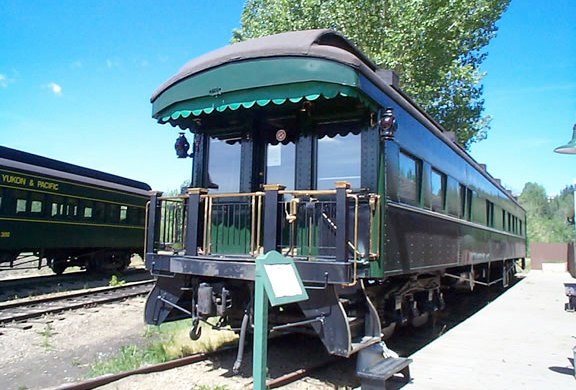 The ex-CNR observation car on static display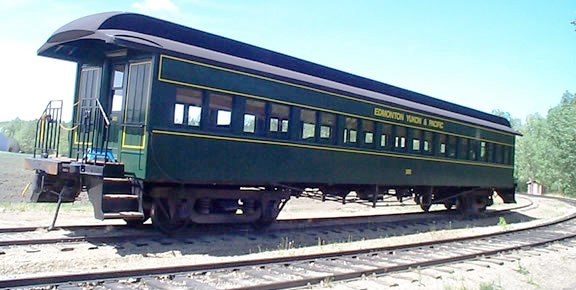 One of the ex-CP 60 foot Coaches

A FEW FORT EDMONTON SCENES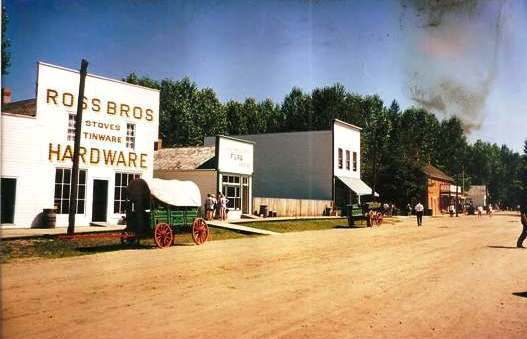 Fort Edmonton 1928 Street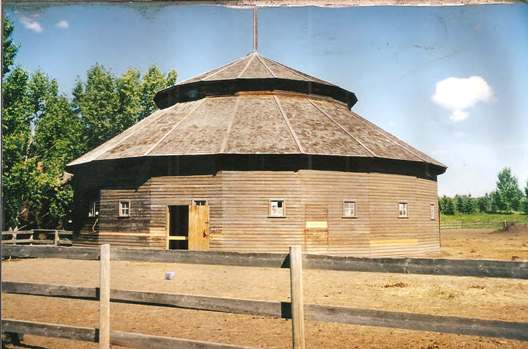 The Round Barn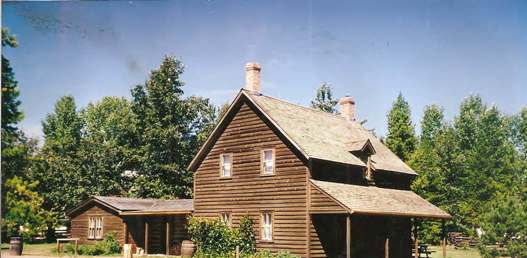 The Log Farm House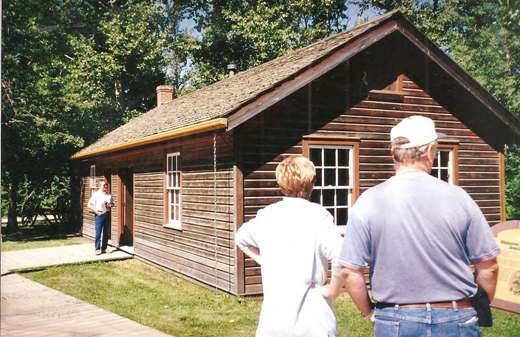 fs

Colorado Railroad Museum, GOLDEN, CO - 1994 and 2004
Narrow Gauge Heaven



The CRM is one of the most valuable narrow gauge resources in North America. Begun by Robert Richardson in the early 1950's in Alamosa, it was moved to Golden in the late 50's. With the help of Cornelius Hauck, the collection grew and the Museum became a non-profit historical foundation. There are about 100 major pieces of equipment from ancient steamers, diesels, and gas powered units to all shapes and sizes of rolling stock, plus a well-preserved paper archive and book store. You need a good 6 hours on a sunny day to do justice to the CRM. Depending on the day, there may be rides behind an old steam engine, an antique diesel, or an RGS Goose.
You will find a number of items in a state of repair or rebuild – this is done mostly by volunteers so progress is slow. The paint on many freight cars is showing the effects of sun and weather; the contrast between 1994 and 2004 was striking. I hope CRM has not bitten off more than it can chew. Photos below are mostly from 1994, a few from 2004.
While in Denver, visit the new Forney Museum. It is mostly autos and carriages, but there is a 4–8–8–4 Big Boy, a rotary plow, and a few other pieces. I saw these outdoors at the old Forney Museum in 1994. They are now under cover but almost impossible to photograph due to their size and dim lighting.
The one-eighth scale trains and buildings of Tiny Town, just south of Denver, are also worth a visit while en-route to Colorado Springs, Alamosa, or Chama.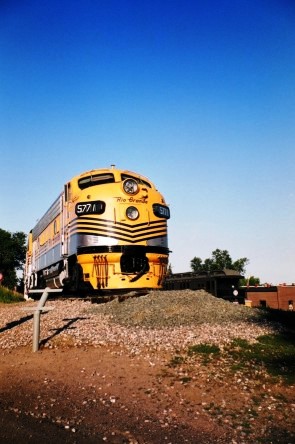 _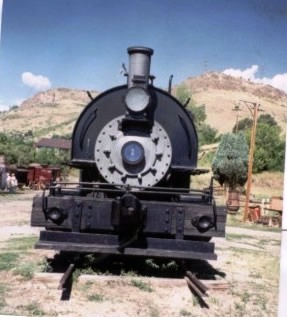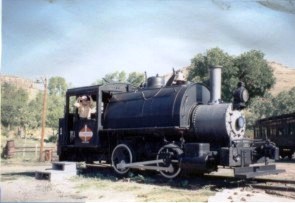 _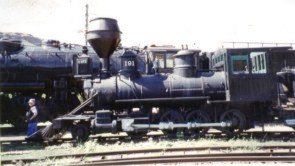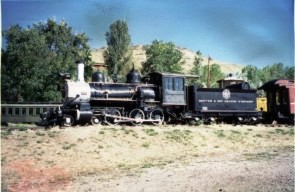 _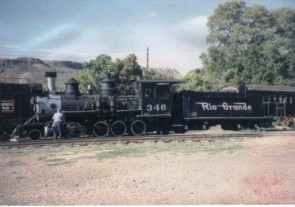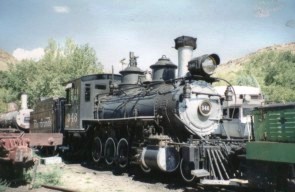 _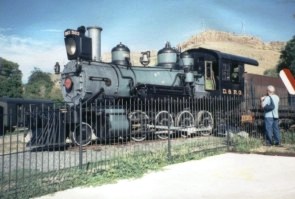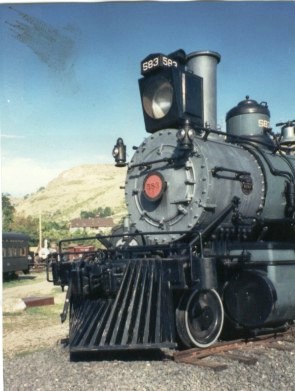 _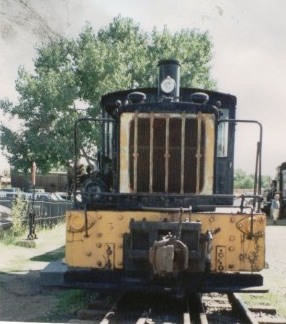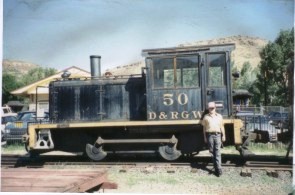 _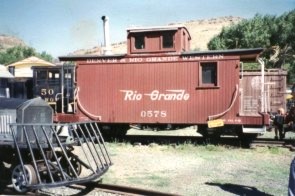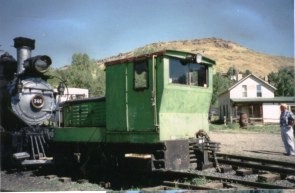 _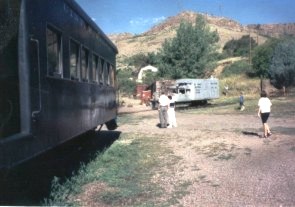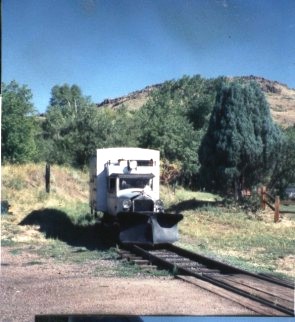 _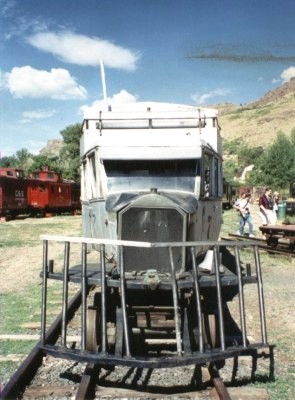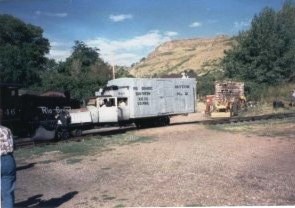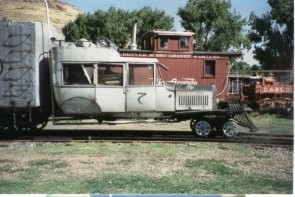 _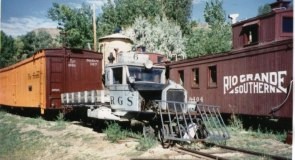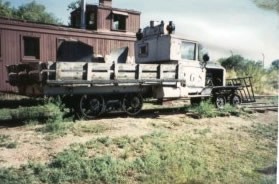 _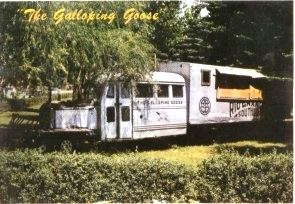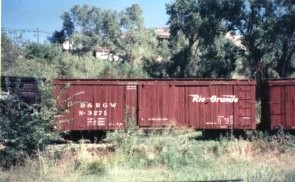 _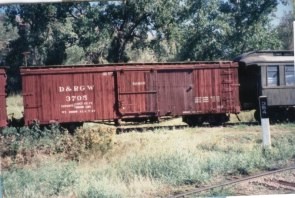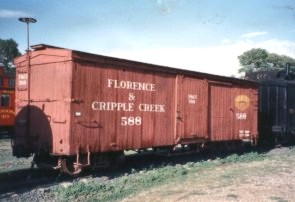 _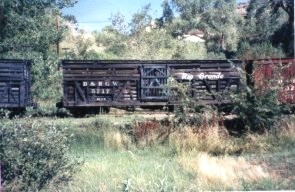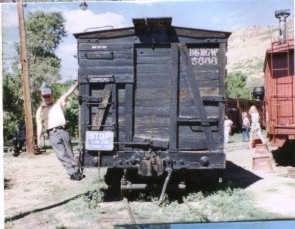 _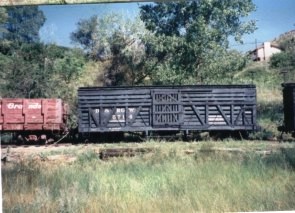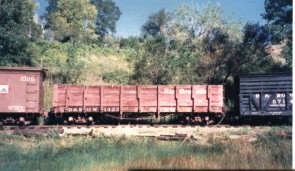 _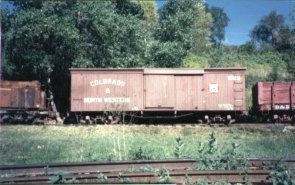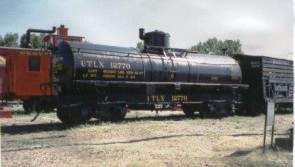 _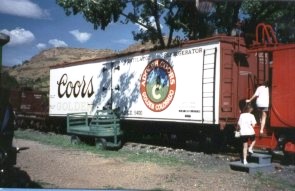 fs_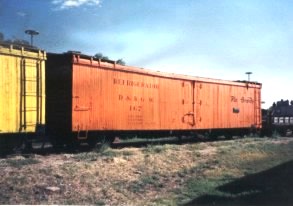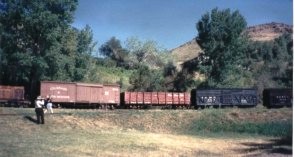 _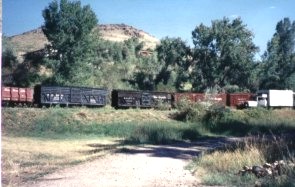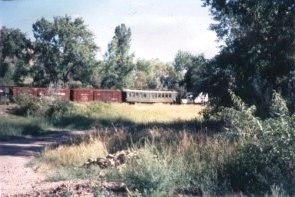 _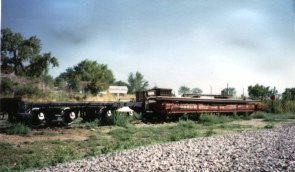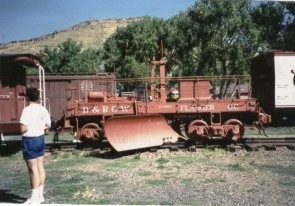 _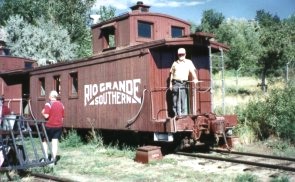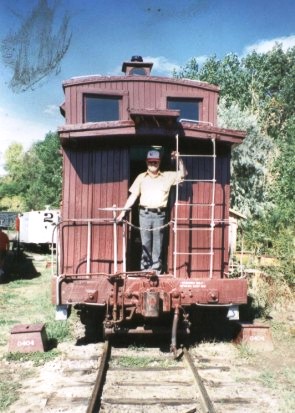 _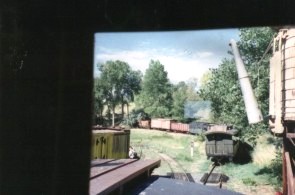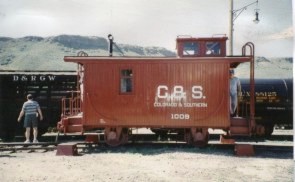 _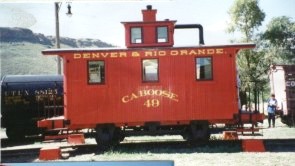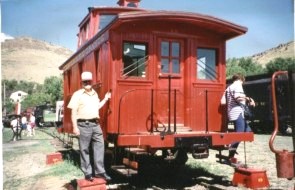 _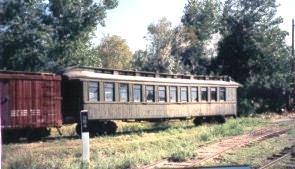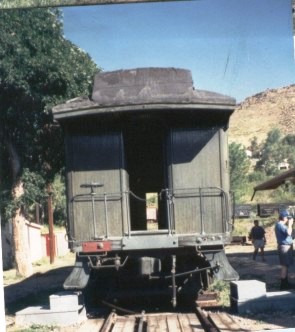 _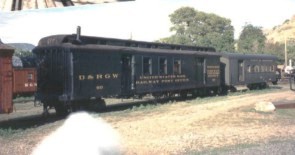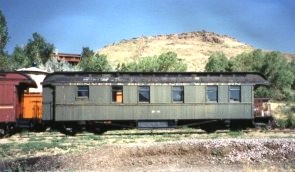 _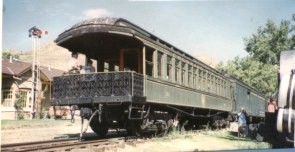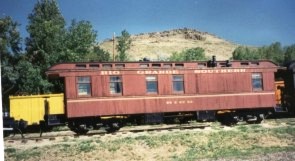 _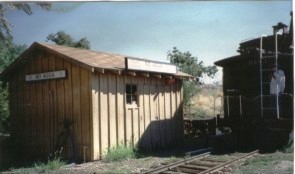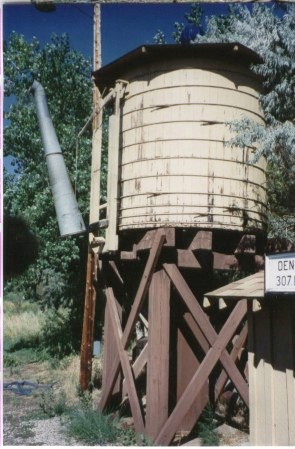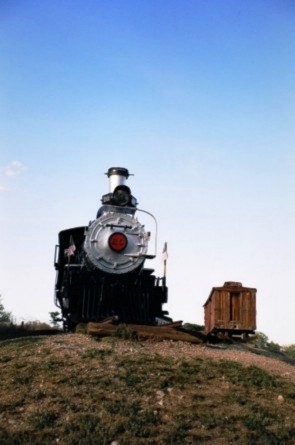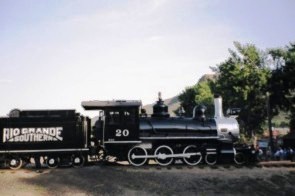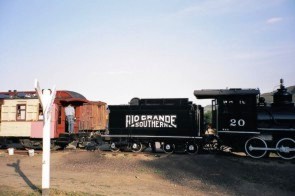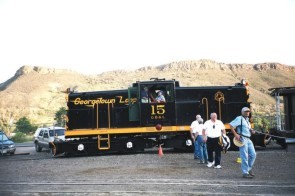 _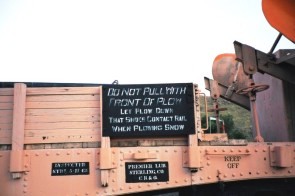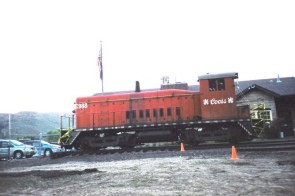 South Park City Historical Village, Fairplay, CO - 1994
Colorado Snapshot Circa 1900

South Park City is near Fairplay CO, not far from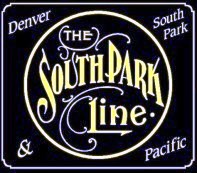 Breckenridge. Both towns were major mining centers on the original Denver, South Park & Pacific Railroad mainline.

South Park City is an historical village started in 1959 and run by the South Park Historical Foundation. The buildings have been gathered from many locations to represent a typical small town at the turn of the century. They are in good condition and hold many interesting artifacts. The train depot is from Buffalo, CO.

The locomotive is a non-operating 1914 Porter-built Mogul (2–6–0) from a banana company in Guatemala. It is somewhat similar to Moguls that once ran on the C&S. There are a number of freight cars and a caboose painted with DSP&P markings, but the lettering is not authentic in appearance. The cars themselves are ex-D&RG. In more recent years, some of the cars have been cosmetically restored and repainted in D&RGW colours.

These photos are from 1994.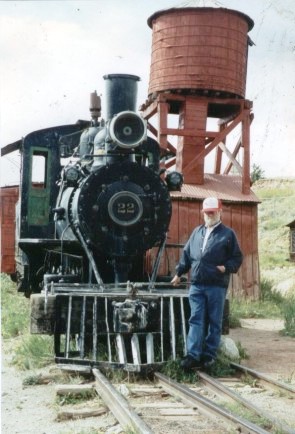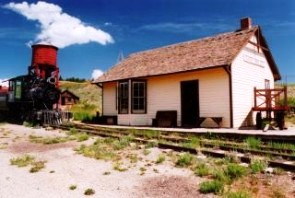 _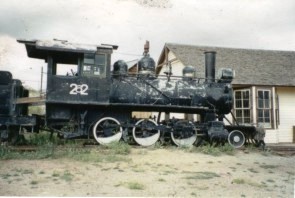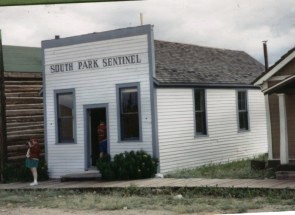 _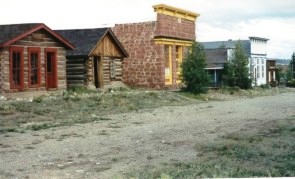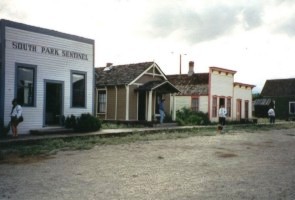 _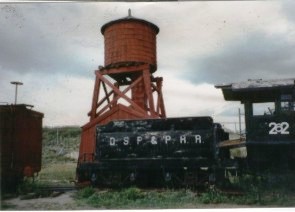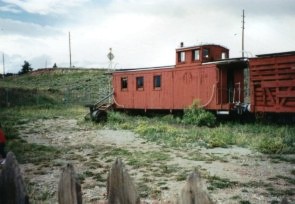 _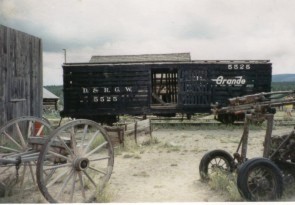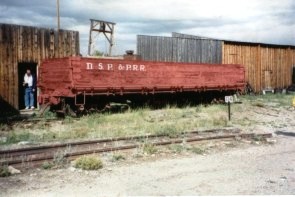 _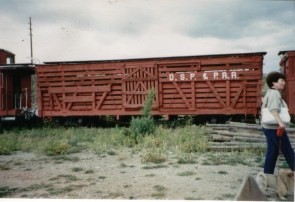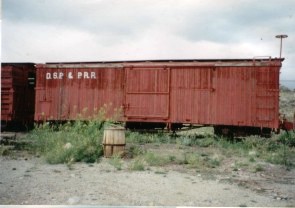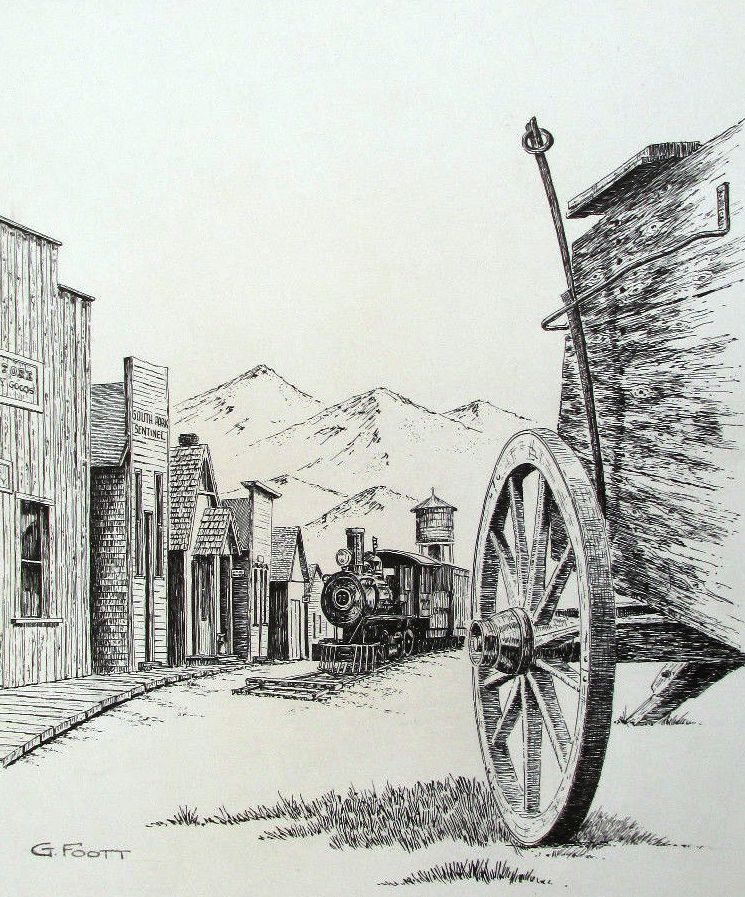 A pen and ink sketch by George Foott showing South Park City locomotive #22 on Main Street.