Newton's Law seems to work!

SOLAR SYSTEM DATA – MOONS and RINGS Planets Exoplanets
So Many, So Far Away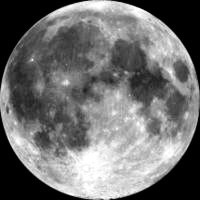 Moons are natural objects that orbit planets, dwarf planets, and asteroids (minor planets). They vary in size from more than 5000 Km diameter to a few Km. Composed of rock and/or ice, they are held by gravitational forces to their primary planet.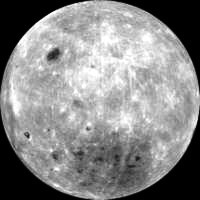 Near Side Luna
Far Side Luna

Most orbits are slightly to strongly elliptical, measured by their eccentricity (Ecc). Most orbits are tilted relative to their host body equator (Incl). Some orbit in the same direction as the primary's spin direction (prograde); some rotate in the opposite direction (retrograde).
The time it takes for the moon to make one orbit is the orbital period, measured in Earth days. Positive values for the period represent prograde motion; negative values represent retrograde motion.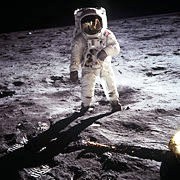 NOTES: Data from Wikipedia, photos mostly NASA credits, via Wikipedia. "Orbit" is semi-major axis (distance from center of elliptical orbit to it's maximum elongation - equivalent to radius of a circle).



Buzz Aldrin, Apollo 11, Second man on the moon, June 1969.

Diameter (1 Km = 0.62 miles) and mass (1 Kg = 2.2 pounds) are measured or estimated by various means (orbit perturbations, brightness, period vs distance from host, space craft photos) and may not be very accurate in many cases. Diameter shown is maximum, if object has irregular shape.



"Discovery Order" is shown in Arabic numerals (eg 29) instead of Roman numerals (eg XXIX). Moons are often named by their order of discovery instead of their assigned names. For example, Jupiter XXIX is the 29th moon discovered at Jupiter, and is named Thyone, (pronounced Thigh-own-ee or Theee-oh-nee). It is the 30th moon of Jupiter, counting outward from the planet. As new moons are found, counter position may change, but the two names associated with each moon will not.


Luna Deimos Phobos


Order

Name

Diam

Mass

Orbit

Period

Incl

Ecc

Date

Orbit

Discovery

Km

10^16 Kg

Km

Days

deg

1

1

Luna

3474

7347000000

384399

27.32

5.145

0.0549

10^6 BPE

2
NEO
2006 RH120
5 m
4 Polar orbits Sep 2006 - Jun 2007, will return in 2028
90
0.5-0.7
2006

1

1

Phobos

27

1.08

9377

0.321

0.0

0.0

1877

2

2

Deimos

12

0.2

23460

1.265

0.0

0.0

1877
MOONS of JUPITER 12 tiny moons discovered in 2017 are not included on this list, total=79
Source: https://en.wikipedia.org/wiki/Moons_of_Jupiter


Metis Adrastea Amalthea Thebe

Io Europa Ganymede Callisto


Order

Name

Diam

Mass

Orbit

Period

Incl

Ecc

Date

Orbit

Discovery

Km

10^16 Kg

Km

Days

deg

1

16

Metis

60

1636

127690

0.295

0.06

2E-005

1979

2

15

Adrastea

20

152

128690

0.298

0.03

0.0015

1979

3

5

Amalthea

250

208

181366

0.498

0.37

0.0032

1892

4

14

Thebe

98

43

221889

0.675

1.08

0.0175

1979

5

1

Io

3660

8900000

421700

1.77

0.05

0.0041

1610

6

2

Europa

3121

4800000

671034

3.55

0.47

0.0094

1610

7

3

Ganymede

5262

15000000

1070412

7.15

0.20

0.0011

1610

8

4

Callisto

4820

11000000

1882709

8.00

16.69

0.0074

1610

9

18

Themisto

8

0.069

7393216

129.87

45.76

0.2115

1975

10

13

Leda

16

0.6

11187781

241.75

27.56

0.1673

1974

11

6

Himalia

170

670

11451971

250.37

30.49

0.1513

1904

12

10

Lysithea

36

6.3

11740560

259.89

27.01

0.1322

1938

13

7

Elara

86

87

11778034

261.14

29.69

0.1948

1905

14

99

S/2000-J11

4

0.009

12570424

287.93

27.58

0.2058

2001

15

46

Carpo

3

0.004

17144873

458.62

56.00

0.2735

2003

16

99

S/2003-J12

1

0.00015

17739539

–482.69

142.68

0.4449

2003

17

34

Euporie

2

0.0015

19088434

–538.78

144.69

0.096

2002

18

99

S/2003-J3

2

0.0015

19621780

–561.52

146.36

0.2507

2003

19

99

S/2003-J18

2

0.0015

19812577

–569.73

147.40

0.1569

2003

20

99

S/2011-J1

2

0.0015

20155290

–582.22

162.80

0.2962

2011

21

99

S/2010-J2

2

0.0015

20307150

–588.36

150.41

0.307

2010

22

42

Thelxinoe

2

0.0015

20453753

–597.61

151.29

0.2684

2003

23

33

Euanthe

3

0.0045

20464854

–598.09

143.41

0.2

2002

24

45

Helike

4

0.009

20540266

–601.40

154.59

0.1374

2003

25

35

Orthosie

2

0.0015

20567971

–602.62

142.37

0.2433

2002

26

24

Iocaste

5

0.019

20722566

–609.43

147.25

0.2874

2001

27

99

S/2003-J16

2

0.0015

20743779

–610.36

150.77

0.3184

2003

28

27

Praxidike

7

0.043

20823948

–613.90

144.21

0.184

2001

29

22

Harpalyke

4

0.012

21063814

–624.54

147.22

0.244

2001

30

40

Mneme

2

0.0015

21129786

–627.48

149.73

0.3169

2003

31

30

Hermippe

4

0.009

21182086

–629.81

151.24

0.229

2002

32

29

Thyone

4

0.009

21405570

–639.80

147.28

0.2525

2002

33

12

Ananke

28

3.0

21454952

–642.02

151.56

0.3445

1951

34

99

S/2003-J17

2

0.0015

22134306

–672.75

162.49

0.2379

2003

35

31

Aitne

3

0.0045

22285161

–679.64

165.56

0.3927

2002

36

37

Kale

2

0.0015

22409207

–685.32

165.38

0.2011

2002

37

20

Taygete

5

0.016

22438648

–686.67

164.89

0.3678

2001

38

99

S/2003-J19

2

0.0015

22709061

–699.12

164.73

0.1961

2003

39

21

Chaldene

4

0.0075

22713444

–699.33

167.07

0.2916

2001

40

99

S/2003-J15

2

0.0015

22720999

–699.68

141.81

0.0932

2003

41

99

S/2003-J10

2

0.0015

22730813

–700.13

163.81

0.3438

2003

42

99

S/2003-J23

2

0.0015

22739654

–700.54

148.85

0.393

2004

43

25

Erinome

3

0.0045

22986266

–711.96

163.74

0.2552

2001

44

41

Aoede

4

0.009

23044175

–714.66

160.48

0.6011

2003

45

44

Kallichore

2

0.0015

23111823

–717.81

164.61

0.2041

2003

46

23

Kalyke

5

0.019

23180773

–721.02

165.51

0.2139

2001

47

11

Carme

46

13

23197992

–721.82

165.05

0.2342

1938

48

17

Callirrhoe

9

0.087

23214986

–722.62

139.85

0.2582

2000

49

32

Eurydome

3

0.0045

23230858

–723.36

149.32

0.3769

2002

50

99

S2011-J2

2

0.0015

23329710

–726.06

151.8

0.3867

2011

51

38

Pasithee

2

0.0015

23307318

–726.93

165.76

0.3288

2002

52

99

S/2010-J1

2

0.0015

23314335

–722.83

163.2

0.320

2010

53

99

Kore

2

0.0015

23345093

–776.02

137.37

0.1951

2003

54

48

Cyllene

2

0.0015

23396269

–731.10

140.15

0.4115

2003

55

47

Eukelade

4

0.009

23483694

–735.20

164.00

0.2828

2003

56

99

S/2003-J4

2

0.0015

23570790

–739.29

147.18

0.3003

2003

57

8

Pasiphaë

60

30

23609042

–741.09

141.80

0.3743

1908

58

39

Hegemone

3

0.0045

23702511

–745.50

152.51

0.4077

2003

59

43

Arche

3

0.0045

23717051

–746.19

164.59

0.1492

2002

60

26

Isonoe

4

0.0075

23800647

–750.13

165.13

0.1775

2001

61

99

S/2003-J9

1

0.00015

23857808

–752.84

164.98

0.2761

2003

62

99

S/2003-J5

4

0.009

23973926

–758.34

165.55

0.307

2003

63

9

Sinope

38

7.5

24057865

–762.33

153.78

0.275

1914

64

36

Sponde

2

0.0015

24252627

–771.60

154.37

0.4431

2002

65

28

Autonoe

4

0.009

24264445

–772.17

151.06

0.369

2002

66

19

Megaclite

5

0.021

24687239

–792.44

150.40

0.3077

2001

67

99

S/2003-J2

2

0.0015

30290846

–1077.0

153.52

0.1882

2003
MOONS of SATURN Many tiny moonlets are not catalogged
Source: https://en.wikipedia.org/wiki/Moons_of_Saturn


Pan Atlas Prometheus Pandora Epimeteus Janus Methone Telesto Calypso Helene Polydeuces

Mimas Enceladus Tethys Dione


Rhea Titan Hyperion Iapetus Phoebe


Order

Name

Diam

Mass

Orbit

Period

Incl

Ecc

Date

Orbit

Discovery

Km

10^16 Kg

Km

Days

deg

1

62

S2009 S1

0.3

117000

?

?

2009

Moonlets

Moonlets

0.5

130000

?

?

2006

S/2004-S6

5

140130

?

0.62

2004

S/2004-S4

3

140200

?

0.62

2004

S/2004-S3

3

140300

?

0.62

2004

2

18

Pan

35

133584

0.575

0.00

1990

3

35

Daphnis

8

136505

0.594

0.00

2005

4

15

Atlas

46

137670

0.601

0.00

1980

5

16

Prometheus

119

27

139380

0.612

0.01

1980

6

17

Pandora

103

22

141720

0.628

0.05

1980

7a

11

Epimetheus

135

55

151422

0.694

0.34

1980

7b

10

Janus

193

198

151472

0.694

0.17

1966

9

53

Aegeaon

0.5

--

167500

0.808

0

0

2008

10

1

Mimas

415

3750

185404

0.942

1.57

1789

11

32

Methone

3

194440

1.009

0.01

2004

12

49

Anthe

2

197700

1.036

0.10

2007

13

33

Pallene

4

212280

1.153

0.18

2004

14

2

Enceladus

513

7300

237950

1.37

0.01

1789

15

3

Tethys

1081

62200

294619

1.887

0.17

1684

15a

13

Telesto

29

294619

1.887

1.16

1980

15b

14

Calypso

30

294619

1.887

1.47

1980

18

4

Dione

1128

105000

377396

2.736

0.00

1684

18a

12

Helene

36

377396

2.736

0.21

1980

18b

34

Polydeuces

3.5

377396

2.736

0.18

2004

21

5

Rhea

1535

231000

527108

4.518

0.33

1672

22

6

Titan

5151

13500000

1221930

15.95

1.63

1655

23

7

Hyperion

360

1770

1481010

21.28

0.57

1848

24

8

Iapetus

1494

159000

3560820

79.32

7.57

1671

25

24

Kiviuq

16

11294800

448.2

49.09

2000

26

22

Ijiraq

12

11355316

451.8

50.21

2000

27

9

Phoebe

230

12869700

–545.1

173.05

1899

28

20

Paaliaq

22

15103400

693.0

46.15

2000

29

27

Skathi

8

15672500

–732.5

149.08

2000

30

26

Albiorix

32

16266700

774.6

38.04

2000

31

99

S/2007-S2

6

16560000

–793.0

176.68

2007

32

37

Bebhionn

6

17153520

838.8

40.48

2004

33

28

Erriapus

10

17236900

844.9

38.11

2000

34

47

Skoll

6

17473800

–862.4

155.62

2006

35

29

Siarnaq

40

17776600

884.9

45.80

2000

36

52

Tarqeq

7

17910600

894.9

49.90

2007

37

99

S/2004-S13

6

18056300

–905.9

167.38

2004

38

51

Greip

6

18065700

–906.6

172.67

2006

39

44

Hyrrokkin

8

18168300

–914.3

153.27

2006

40

5

Jarnsaxa

6

18556900

–943.8

162.86

2006

41

21

Tarvos

15

18562800

944.2

34.68

2000

42

25

Mundilfari

7

18725800

–956.7

169.38

2000

43

99

S/2006-S1

6

18930200

–972.4

154.23

2006

44

99

S/2004-S17

4

19099200

–985.5

166.88

2004

45

38

Bergelmir

6

19104000

–985.8

157.38

2004

46

31

Narvi

7

19395200

–1008.5

137.29

2003

47

23

Suttungr

7

19579000

–1022.8

174.32

2000

48

43

Hati

6

19709300

–1033.1

163.13

2004

49

S/2004-S12

5

19905900

–1048.5

164.04

2004

50

40

Farbauti

5

19984800

–1054.8

158.36

2004

51

30

Thrymr

7

20278100

–1078.1

174.52

2000

52

36

Aegir

6

20482900

–1094.5

167.43

2004

53

S/2007-S3

5

20518500

–1100.0

177.22

2007

54

39

Bestla

7

20570000

–1101.5

147.40

2004

55

S/2004-S7

6

20576700

–1102.0

165.60

2004

56

S/2006-S3

6

21076300

–1142.4

150.82

2006

57

41

Fenrir

4

21930644

–1212.5

162.83

2004

58

48

Surtur

6

22288916

–1242.4

166.92

2006

58

45

Kari

7

22321200

–1245.1

148.38

2006

60

19

Ymir

18

22429673

–1254.2

172.14

2000

61

46

Loge

6

22984322

–1301.0

166.54

2006

62

42

Fornjot

6

24504879

–1432.2

167.89

2004
MOONS of URANUS
Source: https://en.wikipedia.org/wiki/Moons_of_Uranus



Belinda Puck Miranda Ariel Umbriel Titania Oberon


Order

Name

Diam

Mass

Orbit

Period

Incl

Ecc

Date

Orbit

Discovery

Km

10^16 Kg

Km

Days

deg

1

5

Cordelia

42

5.0

49751

0.335

0.084

1986

2

7

Ophelia

46

5.1

53764

0.376

0.103

1986

3

8

Bianca

54

9.2

59165

0.434

0.193

1986

4

9

Cressida

82

34

61766

0.463

0.006

1986

5

10

Desdemona

68

23

62658

0.473

0.111

1986

6

11

Juliet

106

82

64360

0.493

0.065

1986

7

12

Portia

140

170

66097

0.513

0.059

1986

8

13

Rosalind

72

25

69927

0.558

0.279

1986

9

27

Cupid

18

0.38

74800

0.618

0.1

2003

10

14

Belinda

90

49

75255

0.623

0.031

1986

11

25

Perdita

30

1.8

76420

0.638

0

1986

12

15

Puck

162

290

86004

0.761

0.319

1985

13

26

Mab

25

1

97734

0.923

0.133

2003

14

5

Miranda

471

6600

129390

1.413

4.232

1948

15

1

Ariel

1157

135000

191020

2.52

0.26

1851

16

2

Umbriel

1169

117000

266300

4.144

0.205

1851

17

3

Titania

1577

353000

435910

8.705

0.34

1787

18

4

Oberon

1522

301000

583520

13.463

0.058

1787

19

22

Francisco

22

0.72

4276000

–266.56

147.4

2001

20

16

Caliban

72

25

7231000

–579.73

139.8

1997

21

20

Stephano

32

2.2

8004000

–677.37

141.8

1999

22

21

Trinculo

18

0.39

8504000

–749.24

166.2

2001

23

17

Sycorax

150

230

12179000

–1288.28

152.4

1997

24

23

Margaret

20

0.54

14345000

1687.01

51.4

2003

25

18

Prospero

50

8.5

16256000

–1978.29

146

1999

26

19

Setebos

48

7.5

17418000

–2225.21

145.8

1999

27

24

Ferdinand

20

0.54

20901000

–2887.21

167.3

2001
MOONS of NEPTUNE
Source: https://en.wikipedia.org/wiki/Moons_of_Neptune



Despina Larissa Proteus Triton Nereid



Order

Name

Diam

Mass

Orbit

Period

Incl

Ecc

Date

Orbit

Discovery

Km

10^16 Kg

Km

Days

deg

1

3

Naiad

96

19

48227

0.294

4.7

1989

2

4

Thalassa

108

35

50075

0.311

0.2

1989

3

5

Despina

180

210

52526

0.335

0.1

1989

4

6

Galatea

204

212

61953

0.429

0.1

1989

5

7

Larissa

216

420

73548

0.555

0.2

1981

6

14

S/2004 N1

18

--

105283

0.936

0.0

2013

7

8

Proteus

436

4400

117647

1.122

0.6

1989

8

1

Triton

2707

2140000

354800

–5.877

156.8

1846

9

2

Nereid

340

2200

5513400

360

27.6

1949

10

4

Halimede

60

9

15728000

–1879

2002

11

11

Sao

38

9

22422000

2914

2002

12

12

Laomedeia

38

9

23571000

3167

2002

13

10

Psamathe

28

1.5

46695000

–9116

2003

14

13

Neso

60

9

48387000

–9374

2002
MOONS of DWARF and MINOR PLANETS



Pluto System Eris System Haumea System


Order

Name

Diam

Mass

Orbit

Period

Incl

Ecc

Date

Orbit

Discovery

Km

10^16 Kg

Km

Days

deg

1

Pluto I

Charon

1206

152000

17536

6.39

0.001

0.0022

1978

2

Pluto V

Styx

10-25

--

42000

20.5

0

0

2012

3

Pluto II

Nix

46

5

48708

24.85

0.195

2005

4

Pluto IV

Kerberos
(S/2011 P1)

13-34

?

59000

32.1

0.0 ?

2011

5

Pluto III

Hydra

60

5

64759

38.21

0.0051

2005

1

Eris I

Dysnomia

100

125

37370

15774

142

0.013

2005

1

Haumea II

Namaka

170

2000

39300

18

13

0.23

2005

2

Haumea I

Hi'iaka

310

2000

49500

49

234

0.05

2005

104 Moons revolve around asteroids (2008)
RINGS of the OUTER PLANETS

JUPITER

Orbit Radius (Km)

Halo

92000

122500

Main

122500

129000

Amalthea Gossamer

129000

182000

Thebe Gossamer

182000

296000

SATURN

Orbit Radius (Km)

D Ring

66900

74510

C Ring

74658

92000

Colombo Gap

77870

Titan Ringlet

77870

Maxwell Gap

87491

B Ring

92000

117580

Cassini Division

117580

122170

Huygens Gap

117680

A Ring

122170

136775

Encke Gap

133589

Keeler Gap

136530

Roche Division

136775

139380

F Ring

140180

Janus/Epimetheus

149000
154000

G Ring

170000
175000

Methone Ring

194230

Anthe Ring

197665

Pallene Ring

211000
213500

E Ring

481000
483000

URANUS

Orbit Radius

(Km)

ζc Zeta-C
32000
37850

1986U2R
37000
39500
ζ Zeta
37850
41350
6
41837
5
42234
4
42570
α Alpha
44718
β Beta
45661
η Eta
47175
ηc Eta-C
47176
γ Gamma
47627

δc Delta-C

48300

δ Delta

48300

λ Lamda

50023

ε Xi

51149

ν Nu

66100

69900

μ Mu

86000

103000

NEPTUNE

Orbit Radius (Km)

Galle

40900

42900

LeVerrier

53200

Lassell

53200

57200

Arago

57200

Adams

62932