Planets in our Solar System are divided into two types: large, low-density gas giants, and smaller, rocky terrestrials. Under IAU definitions, there are eight planets in the Solar System. In order from the Sun, they are the four terrestrials, Mercury, Venus, Earth, and Mars, then the four gas giants, Jupiter, Saturn, Uranus, and Neptune. Many of these planets are orbited by one or more moons, some of which are larger than small planets.

The Solar System also contains 5 recognized dwarf planets and numerous minor planets. Dwarf planets have sufficient gravity to form a roughly spherical shape; minor planets are smaller and may have irregular shapes. The minor planets are Ceres, Pluto (formerly considered to be the Solar System's ninth planet), Makemake, Haumea, and Eris. Many distant bodies are known in the KuiperBelt and a dozen or more may also qualify as minor planets. No extrasolar dwarf planets have yet been detected.





Solar System and our neasrest neighbour Alpha Centauri, distances shown on a logaritmic scale

Asteroids are small bodies circling the Sun, mostly in the Asteroid Belt between Mars and Jupiter. However, there are asteroids with orbits as small as Mercury and larger than Neptune. A number of other asteroids have been proposed as candidates for the dwarf planet category.
Comets are small asteroid-like bodies derived from the same source as Centaurs, but their orbits reach the inner Solar System. Energy from the Sun vaporizes some of the comet's material, giving the object a distinctive tail, or coma.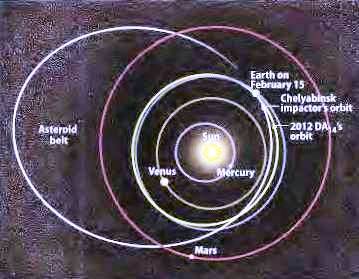 Meteoroids are small fragments of asteroids or comets, usually only a few feet or less in diameter, and are invisible to telescopes due to their small size. If one enters the Earth's atmosphere, its trail through the sky becomes visible as it vaporizes due to the heat of friction. That trail of bright light is called a Meteor. If a portion of the meteoroid survives intact and reaches the ground, it is called a Meteorite. A meteor is also called a Bolide, when it is large and explodes in the air, or a Fireball when it is brighter than Venus but smaller than a bolide. Meteor showers occur when Earth passes through the orbit of a comet; the number pf meteors visible to the naked eye varies from less than a 100 per minute up to a 1000 per minute in rare cases. The apparent "source" of the meteor shower in the sky is called the Radiant.
A superbolide seared through the sky over China, Kasakstan, and Russia in February 2012. The 60 foot, 11000 ton asteroid broke up near Chelyabinsk and was the largest meteor to hit Earth since the Tunguska event in Siberia in 1908. Coincidentally, a much larger asteroid, 2012DA14, passed within 17200 miles of Earth on the same day, but the two objects were unrelated. 2012DA14 was twice the diameter and 4 times the mass of the Chelyabinsk meteroid - pretty close call!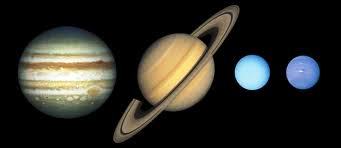 Trojans are small bodies that are in the same orbit as their host, either a planet or a moon. They sit at the stable Lagrangian points 60 degrees ahead and 60 degrees behind their host. Jupiter, Neptune, Mars, Earth, and some of Saturn's moons have Trojans. Earth's Trojan, 2010 TK7, was discovered by Martin Connors of Athabasca University in Alberta, Canada.

Other near earth objects (NEO's), besides 2010 TK7, are the asteroids 3753 Cruithne, 54509 YORP, 1998 UP1, 2002 AA29, and 2009BD which exist in resonant orbits.
Mars has four known co-orbital asteroids (5261 Eureka, 1999 UJ7, 1998 VF31, and 2007 NS2, all at the Lagrangian points), and Jupiter has more than 1000 known objects, the Trojan asteroids.

Centaurs are asteroids, or minor planets, that have highly elliptical orbits, crossing the orbit of Neptune. These are also called Trans-Neptunian Objects (TNO's). Their orbits emanate inside the Kuiper Belt, scattered disc, and Oort Cloud, well beyond the orbit of Neptune. Their elliptical orbits can bring them as far as Jupiter before they return to their distant homes.

Moons orbit most Solar System planets except Mercury and Venus. Rings of dust and debris orbit all four gas giants. Shepard moons organize the rings into distinctive patterns, the most notable being Saturn's.